From idea to illustration with generative AI.
Magically transform a simple text prompt into a fully editable vector graphic with new Text to Vector Graphic, powered by Adobe Firefly. Plus, quickly identify and edit fonts in any image with Retype.
Starting at    inclusive of VAT.
Want to try Generative Recolor on mobile now?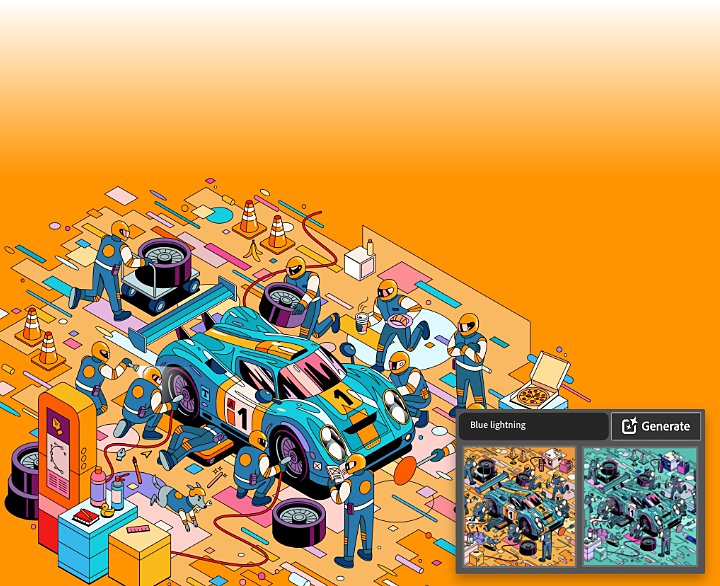 Build your brand's building blocks.
Aaron Atchinson uses Illustrator to create logos and icons that look amazing everywhere — from websites to sweatshirts, social to swag.

Make bold graphics that work anywhere.
Design studio The Branding People combine shapes, colour and type in Illustrator to make unique marketing graphics that scale from the screen to the street.

Bring your products to market in style.
Shanti Sparrow uses Illustrator to create boldly coloured patterns that make brands pop — in packaging, mobile apps, signage and more.

Design incredible infographics.
Konstantina Gavalas tranforms complex data into simple graphics with Illustrator tools, making it easier for businesses to see trends, discover insights and make smarter decisions.
We're always adding new features to Illustrator so you can create with precision and control. And with your Creative Cloud membership, you get them as soon as we release them.
Frequently asked questions.
Adobe Illustrator is the industry-leading graphic design tool that lets you design anything you can imagine - from logos and icons to graphics and illustrations - and customise it with professional-level precision, as well as time-saving features like Repeat for Patterns or Global Edits. You can use the graphics you create with Illustrator in any size digital or print format and be confident they'll look exactly the way you designed them.  
Both products let you create beautiful, precise designs and graphics. The difference lies in how they're created. Illustrator is best for creating graphics that can be infinitely scaled up or down without blurring or losing sharpness, since they're made of points, lines and curves — not pixels. Use these vector graphics in any format you like — small or extra-large, digital or print. Photoshop, on the other hand, is ideal for working with photos and creating or editing pixel-based or raster, graphics. Learn more about when to use Illustrator vs. Photoshop here. 
Not at all. With Illustrator, you can use shapes, lines, curves and edges to create beautiful designs with features like Shape Builder, even if you've never drawn a thing in your life. Or, try out customisable templates for when you want to get started quickly on a project. The best part is that you can keep modifying and changing colours, fonts, shapes and more - whenever and as much as you like. 
Yes. You can download it in the App Store and it's included in your Illustrator or Creative Cloud All Apps subscription. Illustrator on the iPad is especially great if you love to draw digitally with natural hand movements — for example, by using an Apple Pencil. Find out more about Illustrator on the iPad here. 
Plans start at £22.78/mo. We'll get you started with tutorial videos and hands-on learning, free fonts and templates, access to Adobe Express Premium and more. Learn more about purchasing options on the Creative Cloud plans page. 
If you're interested in additional Adobe creative apps, you can also get Illustrator as part of the All Apps plan.
Illustrator is a paid monthly or yearly subscription, but you can sign up for a free seven-day trial to see if Illustrator is the best graphic design tool for you. Or try making collages, flyers, videos and animations with the regular version of Adobe Express — it's free forever. 
Photography, video, graphic design, illustration and so much more. Everything you need, wherever your imagination takes you.