An EXIF file is a form of data storage that provides specific information about photographs, like the camera settings, time and date and location where a photo was taken. Learn more about the pros and cons of the EXIF format, how you can use it and more.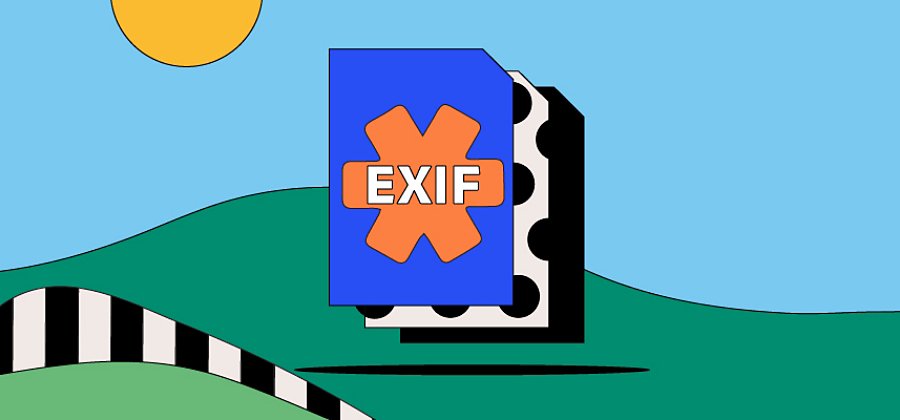 What you'll learn.
What is an EXIF file?
 
History of the EXIF file
 
How to use an EXIF file
 
Pros and cons of EXIF files
 
How to open an EXIF file
 
How to create and edit an EXIF file
 
EXIF files: frequently asked questions


What is an EXIF file?
EXIF (Exchangeable Image File Format) files store important data about photographs. Almost all digital cameras create these data files each time you snap a new picture. An EXIF file holds all the information about the image itself — such as the exposure level, where you took the photo and any settings you used.
This makes it easier to filter photos on your storage device by particular image characteristics. It's useful for photographers to learn how to read and understand the EXIF format to make catalog your images easier.
If you see a photo on a website that you want to find out more about, you can often access EXIF data if the website is using the original photograph file. But some people prefer to remove the EXIF file before loading their personal images to a website to protect any personal information, like their GPS location.
You might also encounter audio data like decibel range, bitrate or mono/stereo information for any video footage in an EXIF file.
History of the EXIF file.
The EXIF first launched in 1995. Created by the Japan Electronic Industries Development Association (JEIDA), this file format initially stored basic metadata (that is, data about other data — in this case, image data) such as date and time information, plus a small thumbnail to view the image in a folder structure.
Over the following decade, more versions were released with additional data features. Almost 30 years later, today's EXIFs hold a range of image or video metadata — including photo and audio data.
EXIFs borrow much of their file structure from TIFF files. Like TIFFs, EXIFs store image metadata, but their purpose is related to storage and catalog ease instead of the image editing and manipulation capabilities of TIFFs.
How to use an EXIF file.
Whether you're a professional or a hobbyist, EXIFs are great documentation tools for photographers. They're useful in a variety of scenarios, including:
Library storage.
The EXIF file format makes storing and retrieving your photos as easy as possible. EXIFs store metadata — or data about your photos' image data — so that you can group them based on certain criteria, like GPS location, time and date or even specific camera settings.
Recreating styles.
If you see and like a particular photo while surfing the web or viewing a photographer's digital portfolios, you might be able to request or access that image's EXIF data. This way, you could discover the photo's original settings to try to recreate the style yourself. Just make sure to give credit to the original photographer, of course.
Discover more raster file types
Pros and cons of EXIF files.
There are several advantages and disadvantages to the EXIF file format that every photographer should know about. 
Advantages of EXIF files.
Storing and retrieving information about your photos in your digital image library is easy with EXIFs.
 
You can learn techniques and tricks from other photographers by checking out the settings data in the EXIF files of photos you like.
 
They make it easy to recreate effects from photos you've taken in the past by giving you a record of the settings you used.
Disadvantages of EXIF files.
Other photographers may be able to gain access to your EXIF data, which could allow them to produce similar-style photos themselves.
 
EXIFs store GPS location data, which might raise concerns if you're conscious of how your personal data is used. 
 
EXIF data stored within images takes up space on a website. This can slow the site's speed, negatively affecting the user experience.
How to open an EXIF file.
Almost all major operating systems can open an EXIF file. To open in Windows, right-click on the EXIF image file to view its data. Scroll down to Properties and then click Details.
For macOS, open the photo you want to view in Photos. Then select the Tools drop-down menu at the top of the screen. From there, click Show Inspector. Then select the EXIF data tab to view the recorded information.
How to create and edit an EXIF file.
EXIFs are created automatically by your digital camera when you take photographs. The information saves within your photo's properties.
To edit an EXIF or hide any information you don't want others to access, you'll need a tool that lets you edit and remove image metadata. There are a variety of free and paid tools online that can help you do this.
For example, Adobe Bridge not only lets you edit image metadata, but also lets you choose what information you want displayed or redacted when your photo is published.
Editing image metadata is simple. Just make sure you have the image open in Adobe Bridge. Then select Edit > Preferences, before choosing the metadata drop-down option.
From there, you can edit and remove your metadata options. 
EXIF files: frequently asked questions.
Does Facebook remove EXIF data?
Some social media sites, like Facebook, remove the EXIF data from an image during the upload process. If you're uploading your photos to your Facebook page as part of your portfolio, any personal data — such as location, time and date — will be removed from the image.
What's the difference between metadata and EXIF?
In digital photography, metadata is the information stored within an image describing the camera settings used, the shoot location and more. An EXIF is the file that shops this metadata.
Do all photos have EXIF data?
Unless it's been removed, most digital photos have EXIF data. Even photos and videos taken with a smartphone will have some EXIF information — though it's usually not as detailed as the metadata stored in a digital camera. You'll need specific tools or software to help you to remove or edit any EXIFs attached to your smartphone imagery.
Can you add copyright or watermark information to your EXIFs?
Most digital cameras add copyright or watermark information to your EXIF data when you take photos. Select copyright in your camera's shooting settings to make that it's added. Explore the user manual to learn more about your camera model's particular settings. 
Learn more about similar file types to EXIFs.
Compare EXIFs with other file types.
Lightroom plan
Edit, organise, store and share photos from anywhere.
7 days free, then US$11,49/mo.
Photography
Get Lightroom, Lightroom Classic, Photoshop and 20 GB of cloud storage. 7 days free, then US$11,49/mo.
All Apps
Get all 20+ creative desktop and mobile apps.
7 days free, then US$60,94/mo.