Make beautiful animated clips and films with professional 2D animation software.
There's a new age of animation. Advances in vector art, puppeting, motion capture and tweening have helped evolve moving images from a niche in speciality TV and film onto banners, GIFs, YouTube cartoons and live web events. Where a studio of dedicated artists once worked around the clock for weeks to produce a few minutes of film, now an individual can put together a professional-quality clip in days or hours. Make your vision come alive with powerful 2D animation software.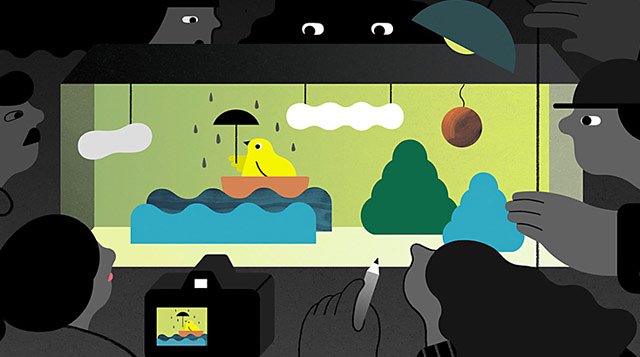 Animation, lllustration, 3D and typography. Adobe Creative Cloud has you covered.
Make your drawing come alive.
Take your design and put it into motion. Use vector drawings to tell a story by adding movement, backgrounds and effects.
2D animation software for games, film and use on the web.
Create amazing animated content using powerful animation tools for design, tweening and puppeting. Produce content as HTML5 Canvas, WebGL or Flash/Adobe AIR.

Choose a plan ›
Explore the sophisticated animation features in Animate.
Import vector drawings
Add vector drawings and background images to your stage. Scale and adjust your graphics for your project.
Declare symbols
Declare the parts to be animated as film clip symbols. This allows you to animate these parts of your vector drawings on the timeline.
Animate
Create your animation by choosing the position of your symbols on keyframes. If a symbol moves across the stage, pick the starting and ending frames and define their positions. With tweening, all the intermediate frames are drawn for you.
Save and export
Save your animation. It is now ready to be used as a clip on the web, in a film or in a game. Export it for use as HTML5 Canvas, WebGL, Flash/Adobe AIR or as a GIF or QuickTime film.
Enhanced easing
Make your animations more life-like with customised easing for your tweens. Remove the need for intermediate keyframes to smooth the flow of your characters.
Sound synchronisation
Co-ordinate music or sound effects with actions in your animations. Attach sound to buttons or the movements of your characters.
Bone tool
Make your characters move in a fluid, natural manner by defining bones. Attach limbs and define joints to allow smooth movements across the entire character.
Puppeting for 2D animation.
Use your webcam to animate your vector art. Define motions based on mouse gestures or keyboard shortcuts to make elaborate, fast-paced animation.
2D animation software optimised for puppeting.
Create digital puppets and give them life with your gestures. Create fluid animations and even live content.
2D animation features that make your characters more real.
Import art
Add character vector art and still images. Scale and adjust your artwork to fit your screen and make basic compositions to work from.
Define your puppets
Turn your vector art characters into puppets by defining facial features or gestures to move them. Experiment with settings until you can control your vector animations smoothly.
Add bones
Add an armature to your characters so they move more naturally and bend at joints. Make links between pieces of artwork if you want them to move in connection to each other.
Animate, save and export
With your working puppet you can animate a story, make a clip or manipulate it as a live character online.
Trigger behaviour
Make your animations react based on triggers from your keyboard or MIDI device. Use individual triggers to display a layer or animation or swap triggers to change the layer being shown.
Collision physics
Have objects respond properly to collisions, bouncing or interactions. Make rain slide along an open umbrella, a spring oscillate or earrings dangle.
Lip syncing
Harmonise your mouth movements to your speech. Automatically synchronise your puppet's mouth to the audio track.
High-quality vector art design.
Make detailed vector art and characters for your animations. Use industry-leading design tools to build artwork with customised brushes, colours, textures and perspective.
Draw on your inspiration.
The best tool for making vector designs. Draw anything using lines, ellipses, polygons, colours, textures and fonts.

Choose a plan ›
Powerful features up your game with Illustrator.
Pick an artboard
Choose a suitably sized artboard for your design. Since vector graphics are infinitely scalable, pick a size that fits your workflow and scale it later if you need to.
Draw
Compose your character or art from lines and geometric shapes. With customised brushes, you can make objects like leaves with a single stroke.
Refine
Vector lines and shapes can be adjusted by pulling and pushing. Add colours and textures, rotate or align to perspective guides.
Export
Save your artwork as vector graphics in AI, SVG or EPS format and import into an animation tool like Animate or Character Animator.
Touch controls
Work more intuitively with touch controls. Draw, edit and enhance using your fingertips or a pressure sensitive pen.
Freehand drawing
Using the Shaper tool, you can draw freehand and convert your sketch into precise vector art. As vector art, your design is fully editable.
Layers
Organise your drawings into layers for easier animation. Group together the constituent parts of a character like head, arm, hand and so on so that you can animate each part on its own.
Create assets for your 2D animation on mobile and tablet.
Make artwork for your animation wherever you are. Draw and sketch characters, objects and backdrops on-the-go or on the couch.
Work with vector design tools that are always at hand.
Use freehand drawing to build up complex vector shapes on your phone or tablet. Adjust strokes and fills, use customised brushes and apply textures on the spot.
 
 | Android
Make everything from painting to comics on your phone.
A full-featured artist's toolkit on your mobile device. Make oil or watercolour paintings, charcoal sketches or mixed media art right from your touch screen.
 
 | 
Compare 2D animation software apps.

There are apps for every stage of design and animation. Find the right tool for your project.

| | | | | | |
| --- | --- | --- | --- | --- | --- |
| | | | | | |
| | | | | | |
| | | | | | |
| | | | | | |
| | | | | | |
| | | | | | |
| | | | | | |
| | | | | | |
| | | | | | |
Learn how to create 2D animation with Creative Cloud tools.
It pays to explore to see all the things you can do with Creative Cloud apps. Find out more with beginner and expert tutorials.
Create and edit shapes with Illustrator.

Draw a robot from simple shapes. Learn the basic tools of vector graphic illustration and character creation.
Learn Basic 2D animation.

Create a simple 2D animation using vector art and tweening. Explore the controls and timeline in Animate.
Animate a puppet.

Make a puppet animation in Character Animator. Learn how to define facial elements and limbs, as well as create natural movement and record a clip.
With 2D animation software and design tools you can make amazing content on Windows, macOS, Android and iOS.

There's practically nothing you can't make with the comprehensive set of design, animation and video composition apps in Creative Cloud. Create detailed artwork, animate movement and combine designs into video projects. Creative Cloud integration makes collaboration and feedback easier and provides access to your assets wherever you are. We have attractive membership options for individuals and businesses, as well as significant discounts for students and educators. Find a plan that's right for you.