Create a high impact flyer.
Make a dynamic flyer that's tailored to your brand guidelines with our step-by-step guide and easy-to-use Adobe InDesign template.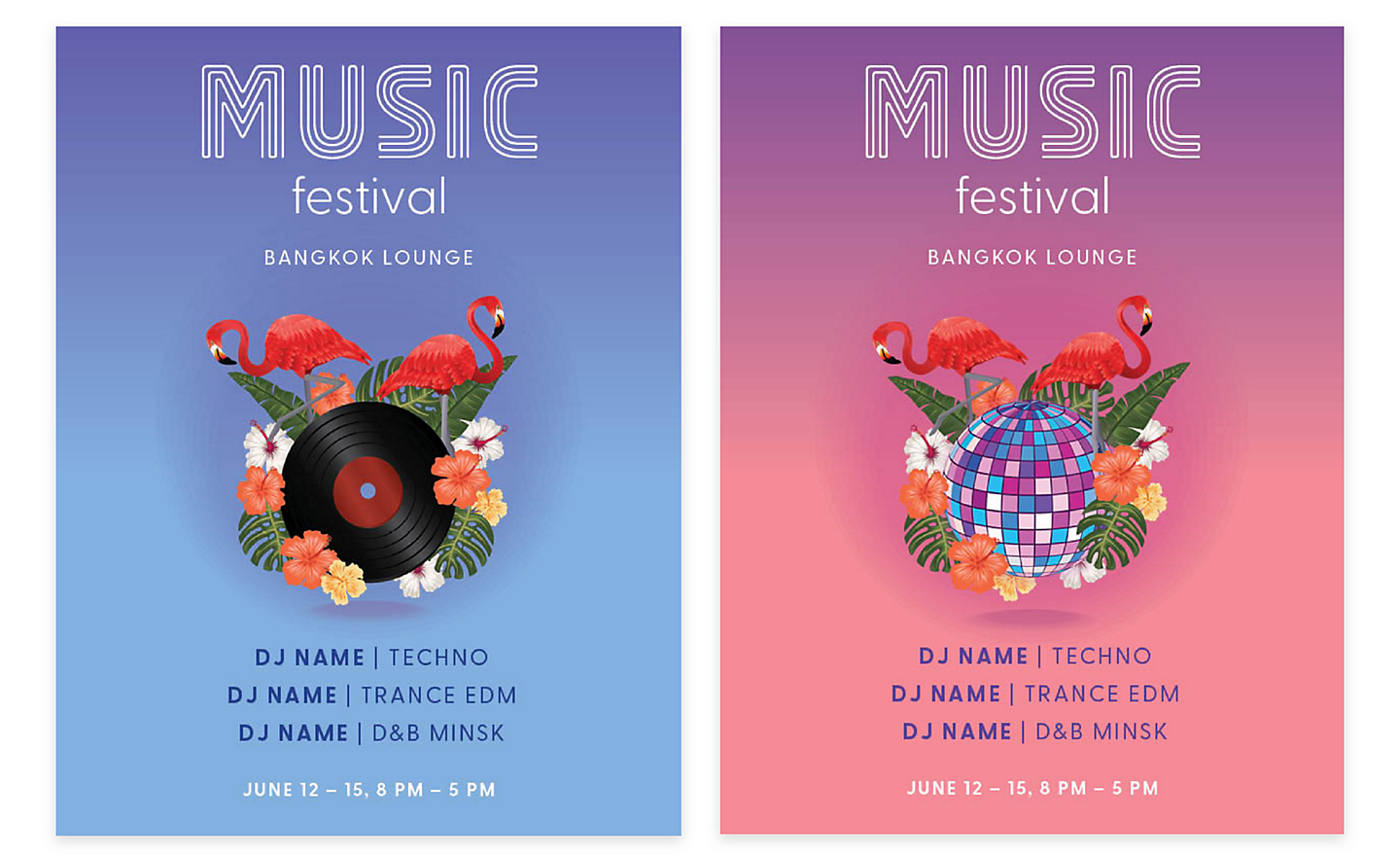 Grab your audience's attention with well-designed digital and print flyers.

Flyers are a great way to attract customers and increase brand, event, or product visibility. Strong, eye-catching design goes a long way in communicating your message clearly and professionally. Both print and digital flyers are an effective way to promote offerings, and each has its advantages. Print flyers are a useful tool in spaces where people gather, like offices, events, and retail shops, and digital flyers can be easily distributed via social media, email, or your website.
Regardless of how you plan to use it, making a great flyer is a simple project that can make a big impact on your audience. Follow the step-by-step guidelines below to get started, and download our template to kick-start your creativity.

Creating on the go? Design your project on the web with Adobe Express.
Get started with a fresh file.

The first step is to open InDesign and create a new document. You can do this in a couple of ways:
Click the Create New button on the left side of the page, or
Select File at the top of the page, then New > Document
 
Lock in basic parameters.

InDesign will then open a window and prompt you to choose your flyer format and size. Along the top of the window you'll find your format options — print, web, or mobile. Choose Print, and then Letter from the list of ready-made page sizes if you plan to print on standard 8.5x11 paper.

Preset details will also give you a few basic layout options:
Select one page for a simple flyer.
Select inches for the units.
Make sure Facing Pages is unchecked.
Choose Portrait or Landscape, depending on your creative needs. 
Click the Create button at the bottom of the window.
Your document is now set up and ready for design. Choose a file name and save it so you can come back to it later.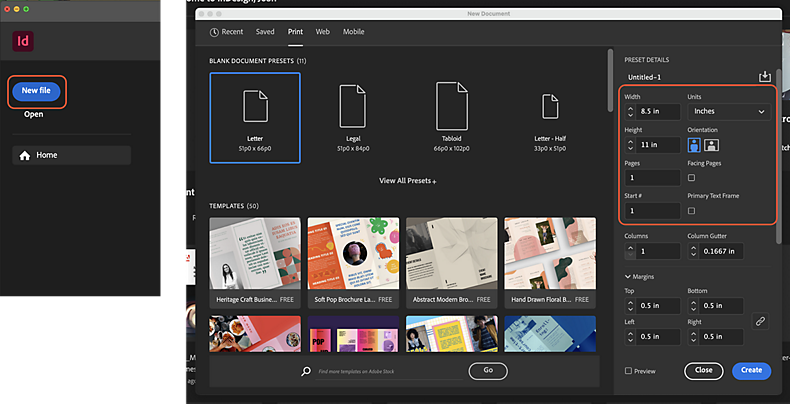 Introduce a bold image.
Choose a compelling image that will serve as the visual anchor for your flyer. The most common way to place an image is the Place command. Follow these steps:
Go to File > Place in the menu bar at the top of your screen.
Navigate to the file you want to add, select it, and click Open.
Your image will appear as a thumbnail that moves with the cursor.
Click on the page and drag your image out to the desired size.
Placing your image this way will maintain the proportions of your image. If you'd like to change proportions, hold down the shift key while you drag your cursor.
Try different sizing and location options on your page. Keep in mind that you'll be adding your headline and additional copy next. Take a look at some of these designs for layout and composition ideas.
Note: Images in InDesign live in a frame. Placing an image directly on the pasteboard automatically creates a frame for it.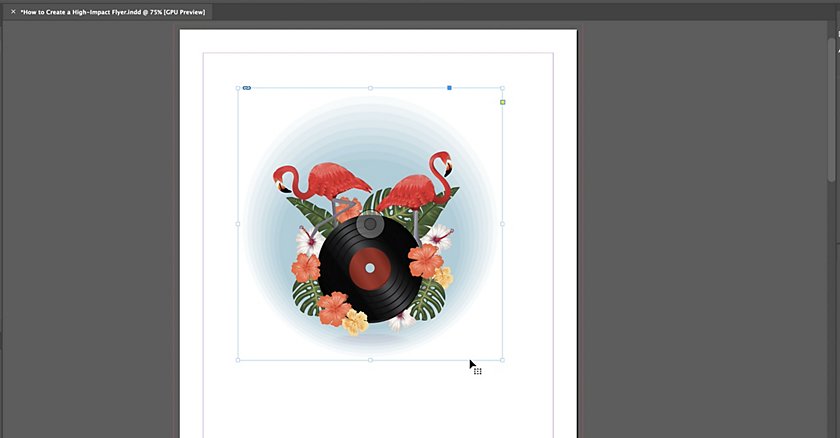 Fine-tune your positioning.


Now that your image and frame have been placed, you can reposition them to your liking. You can do this by opening the Properties panel to display a selection of Fitting options in the Frame Fitting section, and then choosing the look you're after.
 
If you want more controlled positioning, press V on your keyboard to activate the Selection tool and hover your cursor above the image. When the small circles appear in the center, you can reposition the image.



Create a strong headline.

It's time to add some text to your layout. You can select the Type tool by opening the Tools panel to the left of your screen and selecting the Type tool (or pressing the T key).
Create a large text box by clicking and dragging on the document. Type your text, highlight it, and then choose a font type and size. You can find these options in the Character section of the Properties panel (or the Options menu at the top of the screen on the left).
Pro tip — To save time, create a team library that has all of your brand font styles and colors. Any time you or a team member starts on a new project, you can pull in your specific styles quickly by clicking on the Libraries panel and selecting your team library.
Make sure your text doesn't wrap into too many lines — that will make your headline hard to read. If this happens, either make your text box bigger or decrease the size of your font.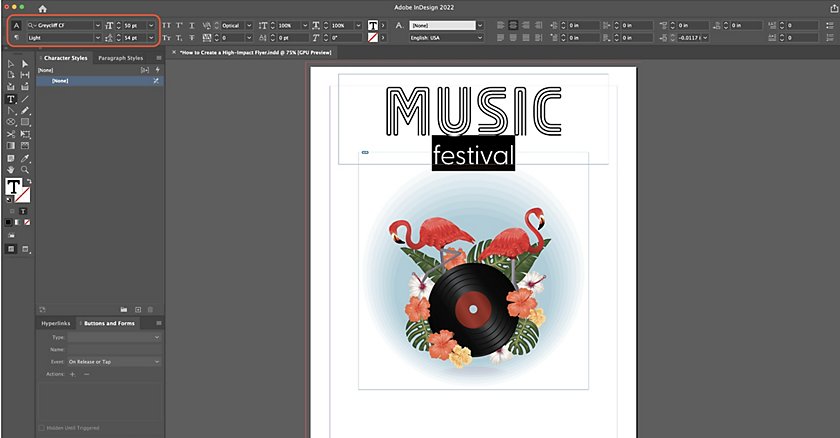 Add the rest of your information.

Add contrast to the body text by placing a solid background color behind it. Select the Rectangular Frame tool from the Tools panel to the left, and click and drag to create a rectangle. Choose the Fill icon from the middle of the options bar and select a color that complements and highlights the text.
Then finish adding your text — this is a good place for event and promotional details and product descriptions. Choose the Type tool again and drag to create a second text box on top of the new colored rectangle. Enter the rest of your text and format it. Play with the text size so your headline and body text have a clear visual hierarchy, with the headline as the most prominent element.
To make sure the text stays easily readable, select the text by pressing Ctrl+A on a PC and Cmd+A on a Mac, then select Fill, and choose Paper.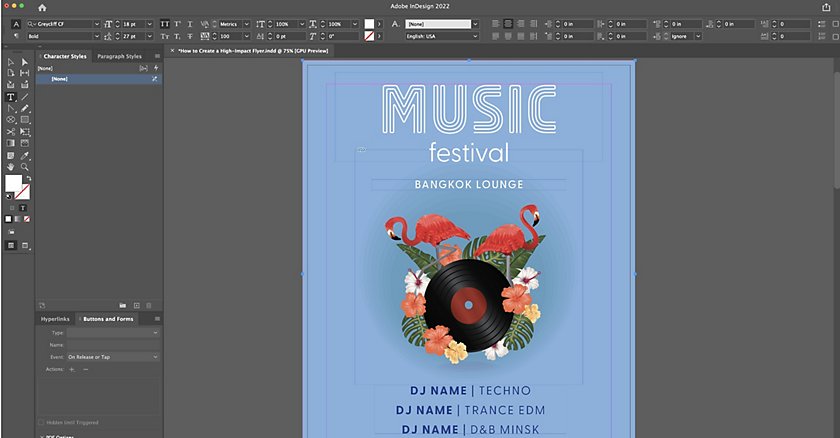 Check out this short video to learn more about laying out text and images for flyers.
Export your file.

You've now got a great-looking flyer design that's ready to share with the world.
To print your flyer, save your file as a print-ready PDF by selecting File > Export. Name your flyer, choose Adobe PDF (Print) and click Save. An export window will appear to give you some options. Make sure that High Quality Print is selected and click Export.
To export your flyer for digital distribution, save your file as an interactive PDF by selecting File > Export > Filename > Adobe PDF (Interactive), then click Save.

Refine your design.

Use the steps and template above to experiment with different layouts and designs and create something great for your business. If you need more inspiration, check out Adobe Stock for additional flyer templates.
Get the support you need to succeed with Creative Cloud for teams.
Need additional help getting your next creative project off the ground? Visit the Adobe Help Center for additional how-tos and documentation, or check out an upcoming Adobe Live session.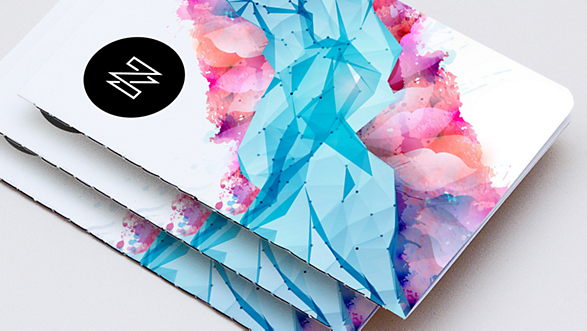 See how creating printed marketing materials helps you improve your connections with customers.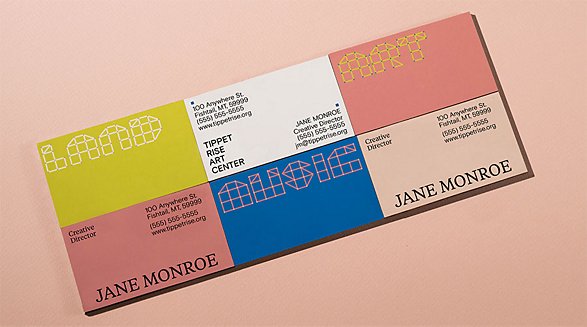 Explore a rebranding project for an art center in Montana created in Adobe Photoshop and Illustrator.
See how Farm Design uses shapes and type to create a logo with a unique expression.