Make an impression in digital textile printing
Adobe has been transforming the world of printing and graphic design since the 1980s. Be it for large or for small format applications, Adobe's wide-ranging portfolio has played a critical role in the evolution of printing industries, including textiles. In the last two decades, the textile printing market has evolved following the emergence of inkjet technology and Adobe's design-to-manufacture workflow. This end-to-end workflow comprises of the Adobe PDF Print Engine, Adobe PDF and various creative software solutions, including Photoshop and Illustrator. It is inspiring not only textile print mills, print service providers, and OEMs that produce digital textile devices and digital front ends, but also brands, converters, and textile designers across the digital textile printing landscape.
Adobe invented the Portable Document Format (PDF) to present and exchange documents reliably. Adobe PDFs look exactly as it were intended to and preserve all the data in the original file format even when color, artwork, mixed content, metadata, and more are combined in a single file. PDF is the most trusted file format for printing around the world, and it is increasingly popular in all digital textile printing workflows.
Adobe's market-leading print solution, the PDF Print Engine, continues to answer to the growing needs of the inkjet textile printing market. Competing with analog processes in terms of speed and cost per square meter has been a long-term ambition of digital textile printing OEMs and so far, PDF Print Engine (RIP software) has been a weapon that the industry has used to its advantage. The technology has been a triumph and it has directly improved the performance and efficiency of both low and high-volume inkjet textile printers. PDF Print Engine can reproduce prints of any color, size, or grade, particularly when paired with Adobe PDF because it employs the same core technologies as in Adobe Photoshop, Illustrator, and Acrobat. Everyone benefits when the end-to-end design-to-manufacture workflow employs the same core technology at every stage, from design to approval to final output.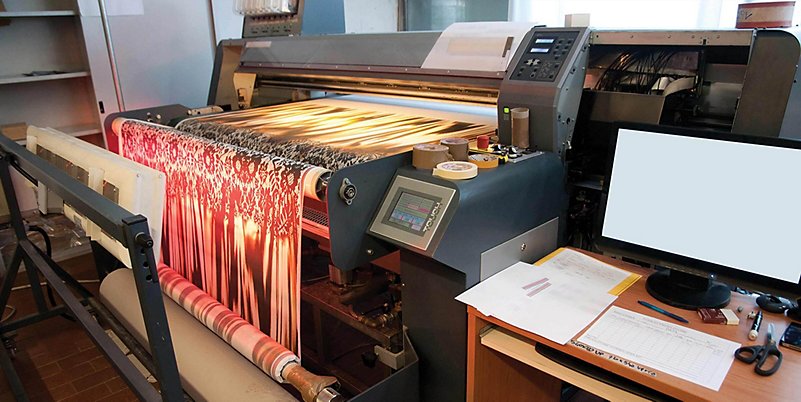 More power and possibilities with Adobe solutions
The textile & apparel value chain knows the importance of interconnectivity with Adobe solutions. Aquario Design is now utilizing Adobe Textile Designer's underlying technology through a collaboration that will result in the launch of new innovative design software for textile designers. Further collaborations include announcements that Aquario Designs and NedGraphics textile design products will be fully compatible with the Adobe PDF Print Engine.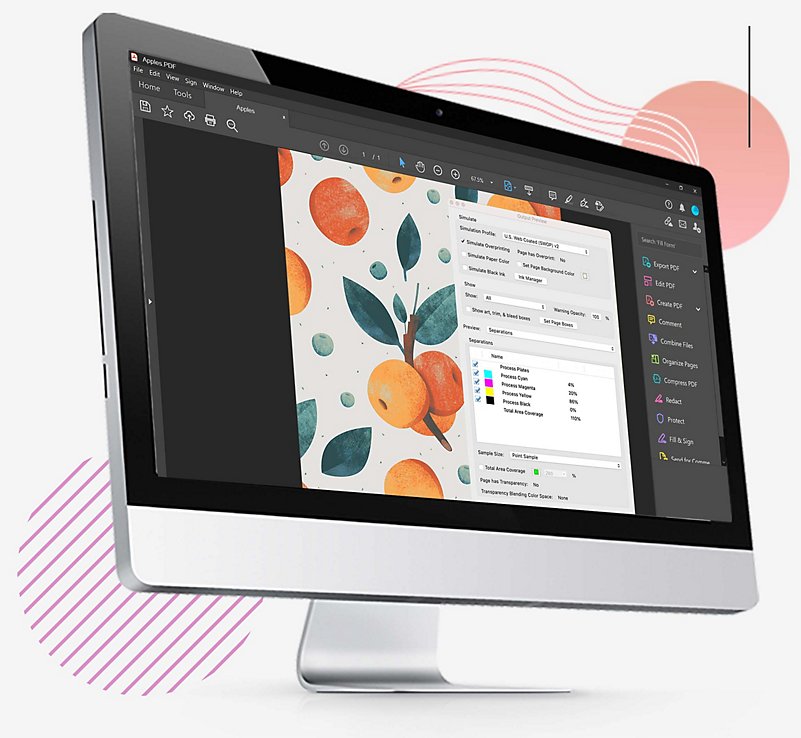 PDF: The document format for the digital textile
printing industry
At the heart of Adobe's solutions for the textile industry is its PDF expertise and, by utilizing PDF files alongside other Adobe solutions, users can be assured that motifs, gradients, vectors, and fonts can be reproduced in multiple sizes without pixilation. Moreover, colors can be accurately requested and printed, whether that is with screens or digitally, and all information for a print is included in a single file. Meanwhile, for cut and sew applications, the outline for the cutting pattern can be included in the same file as the print.
Adobe PDF files continue to be a valuable tool in print workflows, and the file format is especially popular among textile printers. A PDF file provides a convenient way to move content from a native application to a standard workflow, including all the components necessary for digital textile printing.
Benefits of PDF workflows:
One platform-agnostic document format for the entire design-to-manufacture workflow.
One PDF file holds all the information about the design and the colors unambiguously and with complete preservation of details.
PDF files can be viewed on a screen using the free Adobe Acrobat Reader, where digital notes and comments can be made directly on the PDF without affecting the ability to print it. If a paper version or a fabric strike off is required, the PDF can be printed digitally.
The same PDF file that was viewable on-screen and was used to create the local sample, can be sent to the mill for manufacture – ensuring the same information used for the final print is applied at every stage of the review and approval process.