Illustrator vs. Photoshop: When to use each application.
Understand the difference between apps that work in vectors and pixels to weave graphic design and photo editing into one smooth workflow.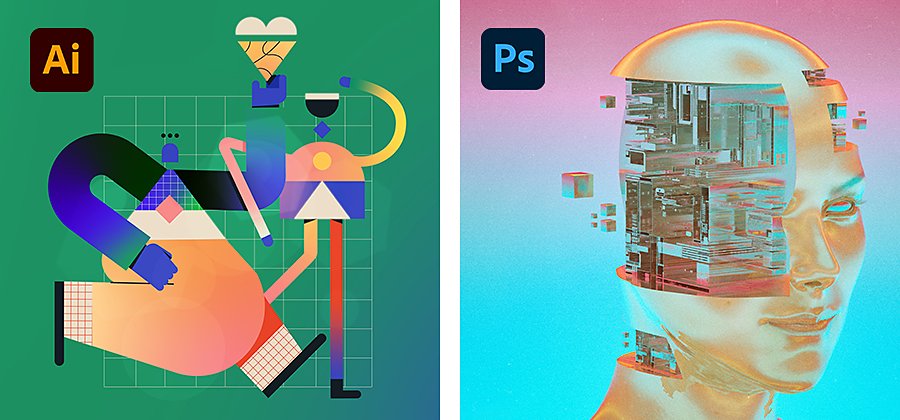 Different apps, different images.
Adobe Creative Cloud gives graphic artists and photographers the creation and editing tools they need to realize their visions. This includes both the graphic design software to make new work and the editing tools to make content like photos and video footage look their best.
Adobe Photoshop and Illustrator both work with images, but they are very different applications. The main differences between Photoshop and Illustrator are the types of files each program works with and whether you're editing graphics or photos.
When to use Illustrator.
Illustrator is a graphic design application. Graphic designers use Illustrator to create vector graphics. Vector images and graphics are made of points, lines, shapes, and curves based on mathematical formulas rather than a set amount of pixels, and therefore can be scaled up or down while maintaining image quality. So, vector artwork can fit different sizes — larger or smaller — without losing any detail.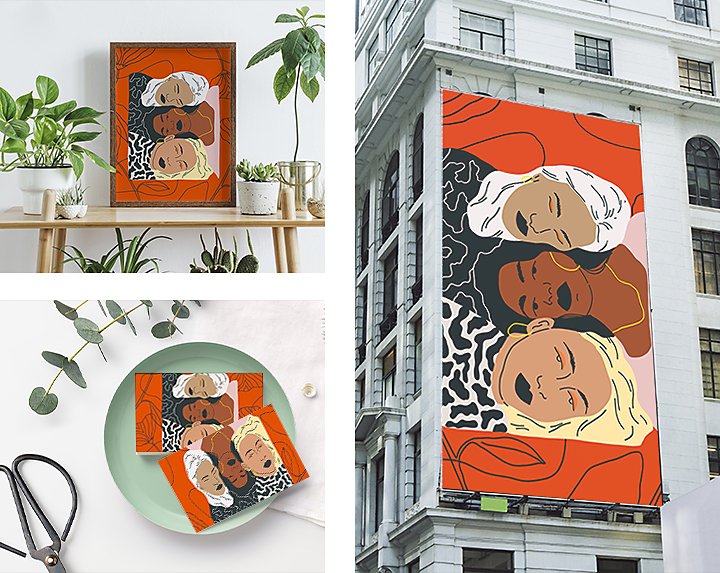 Vector art can appear on everything from enormous banners to wallet-sized business cards, and everything in between. This makes Illustrator a very good application for graphics that are going to be printed on signs or banners.
Create with virtual brushes and ink.       
Designers using Illustrator can create graphics and images freehand, using a stylus and digital drawing tools. An artist's intuition and personal style is a powerful asset for creating distinctive images, and Illustrator allows artists to create with virtual brushes, pens, inks, and other powerful tools on a variety of digital surfaces.
When to use Photoshop.
Photoshop is the industry-standard photo editing software, and the go-to application for everything from small retouching changes to mind-bending photo art. Photoshop is where editors crop photos, adjust photo composition, correct lighting, and make any subject imaginable look its absolute best. It's also where skilled artists can create collages and photo composites, layer images together, and craft original images out of different photo files.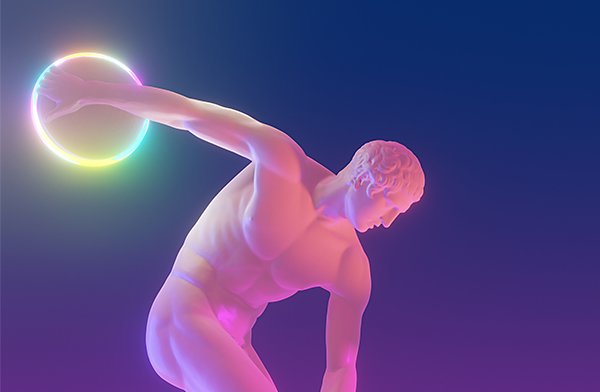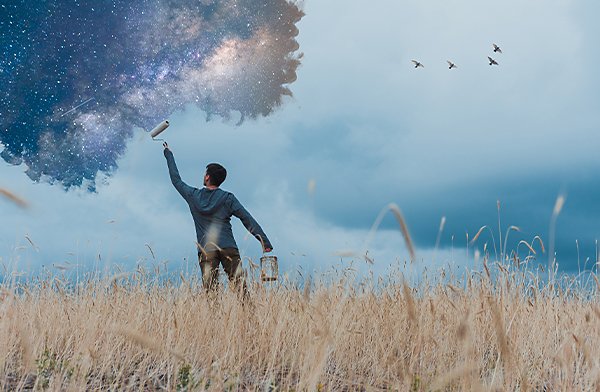 Photoshop images are raster graphics. Unlike vector images, they are pixel-based. Raster images tend to have more detailed colors and shading than vector images, and they tend to handle detailed textures and precise edits better than vector graphics.
When to use Illustrator and Photoshop together.
Illustrator and Photoshop are both part of Adobe Creative Cloud and are designed to work together. Photoshop files can incorporate assets made in Illustrator, integrating an image created as a vector file into a raster file. And the opposite is true too — a graphic design project in Illustrator can easily fit into a larger photo project in Photoshop. With other Creative Cloud apps, even video editing or animation can be a part of a single digital workspace.
Link files for easy changes.
Creators can link Illustrator files to Photoshop files. This means that the two files are technically independent, but everything in an Illustrator file will show up in a Photoshop file.
For instance, a creator could make a vector graphic in Illustrator and link that to a Photoshop file of someone wearing a blank t-shirt.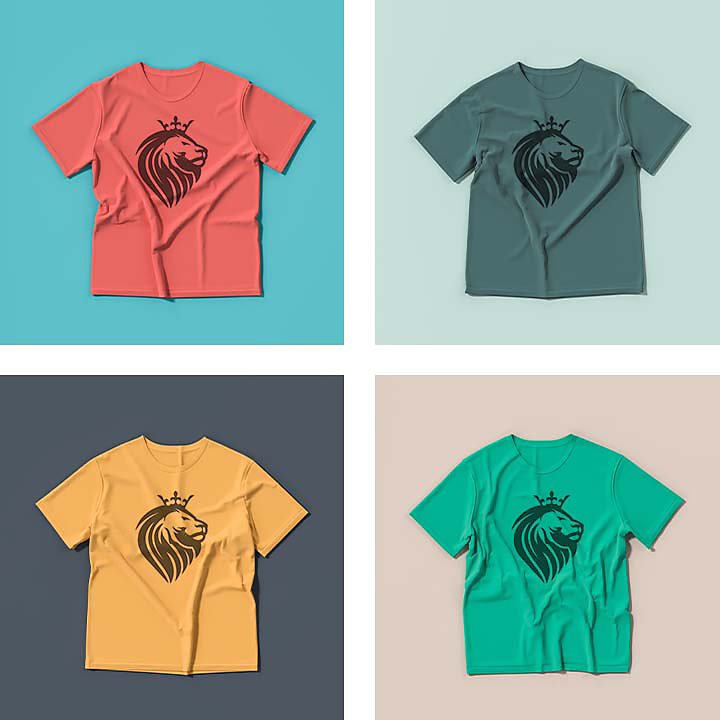 Because the files are linked, a change to the Illustrator file will also show up in the Photoshop file referencing the vector. So modifying the Illustrator vector graphic also modifies the image in the Photoshop file.
Creators can do this with multiple files. DIY store web pages, for instance, could show t-shirts, coffee mugs, stickers, and other merchandise, all displaying the same logo. The Photoshop images of the merchandise can all reference the same Illustrator file where the logo lives. This is also useful for creating multipage documents or templates that all have to use an identical graphic, like a logo.
Learn more about Illustrator and Photoshop.
Explore more about how to import Illustrator images into Photoshop, and even learn how to transform vector images. When you can work smoothly with both vector and raster files, you can draw on the best of both worlds, and there's no limit to the kind of images you can create.
Adobe Illustrator Single App
Create beautiful vector art and illustrations.
7 days free, then US$20.99/mo.
Adobe InDesign Single App
Craft elegant page layouts for print and digital media.
7 days free, then US$20.99/mo.
All Apps
Get all 20+ creative desktop and mobile apps.
7 days free, then US$54.99/mo.