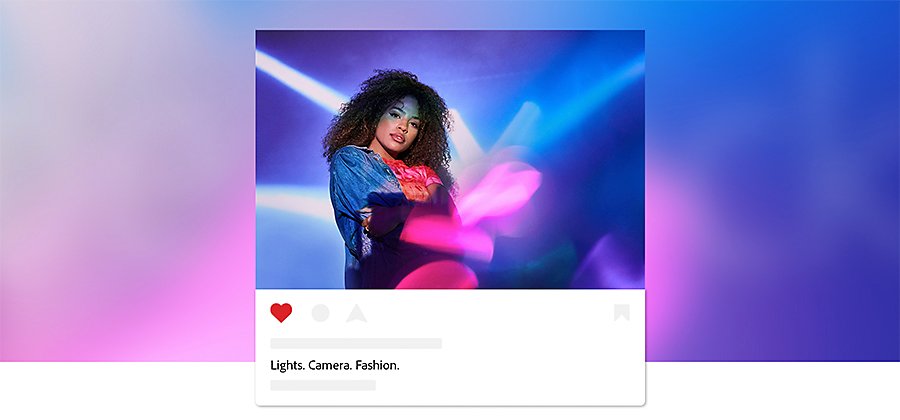 Delight your audience with Instagram captions.
The best Instagram captions make the most of a unique canvas. Learn how to maximize your text space and connect with viewers.  
Not sure which apps are best for you?
Not sure which apps are best for you?
Take a minute. We'll help you figure it out.
Take a minute. We'll help you figure it out.
Make a compelling point with captions.
Instagram captions are the best friend and finishing touch of every great video post. Social media is a challenging environment to be seen and heard in, and adding context with a caption can help you build a following.
Whether your caption is under an Instagram video post on the main feed or it's overlay text on a Stories post, the goal is to connect with viewers and motivate them to connect with you. That means educating and entertaining them and giving them opportunities to continue interacting. Plus, most users watch videos on mute, so adding subtitle captions is a must.
Taking tips from marketers can help. "The three main points when it comes to good captions are: They're easy to read, they're visually appealing, and they're conversational," says Katelyn Rhoades, CEO of Enfluence Marketing Studio. Timing and placement are also important considerations.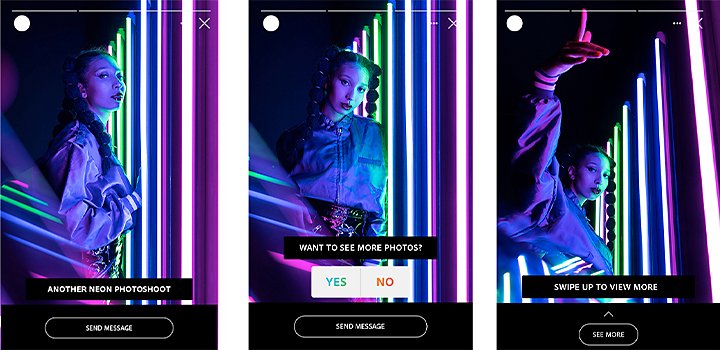 Instagram Stories, from capture to caption.
Every captivating Instagram Story, whether it's a video or a still, starts with a concept. Building your creative vision could require more planning than you might think. You don't just want to copy and paste from other social posts.
---
"Storyboards are the map of what you want to do, and they're super helpful before you create a video or Reel," says Rhoades.
While you might not want your stories to appear overproduced, a rough storyboard can get you started with a new idea and the captions that will go along with it. Plan out the storyline of a single post or a sequence of posts. Write down significant words, hashtags, famous quotes, or keywords that relate to your concept.
---
Observe other Instagram caption ideas.
It never hurts to take a look at what other folks are doing and how you might create content that responds to their work. From inspirational Instagram quotes to meme-worthy Reels, industry trends and ideas are fertile ground for new and different ideas — just make sure to give credit where credit is due if your research inspires your next caption.
---
A hook can pique curiosity or spark an idea in the viewer. Including a quick prompt telling them what to do after watching a Story is a solid strategy. However, your instructions should be bite-sized. Short Instagram captions are enticing to a viewer, and they're an opportunity to be sassy or clever.
Don't ask your audience to write you a novel in the comments. Funny Instagram captions or questions like, "Which shows more self-love: iced or hot coffee?" or "Ice cream in winter: good vibes or bad vibes?" are great examples of easy questions that hook the viewer.
It can be challenging, but remember to not engage in self-parody.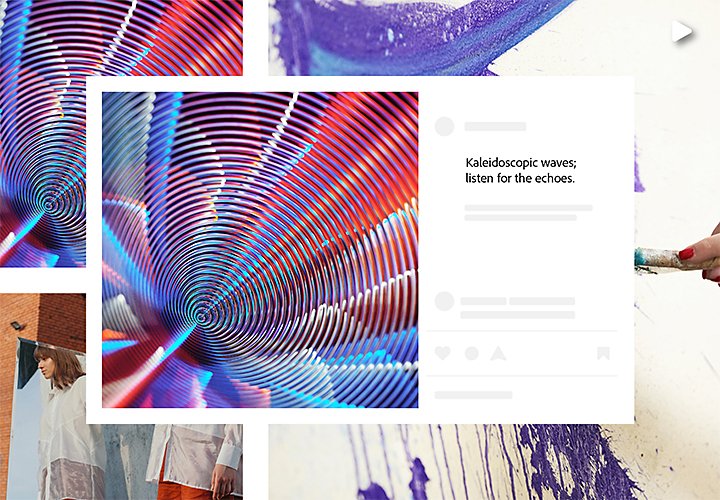 ---
The elements of good Instagram captions.
Instagram captions are not just about content, they're also about aesthetics and confidence level. Reference the principles of design thinking as you build your posts, and they will pay major dividends.
Embrace the breaks and white space.
Remember — copy is a design element. Whether they're under your post in the feed or on your image or video, your words are a part of the sum of a piece of content. Your captions should be aesthetically pleasing as well as engaging.
When possible, keep text to 40 characters or fewer. Or break long captions into smaller paragraphs, sometimes across multiple clips in a Story. Allow for negative space. You don't always need to fill an image or post with text explaining it. A picture of you and your friends enjoying a restaurant doesn't need to say, "Summertime: Good food, good friends." The image can stand alone.
Place them in the right spot.
Most people put captions at the bottom of a Story image or video, but that isn't a requirement. Place captions in an area that calls attention to them without distracting from the image.
If you're just trying to add in a subtitle track, Instagram's auto transcription feature can be useful. Or you can try the extremely accurate transcription services in Adobe Premiere Pro with the Speech to Text feature.
Don't forget to have a call to action. Whether that's redirecting viewers to your Instagram bio or telling them to watch the latest episode of a Netflix show and sound off in the comments — a good CTA is a great use of cool captions.
Some pieces of content deal with difficult topics or challenging ideas. Keeping it light doesn't mean you can't engage with something serious — it simply means keep the narrative flowing and be conversational. "Be yourself, be fun, and be human. So many people are comparing themselves to others on social media, so if you're relatable, it's easier to form connections," says Rhoades.
Regardless of content, an Instagram photo, video, Story, or Reel with captions should have an easy flow for the reader. Images with text-dense captions, hard-to-parse sentences, and confusing emoji use are likely to be skipped over. Keep language simple, customize text with readable fonts and layouts, and use the color gradient slider to maximize the visibility of text.
Reinforce, show proof, and emphasize.
Creative or cute Instagram captions can work wonders for your video and still image posts. You can use them to replicate or enforce the meaning of the spoken word, adding rhythm and lyricism. Highlight messages from your post with them too, or show proof points or callouts.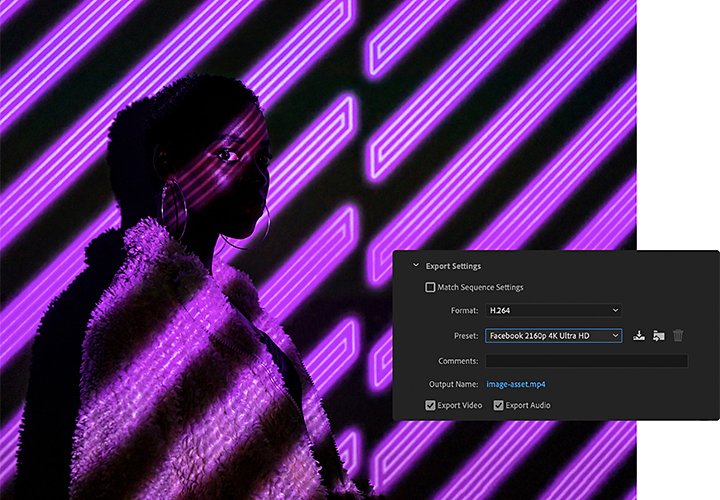 Create and edit video Instagram posts in Premiere Pro.
Just like trying to decide if your latest Story is going to work better as a selfie pic or a tripod-mounted shot, there are many options for editing after the shoot too. Depending on whether you're working with Instagram, Facebook, or YouTube, you'll need to aim for multiple dimensions and aspect ratios.

Premiere Pro makes taking the same video to different platforms as simple as using the Auto Reframe feature. You can Auto Reframe clips or an entire sequence in just a few moments.
Taking your social media content to the next level doesn't need to be complicated or cumbersome. With the assistance of Premiere Pro and helpful tutorials, you'll see higher engagement with your high-quality images and watchable videos.
---
---
Please make sure that the "dexter.base.react.umd" and "dexter.base.consonantcardcollection" clientlibs have been added to the template's Page Policy