TIFFs are a file format popular with graphic designers and photographers for their flexibility, high quality, and near-universal compatibility. Learn more about these raster graphic files and how you can put them to use in your next project.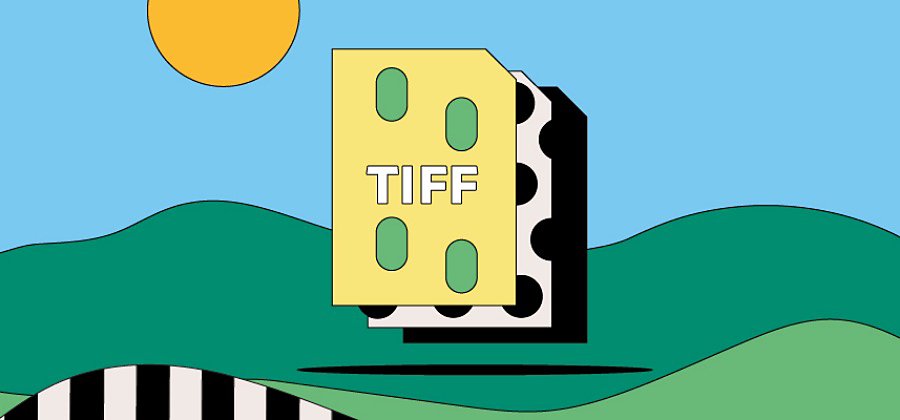 What you'll learn.
What is a TIFF file?
 
History of the TIFF file


What are TIFFs used for?
 
Pros and cons of TIFF files
 
How to open a TIFF file
 
How to create and edit a TIFF file
 
TIFF files: frequently asked questions
What is a TIFF file?
A TIFF, which stands for Tag Image File Format, is a computer file used to store raster graphics and image information. A favorite among photographers, TIFFs are a handy way to store high-quality images before editing if you want to avoid lossy file formats. 
TIFF files: 
Have either a .tiff or .tif extension.
 
Are a lossless form of file compression, which means they're larger than most but don't lose image quality. 
 
Work with Windows, Linux, and macOS.
 
TIFFs aren't the smallest files around, but they enable a user to tag up extra image information and data, such as additional layers. They're also compatible with editing software like Adobe Photoshop.  
History of the TIFF file.
TAldus Corporation created the TIFF file in the mid-1980s for use in desktop publishing. TIFFs retained high-quality data and could publish content directly from a computer. The file was designed as a universally applicable format for desktop scanners — hardware that previously handled, depending on the make and model, only a limited set of file formats.  
Initially, TIFFs were restricted to print publications before they expanded into digital content. Aldus Corporation was later acquired by Adobe, which has since been responsible for the copyright of the file format.
What are TIFFs used for?
TIFFs are popular across a range of industries — such as design, photography, and desktop publishing. TIFF files can be used for:
High-quality photographs.
TIFFs are perfect for retaining lots of impressively detailed image data because they use a predominately lossless form of file compression. This makes them a great choice for professional photographers and editors.
 
High-resolution scans.
The detailed image quality stored within a TIFF means they're ideal for scanned images and high-resolution documents. You might find them a useful choice for storing high-resolution images of your artwork or personal documents. 
 
Container files.
TIFFs also work as container files that store smaller JPEGs. You could store several lower-resolution JPEGs within one TIFF if you wanted to email a selection of photos to a contact.
Pros and cons of TIFF files.
As with any file format, the usefulness of TIFFs depends on how they're implemented. The following are some of a TIFF's advantages and disadvantages.
Advantages of TIFF files.
Predominantly lossless compression means TIFF files retain the original image's detail and color depth — perfect for high-quality professional photos.
 
Their impressive detail means TIFFs are ideal for high-resolution scans, such as backing up your handmade artwork and personal documents.
 
TIFFs are universal and adaptable as a file format, so can be used with the major operating systems. 
 
The file can work as a container for smaller-sized JPEGs, storing multiple images in one master raster graphic.
 
TIFFs are a good option to store high-resolution images ahead of editing and asset creation.
Disadvantages of TIFF files.
Detail and resolution lead to TIFFs being quite large files. They can take up valuable space on your drive.
 
Their size makes them difficult to share or send to contacts or clients. 
 
Their high quality makes them a poor choice for website design, since detailed images can slow a website's loading speed. Lighter file formats, like a JPEG, might be more useful for online images. 
How to open a TIFF file.
As a tagged image file, most computers can open and handle TIFFs, but you'll need editing software like Adobe Photoshop to make any edits to the original image. If you're just looking to view the TIFF, follow these steps:
For macOS:
Select the TIFF file you want to open on your drive, or wherever you have it stored.
 
Double-click.
 
The TIFF image should open automatically in Apple Preview.
For Windows:
Highlight the file you want to open.
 
Double-click.
 
The TIFF file should open in Windows Photo Viewer.
You can set the files to open in a different program, such as Apple Photos, by changing the default software in your device's settings. 
How to create and edit a TIFF file.
Because they're among the most common file formats around, TIFFs are relatively easy to create. Simply follow the three steps below:
Go to File > Save As.
 
Choose File Format from the dropdown menu.
 
Choose TIFF.
You may need to import your images into Microsoft Paint for Windows devices to save as a TIFF. Alternatively, programs like Adobe Photoshop have a built-in capacity to save files as .tiff.
A TIFF is an image file — so it stores photographic and graphical data. You won't be able to edit the original file information without editing software, like Adobe Photoshop or Illustrator. 
TIFF files: frequently asked questions.
Is PNG better than TIFF?

Both PNG and TIFF file formats both have benefits. TIFFs have much better image resolution and picture quality thanks to their lossless form of file compression. PNGs benefit from a smaller file size and are easier to manage, logistically.
Does Word support TIFF images?
Microsoft Word is compatible with most common image file types, including TIFFs.
Can you edit a TIFF file in Word?
It's possible to edit text in a TIFF file in Microsoft Word — though only when the TIFF itself is a scanned document image. You'll need the original TIFF file to open and edit any text data.
How do I print all pages from a TIFF file?
If you want to print a TIFF file, make sure Print All Pages is selected and covers all the pages in your document's range.
Are TIFFs smaller than PDFs?
Single-page TIFFs do have the capacity to be smaller than PDFs, so they can be quicker to deal with and operate. However, this only works when the TIFF in question is text-based — such as a scanned document, rather than an original copy of a photograph. 
Learn about similar file types to TIFFs.
Compare TIFF with other file types.