If you're using Adobe InDesign to create and format pages, you're probably saving your work as a .INDD file. This file type is proprietary to Adobe and includes everything you need to create a great brochure, book, magazine spread or most any other design. Discover the ins and outs of INDDs — and learn how to create an INDD file yourself.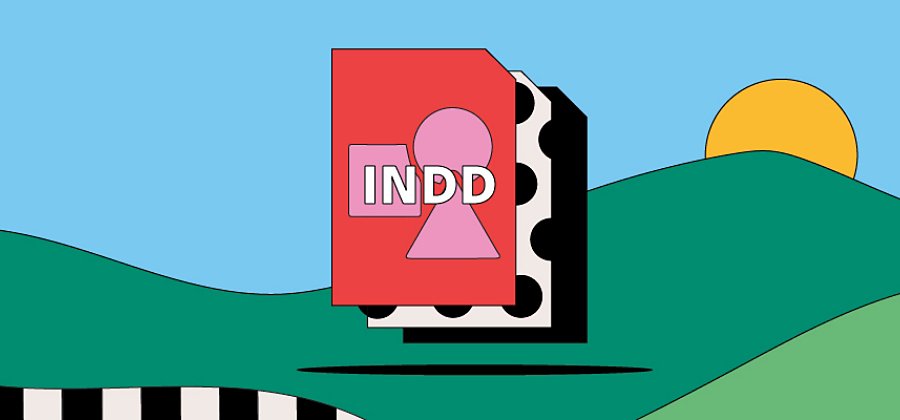 What you'll learn.
What is an INDD file?
 
History of the INDD file
 
How to use an INDD file
 
When to use an INDD file
 
How to open an INDD file
 
How to create and edit an INDD file
 
INDD files: frequently asked questions
What is an INDD file?
INDD stands for InDesign Document. Whenever you're working in InDesign, you're working with an INDD file. Routinely used by graphic designers, journalists, marketers and publishers who work with Adobe products, the INDD format is the default file type for InDesign. 
The INDD format incorporates everything a page layout needs — from fonts and formatting information to page content, swatches and styles. 
History of the INDD file.
In 1999, the first version of Adobe InDesign introduced the INDD format. Pagemaker, which Adobe acquired in 1994, served as the basis for InDesign's build.  
Today, InDesign is a big part of the Adobe Creative Cloud suite. Apart from InDesign, INDD files are most closely associated with Adobe InCopy — a professional writing tool and word processor. 
How to use an INDD file
The InDesign Document file type is customised built for layout design. Here's are some of the ways people use INDD files: 
Print and web layout design
Use INDD files to create books, magazines, brochures, flyers and other print or web items with a strong design element. This easily sharable format helps graphic designers collaborate.
E-publications
INDD files are also ideal for designing e-publications, online newsletters and presentations. It's easy to incorporate video, animations and other graphics with static boxes.
Presentations
InDesign is also often used to create engaging presentation slides — incorporating sound, video, animation and text. 
InCopy
InCopy users often work with INDD files to write directly into a formatted page. To have easy collaboration between creative content teams, writers can open and edit INDD files directly within InCopy.
Find out more about vector files
When to use an INDD file.
Depending on your project, the INDD file format may work better in some scenarios than others. Here's what you need to know:
Advantages of INDD files.
INDD files are perfect for multi-page projects. You can create templates for consistency across pages, chapters and publications.
 
You can use INDDs with InCopy to both write and design engaging print and online content. 
 
You can easily share, publish and upload your finished pages without converting, zipping or emailing. Quickly package fonts and layouts to share with a team.
Other considerations for INDD files.
INDD files are only fully compatible with InDesign and other Adobe Creative Cloud software like InCopy
 
File sizes are often too large to share via email.


Larger files can also slow down your computer.
How to open an INDD file.
You can only open and edit INDD files with Adobe InDesign and other compatible programmes in the Creative Cloud suite. Open InDesign, select File > Open, then choose your document.
How to create and edit an INDD file.
Follow these easy steps to create an INDD using Adobe InDesign:
Open InDesign and choose File > New > Document.
 
Select the right format for your task — either digital publishing, print or web.
 
Enter the number of project pages.
 
Choose page sizes, columns and margins.
 
Click OK. Once you've finished editing, click File > Save As. This will save your project as an INDD file by default.
INDD files: frequently asked questions.
How can I open an INDD without InDesign or Creative Cloud software?
You can open INDDs with some third-party programmes — however, the file won't be fully compatible and making edits may be a challenge.
Can I open an INDD file in Photoshop?
There's no functionality to allow INDD files to open in Photoshop — but you can export your INDD to PDF format simply by selecting File > Export > Save as Type > Adobe PDF (print) > Save. To maintain the quality of the file when it's exported, select a high resolution. You can then download and open the file in Photoshop.
Are INDD files raster or vector?
INDDs are a form of vector file . Unlike raster files made from pixels, vector files don't lose resolution when scaled because they're built on a complex graph-like formula that is infinitely expandable.
How do I export INDD files to InCopy?
To export a full INDD project to InCopy — including fonts, formats and other information — follow these four steps:
Open InDesign.
 
Create an assignment container file (.ICMA) and add items like text and graphics.
 
Export the graphics and text files separately by selecting Edit > InCopy > Export.
 
A link is then created between the two programmes, which you can find in the Assignments panels.
 
Find out more in this guide to exporting content from InDesign.
Should I use InDesign or Photoshop?
Though both part of the Adobe Creative Cloud suite, InDesign and Photoshop are used for different purposes. Photoshop works best for editing photos and creating graphic designs, which you can then add to InDesign to illustrate your pages and publications.
Find out more in this guide: Adobe vs. Illustrator vs. InDesign.
Learn more about similar file types to INDDs.
Adobe Illustrator Single App
Create beautiful vector art and illustrations.
7 days free, then €26.86/mo.
Adobe InDesign Single App
Craft elegant page layouts for print and digital media.
7 days free, then €26.86/mo.
All Apps
Get the entire collection of creative apps and more.
7 days free, then €68.68/mo.