Changing the world through digital experiences.
Great experiences have the power to inspire, transform, and move the world forward. And every great experience starts with creativity.
About Adobe
Creativity is in our DNA. Our game-changing innovations are redefining the possibilities of digital experiences. We connect content and data and introduce new technologies that democratize creativity, shape the next generation of storytelling, and inspire entirely new categories of business.
Creativity for all.
We believe everybody has a story to tell. Adobe Creative Cloud unleashes creativity so anyone — from the most demanding professional to students just starting out — can make whatever they want, wherever they want.
The future belongs to those who create.
In the experience economy, every business must be a digital business.
Empowering digital businesses.
Businesses count on Adobe to help them meet the challenges of digital transformation. With Adobe Experience Cloud they can harness their data and deliver personalized experiences that drive business growth and customer loyalty.
Accelerating document productivity.
Adobe pioneered the paper-to-digital transformation with the invention of PDF. We created Adobe Document Cloud so people can scan, edit, share, and sign documents anytime, anywhere. Today, we're revolutionizing the way people and businesses communicate, collaborate, and get work done.
Documents are core to how people work, transact business, and communicate in everyday life.
Imagining tomorrow to give our customers an edge.
We're always looking around the corner to develop new technologies and bring innovation to our customers, year after year.
"We're excited to partner with Adobe to expand students' access to creative technology in the rural and urban communities where our teachers work."
Elisa Villanueva Beard
CEO of Teach For America
Together, we create change.
We're working with our employees and communities to unlock the creative potential in everyone and impact the world in ways both big and small.
A workplace that works for everyone.
Our people are our most important asset. We're committed to making Adobe a place where employees can be themselves, do their best work, and thrive.
Celebrating 21 years on Fortune's "100 Best Companies to Work For" list.
Find a career at Adobe
Discover stories about our products and our customers, how we champion our employees, help raise every voice, lift our communities, and build a sustainable future.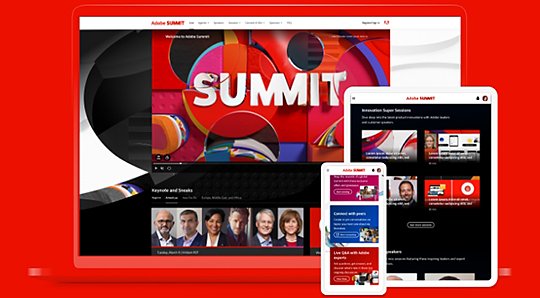 Adobe Summit all year long.
Learn, be inspired, and make the digital economy personal with more than 200 sessions on demand.
The MAX after-party is in full swing.
Missed the creative event of the year? Catch the highlights and 200+ sessions on demand.