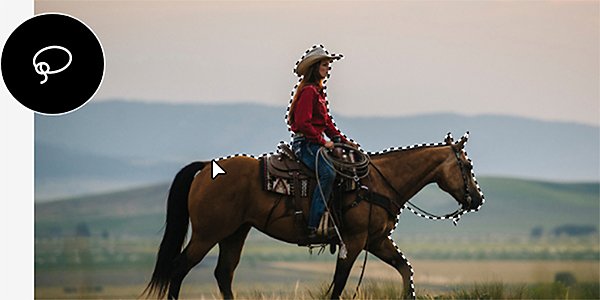 How to use the Lasso tool in Adobe Photoshop.
Giddyup, partner — it's time to learn how to lasso your work. Discover this versatile and effective selection method.
What does the Lasso tool in Photoshop do?
Photoshop gives you dozens of selection tools, but for more creative selections, the Lasso tool is one of the best.
The regular Lasso tool is a freehand selection tool, which means it won't automatically snap to the edge of objects or try to predict what you want to select. Wherever you lay your lasso, that's where it will stay. However, Photoshop will help complete your shape by connecting small gaps between your end point and starting point.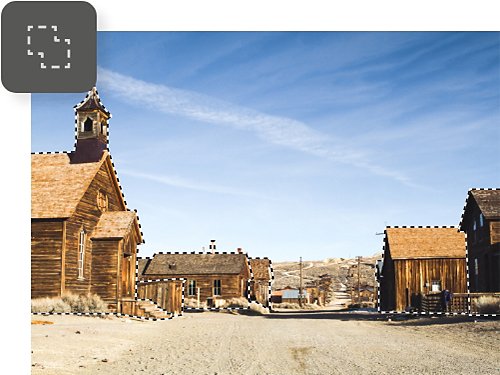 Easily modify selection options.
Like many Photoshop selection tools, the Lasso tool has additional functionality to help you get things done smarter and faster. Add to, subtract from, and intersect with existing selections, so you can precisely select your work how you need to.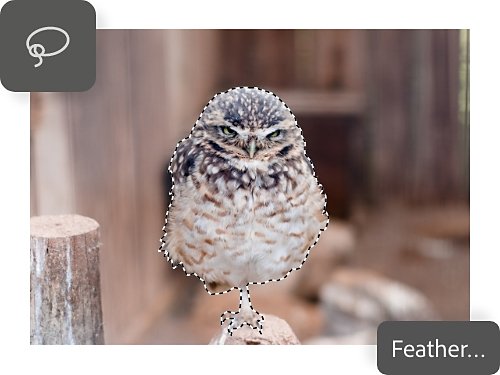 Tread as lightly as a feather.
Feathering and anti-alias settings help you determine how rough your lasso is, so you can play with softer or sharper edges. High feather gives you more wiggle room for fuzzier shapes, and anti-aliasing keeps your lines smooth.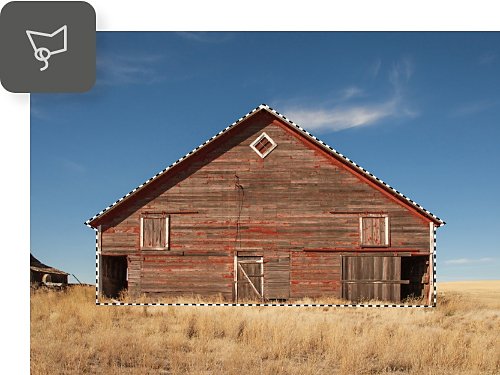 Adjust how you do freehand selection with the Magnetic Lasso tool or the Polygonal Lasso tool. The former uses the power of AI to try to snap to the edges of an object, while the latter creates polygonal shapes by turning your freehand lines into straight lines.
Want to make selections with the Lasso tool but not sure what projects work best? Try these ideas.
Cut out a unique selection.
The different lasso tools are designed to capture selections that don't fit within rectangular or oval selections or represent a clear subject or object that can be selected using AI. Trace more imaginative smooth shapes or create rougher selections for interesting composite images. 
With Select and Mask features, you can hop into a separate selection environment where you can paint and edit your selections like an artist, using the Lasso tool and other Photoshop selection tools in tandem.
How to make a Lasso tool selection.
Lassoing what you need to work with is an easy three-step process.
---
Select the Lasso tool in the toolbar with your cursor. Click and hold to select the Magnetic or Polygonal Lasso tools.
---
Hold and drag to outline the shape of your selection on your canvas.
---
If you need to make modifications to your selection, you can use Command+D (on Mac) or Ctrl+D (on Windows) to deselect it and start over, or click Select and Mask at the top of the screen to fine-tune your selection. You can also hold the shift key to add new selections to your existing one.
---
Learn more selection tips and editing tricks.
Dive into these Photoshop tutorials to expand on what you can do with your selections.
Find the Creative Cloud plan that's right for you.