Combine photos in Photoshop to create exciting visuals.
Explore the ways you can make a stunning new image by combining multiple image files in Adobe Photoshop.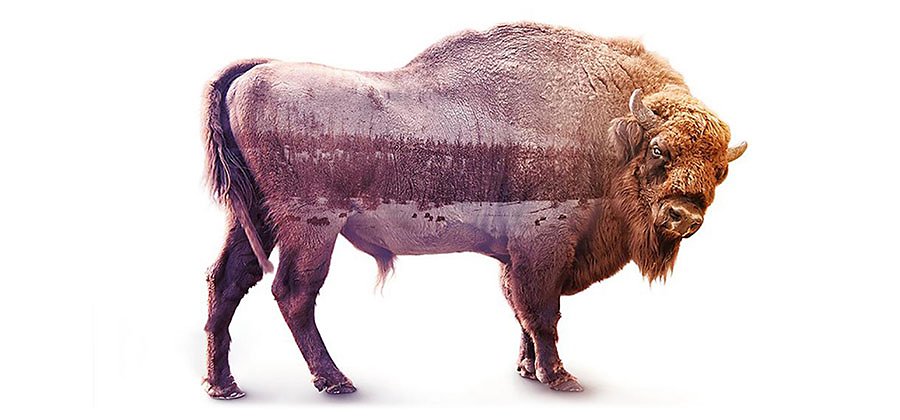 Get creative with photo combinations.
With an advanced image editor like Adobe Photoshop, there are infinite ways to combine multiple different images into one new, impactful visual. From straightforward layout designs to complex composites that use many images to create something original, the only thing limiting how you can combine images is your imagination.

How to combine images in Photoshop.
You can combine two or more images in Photoshop in a few simple steps.
Pick your first image. 
Choose the image or photo you'd like to use as your background.
Choose your document size.
Create a new file at the dimensions you need and set the background color as transparent.
Set your background.
Drag and drop your background image into Photoshop. Make sure the Maintain Aspect Ratio button (the Link icon) is selected to keep the image at its original proportions as you resize.
Add more images and photos.
Drag and drop more images into your file until you have all the elements you want.
Design your layout.
Arrange the images and photos to your liking, using your Layers panel to move images in front of or behind others.
Learn more about this process in this quick tutorial and start designing stylish photo layouts. And remember, if your end goal is to print, work in the higher-resolution TIFF file format and output as a PDF file. If your layout is meant for online use, JPG and BMP image formats are ideal for the necessary file sizes.

Use Photoshop selection tools to make cool composites.
A composite image uses bits and pieces of multiple photos to create one new image. This might sound complicated at first, but combining images in Photoshop to create a composite is easy when you start with the right tools. Get to know the Object Selection tool in Photoshop and functions like Select Subject, Quick Selection, and Magic Wand before you start your first composite.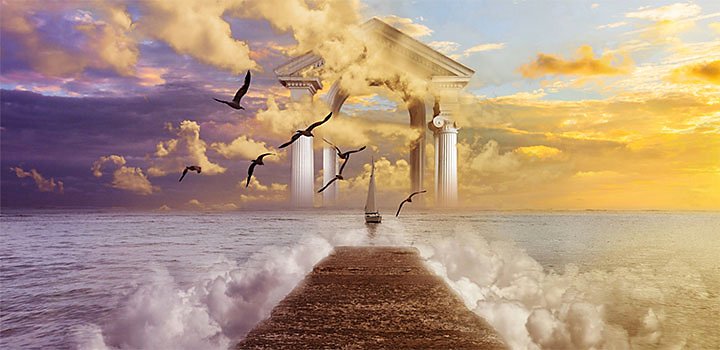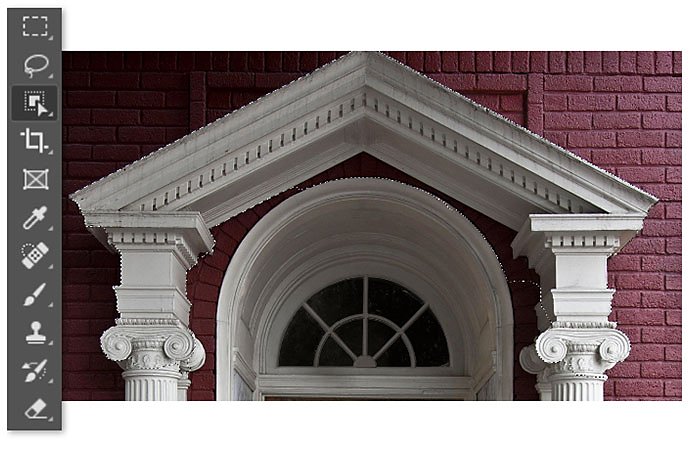 Object Selection tool.
When you need to select a single object or part of an object in an image with multiple objects, the Object Selection tool is your best friend. Use this tool in rectangular or lasso mode to draw a selection around the object, and the tool will automatically select it for you. You can then remove the object and add it to another image.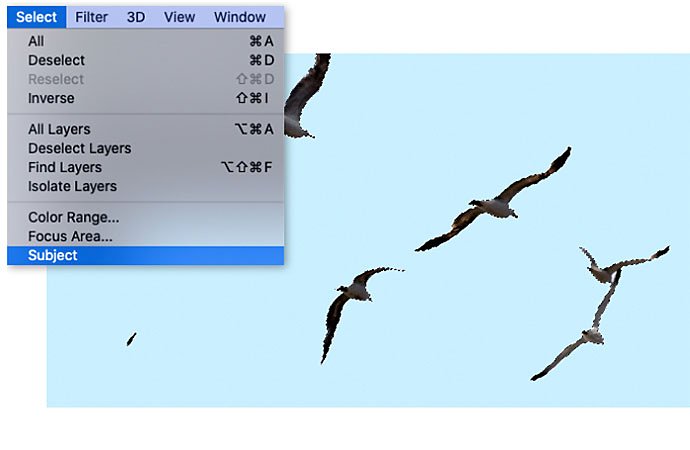 Select Subject.
The Select Subject tool works in a similar way. Use it when your aim is to select the most prominent subject in an image. It will identify the main subject — person, animal, vehicle, or something else — in the image and automatically select it for you.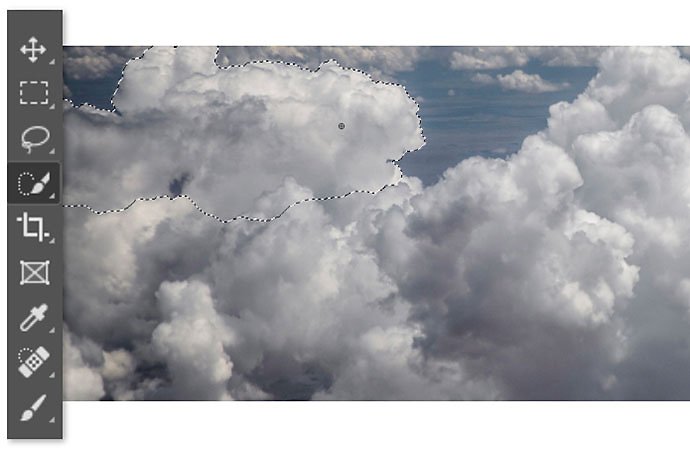 Quick Selection.
Use the Quick Selection tool to "paint on" a specific selection. This tool is great for selecting objects with a complex pattern or selecting a portion of an image that's not as clearly defined as a single object.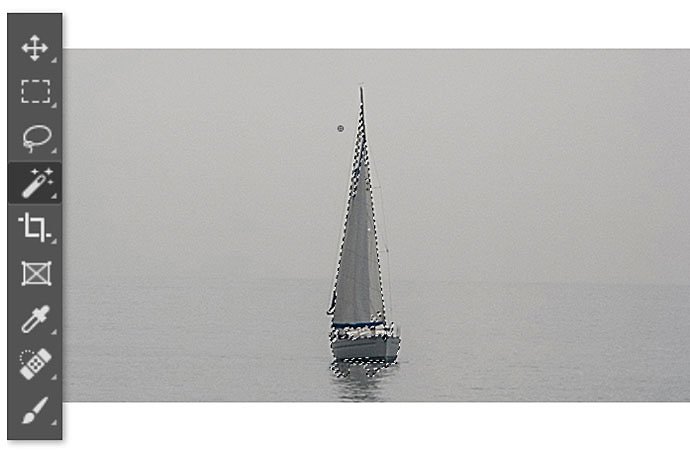 Magic Wand.
With the Magic Wand tool, you can easily select images from consistently colored areas. Once you specify a color range, the Magic Wand will help you select and remove those areas of an image.
One helpful tip for making flawless selections is to get familiar with the Select and Mask workspace in Photoshop. Say the selection you made isn't perfect, or you change your mind about what part of an image you want to select. With the Select and Mask workspace, you can adjust your selection to get it just right. If you change your mind later, you can alter your layer mask to reveal a new part of the image.
Try photomontage and collage.
Art history and graphic design fans know that collage has been a popular way of combining images for well over a century. There's no shortage of inspiration for this style of project, from rebellious Dada artists like Kurt Schwitters to photographers like Man Ray to modern-day book cover, package, and brand designers. Collage art is everywhere.
While it's very similar to collage, photomontage is a separate style of image-combining that aims to create a unified picture out of many different photographs. Unlike some styles of photo editing, the goal of photomontage isn't realism — the juxtaposition of elements is part of the charm. In fact, the subject matter is often completely surreal. If you've ever seen, for example, an image of Marilyn Monroe, Madonna, and Lady Gaga bowling coconuts on a tropical island, chances are pretty good you're looking at a photomontage.
Collage casts an even wider net than photomontage, with no firm boundaries around what kind of materials to use or what kind of image to produce. Many collages are abstract, with no specific focal point, while others may look more like patterns or designs made out of scraps of images or other materials. You can make a collage on a canvas or artboard, or you can collage directly onto practically any surface.
How to make a digital collage or photomontage in Photoshop
Once you learn how to make selections, combining images in Photoshop to make a digital collage is easy.
Gather your digital materials.
For a photomontage, you'll want to stick to actual photographs. But for a collage, you can use any type of digital artwork, from cartoons to Renaissance paintings. Just make sure you have permission to use any images that aren't yours. Try practicing with royalty-free stock photos as a starting point.
Choose a background image.
Depending on what you envision, you could choose a landscape, a portrait, an interior, or even an abstract background.
Select the desired parts of each image.
Drag and drop all of your images into Photoshop, where they'll automatically be placed on new layers. Use your favorite selection tool and the Photoshop masking feature to digitally snip out the elements you want to use in your finished piece.
Design your collage or photomontage.
Now comes the fun part. Arrange all of the elements you've "cut out" onto your canvas until you get it just right. Have fun with it — remember, there's no glue locking your images in place. Experiment and see what happens.
Polish your work.
When your design is set, you can leave it as-is or play with even more Photoshop features to get the look you want. For example, you can experiment with opacity to change the way different layers interact with the ones above and below them.
Once you're done, save your beautiful new artwork as a JPEG to share on social media to show off your creative skills.
Add a double exposure effect.

Another quick way to combine two images in Photoshop is to create a stunning double exposure image. With adjustments in the Layers panel, you can use different blend modes, like Overlay, Soft Light, or Screen, to merge a landscape photo with a portrait of a person or animal. Follow the steps in this tutorial to combine images in this intriguing way.
If you want to edit either of your images before using them in a composite, moving layers between Photoshop files is a snap. Just copy a layer and paste it into a new Photoshop file.
Put your new photo compositing skills to use.
Once you discover how easy it is to combine and composite photos in Photoshop, a world of creative possibilities is yours for the taking. Try making your own posters, memes, party invitations, or flyers.
Explore even more ways to combine images, from working in textures to adding images with a Layer Mask. Plus, learn how these methods can help you do a face swap to improve a group photo — the applications for these tools and methods are endless.
Now that you know how to isolate any portion of an image and use it with others, you'll be able to create complex, intriguing pictures that really are worth a thousand words.
You might also be interested in…
Find the Creative Cloud plan that's right for you.
Photography (20GB)
US$9.99/mo
Lightroom on desktop and mobile, Lightroom Classic, and Photoshop on desktop and iPad. Learn more
---
Lightroom on desktop and mobile, Lightroom Classic, and Photoshop on desktop and iPad. Learn more

Adobe Photoshop Single App
US$20.99/mo
Get Photoshop on desktop and iPad as part of Creative Cloud. Learn more
---
Adobe Photoshop Single App
Get Photoshop on desktop and iPad as part of Creative Cloud. Learn more
All Apps
US$54.99/mo
Get Photoshop on desktop and iPad, plus the entire collection of creative apps.  Learn more
---
Get Photoshop on desktop and iPad, plus the entire collection of creative apps.  Learn more
Students and teachers
US$19.99/mo.
Save over 60% on the entire collection of Creative Cloud apps. Learn more
---
Save over 60% on the entire collection of Creative Cloud apps. Learn more