Engage your audience with desktop publishing software for print, digital media, app design, and graphic art.
Publishing has moved far beyond the era of the printed word, and desktop publishing is keeping pace. While printed books and magazines remain important, increasingly audiences expect more from digital media. Create interactive online publications complete with video content and responsive graphics. Build apps and websites. Design artful print media, including posters, album art, and more. Break new ground.
From books to magazines to graphic art to app design, Adobe Creative Cloud has you covered.
Desktop publishing for every project.
Engage your readers with high-quality print and digital publications created with our industry-standard layout and design software. Choose from dozens of controls for fonts, lines, boxes, textures, and color. Take advantage of advanced controls for interactive content and video and the ability to output in standard publishing formats like PDF, EPUB, and HTML.
Publish, print, and publicize.
Print and digital layout software at its best. Responsive controls, comprehensive design elements, and elegant preset templates let you handle any publishing task.
InDesign does more with layouts.
Choose settings
Print, digital, or web. Select a template, or design your own. Decide on one page or multiple pages for the scope of your desktop publishing project.
Design your layout
Frames are the organizing unit of your layout. They contain content such as text and graphics. Use them to create the look of your project.
Add content
Fill your frames with your chosen content — text, images, or rich media — and refine your design for maximum impact.
Publish
Export in the formats of your choice, including EPUB, PDF, HTML, and EPS, or create print separations for a printer.
Text wrapping
Flow your text around initial capitals, infographics, pictures, and video. Take your reader on a visual journey through your story.
Imagery in tables
Punch up your tables and infographics with images to hold the eye.
Adobe Stock assets
Integration with Adobe Stock allows you to quickly find the graphics you need to enhance your publication. Search for illustrative content, textures, or layout design templates.
Rapid prototyping and layout design for web and mobile apps.
Build fully interactive designs to preview on desktop, tablet, and mobile. Move quickly from wireframes to working prototypes. Creating compelling user experiences has never been easier with a desktop publishing app.
A full set of design and prototyping tools to quickly create engaging user experiences. Build pages, adjust visual elements, and create interactive prototypes.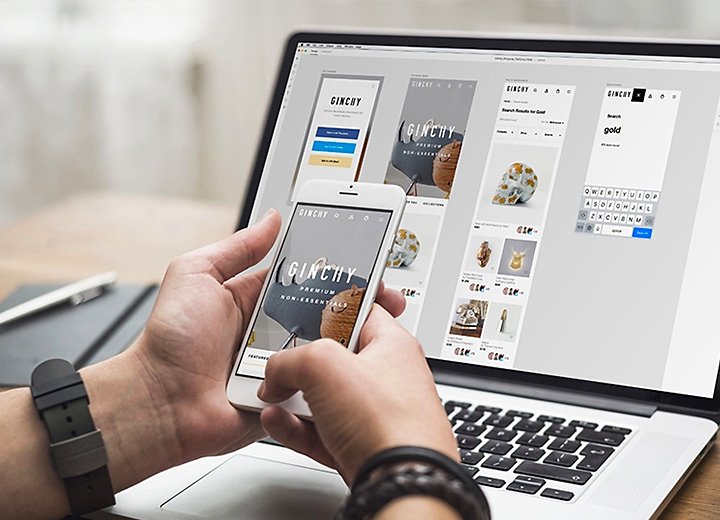 More features to make design faster and easier.
Start with artboards
Choose from premade templates or design your own artboards. Pick color schemes, place frames, and import elements like text and images.
Develop your idea
Organize the flow of your app. Arrange buttons, menus, and forms. Choose from dozens of premade artboards for tasks like signing in or user registration.
Make connections
Connect buttons and controls to artboards and create the user experience. Define actions and transitions.
Preview and export
Test your prototype on desktop and mobile devices with the XD preview app. Send links to collaborators so they can review and comment. Then export design specs for your developer.
Responsive artboards
Work quickly in XD, even with hundreds of artboards at one time. Change your view, rearrange, and redesign with no lag time.
Contextual layers
Keep your experience design organized with contextual layers. Convert functions into symbols to use across your project.
Repeat Grid
Automate repetitive tasks with Repeat Grid. Create and populate multiple elements so your design takes shape more quickly.
Free desktop publishing software for web and mobile.
Tell your story simply in a social media post, a web page, or short video. Easy-to-use controls and powerful templates help you build and share amazing content quickly.
Take your stories up a notch.
Create professional-looking content in minutes by adding graphics, video, and effects to your web pages and social media posts. Then watch those likes add up.
Adobe Spark makes desktop publishing easy with simple, powerful features.
Create for web, video, or social media
Whether you're creating a post, adding a page, or making a video, you'll find specialized web and mobile apps to streamline the task.
Pick a template
High-quality templates make storytelling a snap. There are templates and themes for every task — and you can also design your own.
Add content
Follow the suggestions and add photos, video, text, and icons. Adjust the order and settings until everything's perfect.
Save and share
Post your finished story to the social media platform of your choice, embed it in your website, or download a copy to your computer.
Engaging templates
Whether you're promoting a band, announcing a life event, sharing snaps from a recent trip, or taking a stand on a good cause, Adobe Spark has templates and themes to meet your needs.
Free searchable images
With thousands of images searchable by keyword, you'll always find the perfect one to underscore your message. You can even choose from professional icons, fonts, and textures.
Inspiring projects
Browse thousands or projects on the Adobe Spark website to get ideas, and remix featured items for an even quicker start.
Create and publish wherever you are.
Adobe Spark includes free mobile apps designed for social media creation, webpage design, and video production. It's fast and simple, so you can tell your story and share on the spot.
Make your posts stand out on social media.
Create event posters, invitations, blog posts, and more for Instagram, Facebook, Pinterest, and YouTube. Spark Post has templates, fonts, and graphics to make your posts stand out, plus simple controls to help you manage your brand presence with professional results.
 
Design web pages on your hand-held device.
Combine images, text, and graphics to tell your story. Design pages on your phone or tablet that will shine on both desktop and mobile devices. Find easy-to-use templates for invites, travelog's, announcements, and magazine-style articles all at your fingertips.
 
Edit short films in minutes.
Video can make your message more compelling — and with Spark Video, you don't need a complex video editor to wow your audience. Just follow the guided templates to combine images, clips, text, icons, and narration into pro-quality content.
 
Compare layout and publishing features.
Choose from apps for desktop, web, and mobile — pick the tools that suit you best.
| | | | | | | |
| --- | --- | --- | --- | --- | --- | --- |
| | | | | | | |
| | | | | | | |
| | | | | | | |
| | | | | | | |
| | | | | | | |
| | | | | | | |
| | | | | | | |
| | | | | | | |
| | | | | | | |
| | | | | | | |
| | | | | | | |
| | | | | | | |
| | | | | | | |
| | | | | | | |
| | | | | | | |
Learn more about desktop publishing with Creative Cloud tools.
With features being added all the time, there's always something new to discover. Explore beginner and advanced tutorials.
Create an interactive PDF.
Add bookmarks, links, page controls, and video to a PDF. Use sophisticated controls in InDesign to make an interactive PDF magazine.
Design and preview prototypes.
Create links between artboards in an app prototype and share links with collaborators to get feedback.
Create branded stories in Adobe Express.

Make your business stand out by creating a unique voice online. Find out how fonts, colors, styles, and surfaces can bring a brand to the forefront.

Make your message more visible with top-of-the-line desktop publishing software for Windows, macOS, Android, and iOS.
Presentation is key in today's competitive marketplace. The tools in Creative Cloud have comprehensive controls, high-quality templates, and themes designed for any digital or print publishing project you can dream up. Cloud backup and app integration let you easily move your projects between the tools and share with collaborators. With membership options for individuals and businesses and discounts for students and educators, you'll find a plan that's right for you.