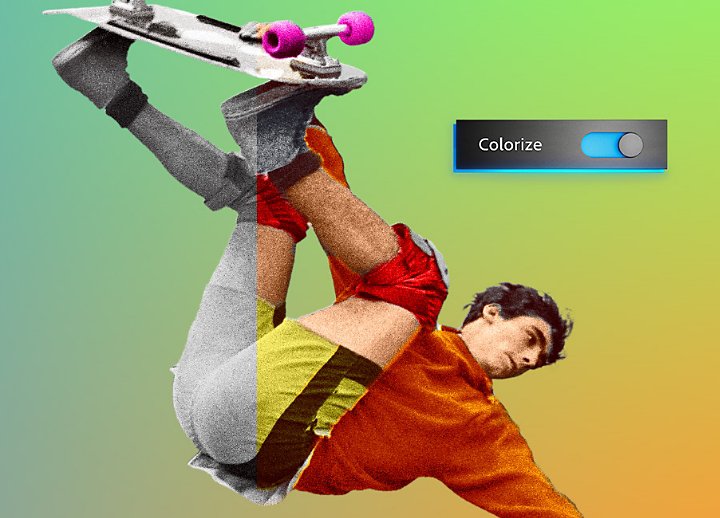 Čokoľvek, čo vznikne vo vašej predstavivosti, zvládne aj Photoshop.
Od kreatívnych úprav fotografií až po komplexné transformácie obrázkov – skupina aplikácií Adobe Photoshop vás nesklame.
Explore the Photoshop family of apps.
Power your imagination with Photoshop.
From social posts to photo retouching, banners to branded merchandise, eye-popping images to amazing artwork — whatever you dream up, you can do it with Photoshop.
Advanced editing and retouching
Combining images with multiple layers and effects
Digital drawing and painting
Website design

Edit your photos anywhere with Photoshop Lightroom.
Your photos don't always match what you saw. Make them look just the way way you want with the powerful, easy-to-use app that lets you edit, store, share, and organize your photos anywhere you are.
Basic and advanced photo edits
Editing photos on any device
Storing and organizing photos
Applying new looks with presets
Learning new photo editing skills
Create fun photos on your phone with Photoshop Express.
Get the mobile app that lets you make quick and easy photo transformations, creative edits, and add themes, stickers, and effects — all with one tap. Find inspiration and post your photos right from the app.
Easy edits and adjustments 
Cutting out and combining photos
Enhancing with filters, effects, text, and stickers
Retouching portraits and selfies
Creating collages
Which Photoshop app is right for you?
Vytvárajte úžasné obrázky, bohatú grafiku a neskutočné umelecké diela. Ďalšie informácie
Skrášľujte svoje fotografie vďaka výkonnému softvéru na úpravu fotografií bez ohľadu na to, kde sa práve nachádzate.
Ďalšie informácie
Quickly edit, collage, and retouch photos so they stand out on social and everywhere else. Learn more
Fotografie, videá, grafický dizajn, ilustrácie a ešte oveľa viac. Všetko, čo potrebujete, kdekoľvek vás predstavivosť zaveje.