Design delightful gift cards.
Start with gift card templates or create your own custom gift card designs to attract new customers and build your brand.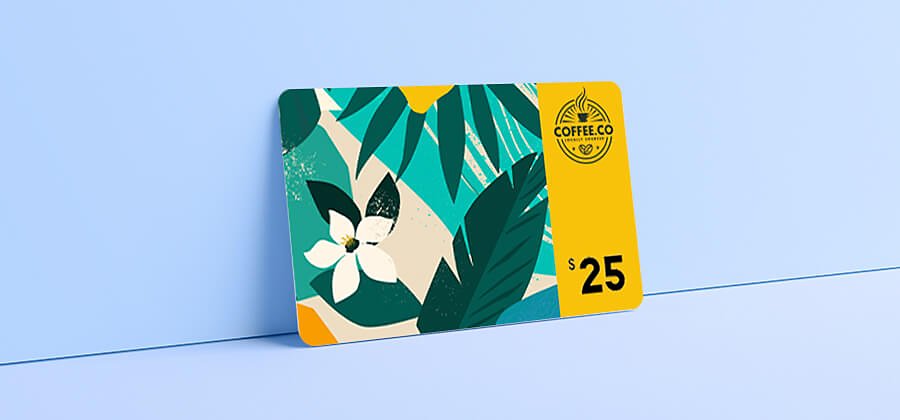 Boost your business with gift cards.

With gift cards, you can strengthen your brand identity and give fans of your brand a chance to spread the word to someone else. You also free them from the burden of trying to find the perfect gift. 


Gift cards are great for business, too. People who use them often spend more than the value of the card on their purchase, and they might become return customers and spread the word even further.
Gift cards — and e-gift cards — over gift certificates.

Anyone with a printer and some paper can whip up a gift certificate, and you can find plenty of gift certificate templates on Adobe Stock. But gift certificates are only good for one use. A plastic gift card made from recycled PVC or one made from sustainable wood is durable and reusable. And an e-gift card people can purchase, give, and redeem online is an even greener option. 
With gift cards, you can include a barcode or QR code to use with a point-of-sale system. Customers can add value to the card to use it over and over again, and you can keep track of their amounts and remind them of lingering balances.
Because they're made to last and they make a first impression on potential customers, your gift cards should stay true to your brand and be pleasing to the eye. Design a card that will catch someone's eye in their wallet or on their desk and inspire them to do some shopping.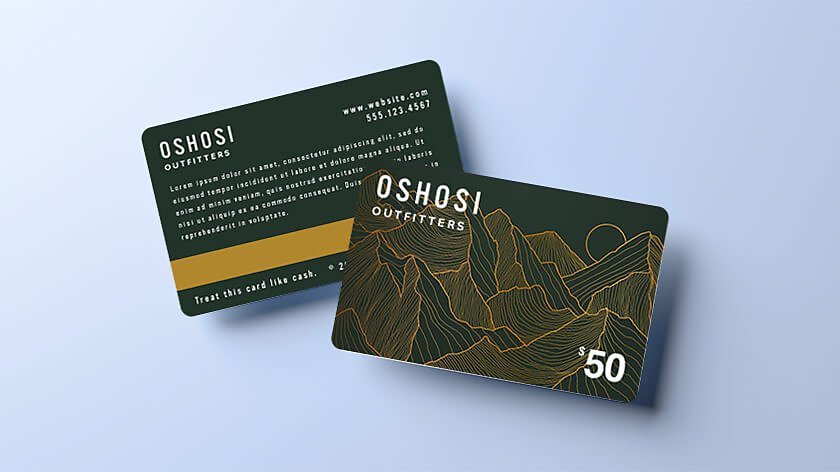 What to include in branded gift cards.

Every gift card should include a few basic elements.

Logo 
Brand colors
Tagline if your brand has one
Gift card amount
Special offer mention
Company website or physical address
Phone number, email, or web address for questions
Expiration date (make sure it complies with federal and state laws)
QR code, barcode, or unique number to keep track of the balance
Terms and conditions to avoid confusion about limitations or restrictions
Create specific gift cards for special occasions and holidays.

Depending on your business, you might see an uptick in gift card sales during the winter season or ahead of holidays like Valentine's Day, Mother's Day, or Father's Day. Throughout the year, you can attract customers looking for graduation, anniversary, or birthday gifts. 
 
To appeal to those customers, add holiday messages and graphics to your cards. Think hearts, party streamers, birthday or wedding cakes, boxes tied with bows, graduation caps, and other festive icons.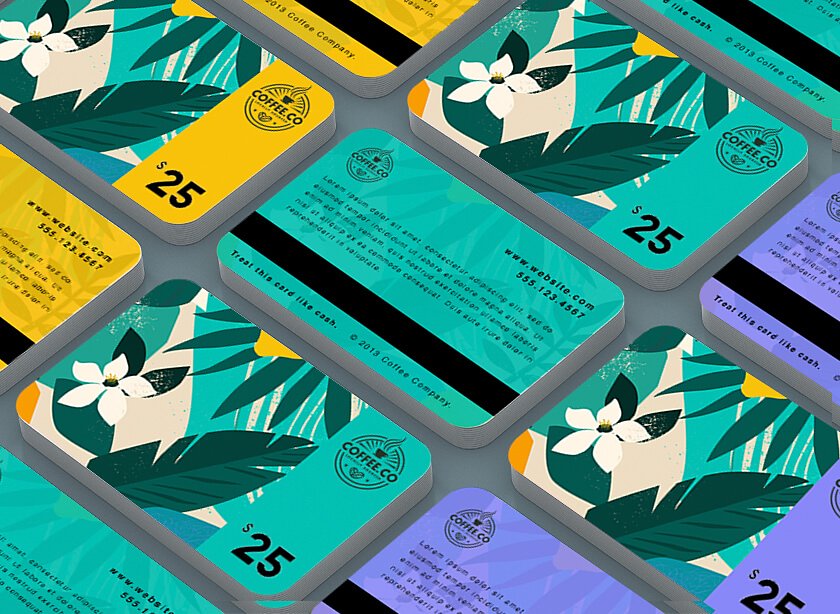 Design a gift card in Adobe Illustrator.

You can start with an editable gift card template from Adobe Stock. You can also explore stock images to add as background. When you find the template you like, download it as an AI file and add your brand color, logo, and text in Adobe Illustrator. 
To create a gift card from scratch in Illustrator, follow these steps. 
1. Get started.

Open the program and create a new canvas.
2. Set the dimensions.

If you plan to print your gift cards, find out how much space you need to devote to the bleed area. Gift cards tend to be the same size as credit cards or business cards, with a width of 3.37 inches (85.6mm) and height of 2.125 inches (53.98mm). Start with a larger canvas, and be sure to add printer's marks before sending to the printer.
3. Set the color mode.

CMYK is good for printing. If you're making an e-gift card, select RGB.
4. Choose your background color.

Use the Rectangle tool to draw a rectangle over your canvas and fill the background with your chosen color. Rename that layer Background to stay organized. If you want a border, add a stroke color. If not, add a fill color by double-clicking the Fill box at the bottom of the Tools panel on the left. You can also create a gradient by clicking Gradient Options in the Properties panel to the right of the artboard.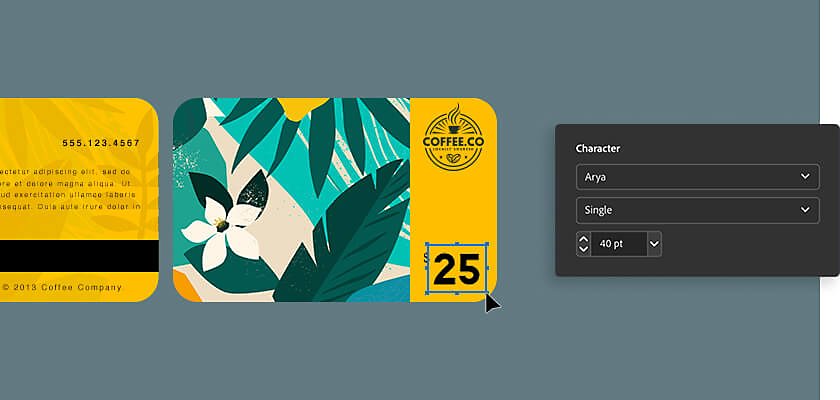 5. Add your logo and any other images.
Whether your company logo is an AI, PNG, or JPEG file, you can add it to your Creative Cloud Library so it's always nearby. Then you can drag and drop your company logo onto the card, resize it to fit, and put it in the right place.
6. Add text. 

Click Create New Layer, and rename it Text. Click the Type tool and type the text. Then, use the Character panel to choose your font, font color, and size. Use the Selection tool to adjust the placement of your text. 
7. Repeat for the back side of the card.

If you're printing your gift card, select the Artboard tool, hold down the Option key on a Mac or the Alt key on a PC, and drag a copy of your card below the first side. Then delete the text to replace it with terms and conditions, an expiration date, or other text. If you created a barcode, you can copy and paste it to this side of the card.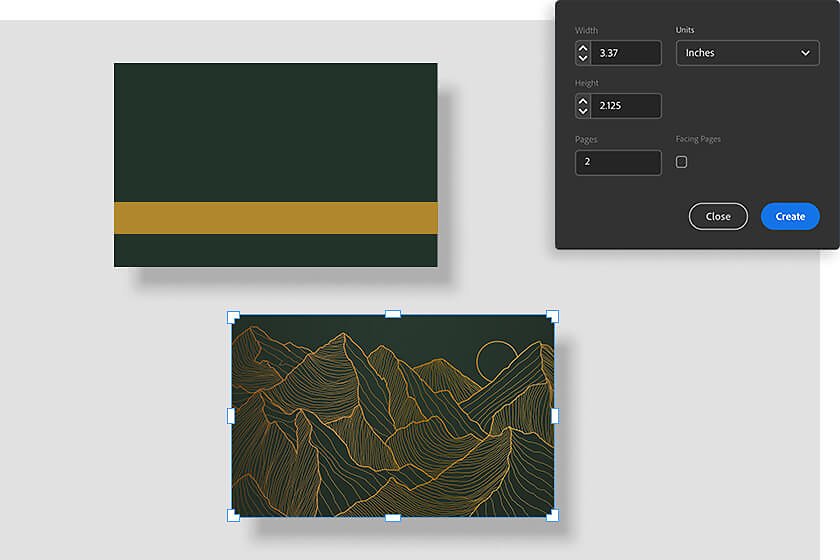 Design a gift card in Adobe InDesign.

Follow these steps to create your gift card in InDesign. 
1. Create a new document and set the dimensions. 
Because InDesign is built for printed material, you can set the page dimensions and margins for the new document. Set the project for two pages and uncheck the Facing Pages box. Set the width to 3.37 inches (85.6mm) and height to 2.125 inches (53.98mm). Then set the appropriate bleed number for your printer.
2. Make your background.
Import a background image by selecting File › Place. Then scale the image to fit the frame. For background color, draw a rectangle over the image with the Rectangle tool. Select the Window › Color › Swatches. Click the Fill icon, and choose a fill color to apply it to the entire frame.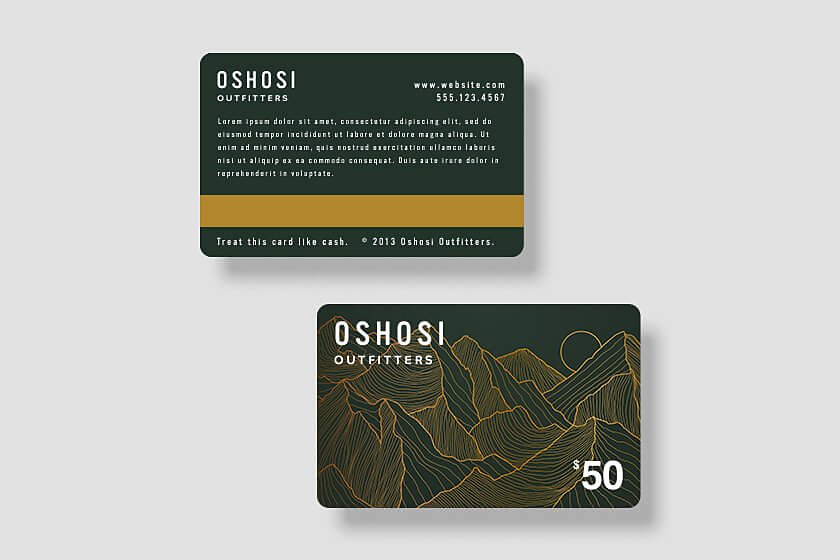 3. Add your logo and any other images.

Choose File › Place and open your logo or other images. Scale them and move them into position with the Selection tool. (If you want to add a scannable code, you can now generate and manage QR codes in InDesign.)
4. Add text.
Select the Type tool and add any text you want to include. Adjust font, size, and color in the Character panel, and use the Selection tool to move it into the right position.
5. Repeat for the other side.
Add more text and images to the reverse side just as you did the front. Click the Pages panel and select the page 2 thumbnail to begin work on that page.
6. Export.
When you're ready to print, choose File › Export › Adobe PDF (Print) and click Save. Check with your print provider on whether you should select High Quality Print or Press Quality options in the Adobe PDF preset menu. Select the proper marks and bleed settings so your colors flow right to the edge of the gift card. (The crop marks appear after you export.)
Push the gift card envelope.

Once you've set up your design templates and created basic branded gift cards, see how much fun you can have inside that little rectangle. Add graphic and photographic elements that draw attention and get people excited about giving the gift of your products to friends or family members. For inspiration, check out the projects on Behance. Your canvas is just a few square inches, but you can still make it art.
More topics you might be interested in…
Choose your Creative Cloud for teams plan.
All plans include the Admin Console for easy license management, 24/7 tech support, unlimited job postings on Adobe Talent, and 1TB of storage.

Your choice of one Adobe creative app such as Photoshop, Illustrator, lnDesign, or Acrobat Pro.*

Get 20+ Adobe creative apps including Photoshop, Illustrator, InDesign, Adobe Express, XD and more.

* Acrobat Pro, Lightroom, and InCopy single apps come with 100GB storage.