Edit graphics and create incredible images with Photoshop Document (PSD) files — the native file format of Adobe Photoshop. Find out more about the history and uses of this file format.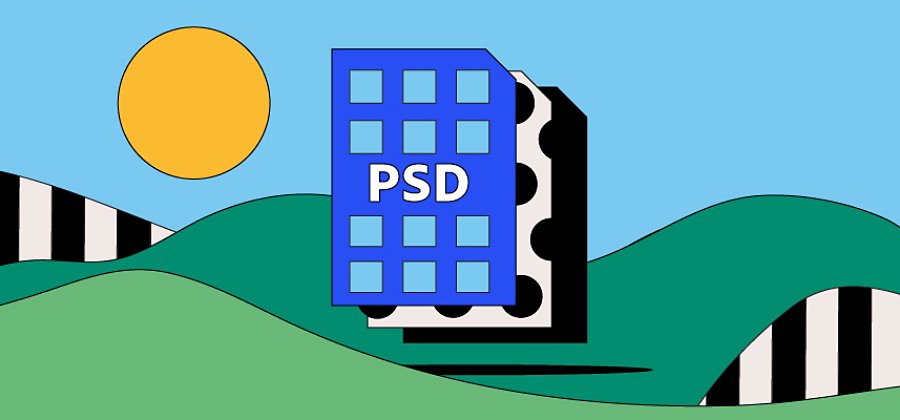 What you'll learn.
What is a PSD file?
 
History of the PSD
 
What are PSDs used for?
 
Pros and cons of PSD files
 
How to open a PSD file
 
How to create and edit a PSD file
 
PSD files: frequently asked questions
What is a PSD file?
PSD files are the native file format of Adobe Photoshop. You've probably seen files with the .psd extension format, especially if you've been an Adobe Photoshop user. Most commonly used by designers and artists, Photoshop Documents are powerful tools for image data storage and creation.  
A PSD can store multiple layers, images and objects, often in high resolution, making it the industry-standard for creatives.
A PSD can support up to 30,000 pixels in height and width, giving these files an impressive range for both image depth and colour spread. 
History of the PSD.

Now considered to be the industry standard file type for digital image manipulation and editing, the PSD emerged with Adobe Photoshop. As the software's native file format, PSDs allowed Photoshop creations to be saved in high-quality, editable documents.
Adobe, then known as Adobe Systems Incorporated, first developed Photoshop in 1988 and released it to the public in 1990. The software — and its PSD file format — have evolved dramatically over time, creating a legacy for the company as the market leader for image editing. 
What are PSDs files used for?
PSDs can store large amounts of image data, including several layers of different images or graphical elements. With PSD sizes ranging up to two gigabytes, they can make distinctly large, editable files.
Digital design.
With Photoshop being the Swiss army knife in many designers' toolkits, it's no surprise that PSDs are common files in digital design work. The ability to work across several layers, import and edit multiple graphics and high-quality images make PSDs a must for digital projects.
Photography manipulation.
Photographers who use Photoshop and other Adobe Creative Cloud products for post processing tasks — like image editing, retouching and compositing, for example — will be very familiar with PSD files. There's almost nothing a photographer can't do inside a PSD, from fixing an underexposed photo to creating high-gloss editorial imagery. 
Pros and cons of PSD files.
There are trade-offs for using PSDs. Their usefulness will depend on your needs and available tools.
Advantages of PSD files.
PSDs can retain up to 30,000 pixels in both height and width, meaning they store a large amount of colour and image quality information for their size.
 
They're one of the few image files that are editable across multiple layers, meaning several images can be overlaid and manipulated individually.
 
PSDs are easy to import into other Adobe products, like Illustrator or Premiere Pro.
Disadvantages of PSD files..
As the native file format of Photoshop, you'll typically only use PSDs if you're an Adobe Creative Cloud subscriber.
 
Depending on how you use them, PSDs can get large — up to two gigabytes — which might make them a challenge to store, send or transport.
PSDs aren't natively supported by operating systems like Windows and macOS without the use of Creative Cloud software.
How to open a PSD file.
Windows.
You'll need additional software, such as Creative Cloud, to open and edit PSD files.  While Illustrator or Premiere Pro will open and display PSDs, you'll need Photoshop to edit the original file. 
macOS. 
Similar to Windows users, macOS users will need access to Creative Cloud to edit PSD files. The Preview app in macOS enables you to open and view PSD files by default, though you won't be able to edit the image. To open in Preview:
Select the PSD you want to open.
 
Double-click the chosen file.
 
Open the PSD in Preview.
How to create and edit a PSD file.
When you've finished editing your file in Adobe Photoshop, simply hit Save As under File to save your work as a PSD.
Whenever you want to edit your design again, just head back to Photoshop and the File drop-down menu. From there, select Open and search for the PSD in question. Double-click the file and it will automatically open in Photoshop, all ready for editing.
PSD files: frequently asked questions.
Is a PSB a PSD?
A PSB file is a larger-form PSD. PSB stands for Photoshop Big and, as the name suggests, is a Photoshop-compatible file that shops more data than a standard PSD.
Can you print a PSD file?
You will need to convert a PSD file to PDF before printing. You can do this by saving your PSD as a PDF in the Print menu under File in Photoshop.
Can you open PSDs on an iPhone?
You can open PSDs on your iPhone or Android phone if you have access the Adobe Photoshop Express app. 
Can you open PSDs in Adobe Acrobat?
You'll need to convert your PSD file to a PDF before you can view it in Adobe Acrobat. 
When would you use a PSD?
Many people use PSD files when they're working with high-quality graphics data such as large, detailed photographs or other high-resolution graphics and artwork.
Learn more about similar file types to PSDs.