DPX is a digital file format used to transfer and store film images. Its flexibility in handing visual effects and color make it a movie industry favorite. Get to know more about its history and uses, plus some of the DPX format's pros and cons. Learn how to create your own DPX image with Adobe.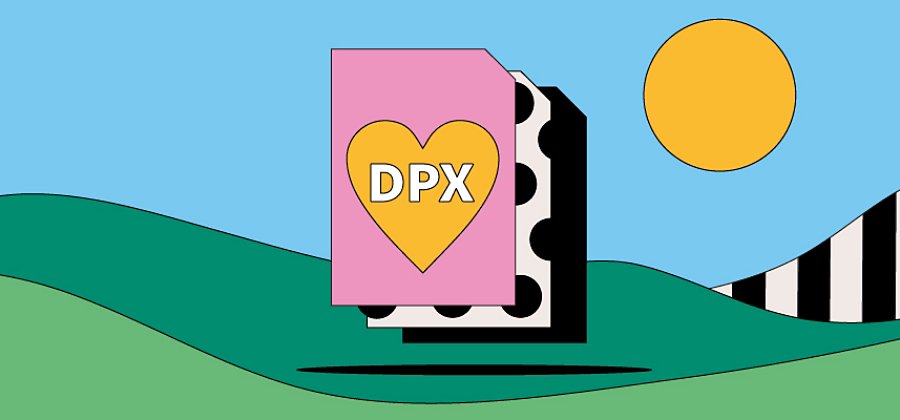 What you'll learn.
What is a DPX file?
 
History of the DPX file
 
How to use a DPX file
 
Pros and cons of DPX files
 
How to open a DPX file
 
How to create and edit a DPX file
 
DPX files: frequently asked questions
 
What is a DPX file?
DPX stands for Digital Picture Exchange. It's a file type known as raster — that is, made from pixels — that stores individual scanned film frames in a lossless digital format. DPX files are often exported as a stream because one file corresponds to one single frame. Flexible and lossless, users can import DPX files to a variety of post-production and digital effects software.
The DPX format is popular in the film industry because of the specific way it stores color information and spaces. When you first view DPX images, they may appear washed-out — but because they're designed to contain all the color density from the filming process, you can grade them to meet your production's unique aesthetic demands.
History of the DPX file.
Kodak created the DPX file format to scan film. They based the DPX format on their earlier CIN files, and the Society of Motion Picture and Television Engineers (SMPTE) adopted its use soon after. Kodak released the first version in 1994 and the second in 2004.
Since then, the SMPTE has adapted the DPX format to suit industry-specific technology, including Academy Color Encoding System support and extensions for high dynamic range (HDR). 
How to use a DPX file.
The film industry uses DPX files to:
Store and transfer files.
Film scanning captures each frame of a movie as an individual DPX file, which is then exported to editing and post-production programs like Adobe After Effects or Adobe Premiere Pro. 
Enhance post-production.
The DPX file's versatility ups its value to the post-production process. You can crop, color, and add special effects to the files with few limitations. DPXs have also significantly improved film color grading.
Discover more raster file types
Pros and cons of DPX files.
To make an informed choice before working with DPX files, first consider both the advantages and disadvantages.
Advantages of DPX files.
DPX files are highly flexible. You can view them with most raster digital image software, apps, and programs.
 
Because they store color density information, DPX files are useful for color grading.
 
A DPX file is a lossless format — so it won't lose any data from filming or when transferred between apps and programs.
Disadvantages of DPX files.
DPX sequences consist of many frames, often at high resolution. To export and edit a DPX sequence, you need a computer with a high processing speed.
 
You must pay a license fee to edit in DPX on post-production and film editing programs.
 
How to open a DPX file.

Follow these easy steps to open a DPX file stream with Adobe After Effects:
Put all the files in your stream into the same folder.
 
Open Adobe After Effects.
 
Select File > Import > File.
 
Choose your first image.
 
Click Import as sequence.
 
Your files will then import as a stream.
To import individual files, follow the same process but don't select Import as sequence. It also helps to keep individual DPX files separate from existing sequences.
How to create and edit a DPX file.
Your video scanning device should create a DPX file by default. You can then upload the file using Premiere Pro by following the same steps as described above.
DPX files: frequently asked questions.
What program opens DPX?
Several file viewers and raster image programs can open individual DPX files. However, to open a DPX stream, you'll need a specific software like Adobe Premiere Pro or Adobe After Effects.
Can Photoshop open DPX files?
Adobe Photoshop is compatible with the DPX format. You can use Photoshop to open, edit, and export DPX files as individual images.
Are DPXs raster or vector files?
DPXs are a raster file type, meaning they're built from pixels rather than the mathematical algorithms and formulas used to create vector files. Drawings and logos tend to work better with vector files while photographs display best as raster files.
What is the difference between .DPX and .CIN?
Kodak created the CIN file type. The DPX file type was adapted from the original CIN file, but even today, there's still not much difference between them. However, DPXs do contain some additional information in their file header.
Are DPX RAW files?
DPX files are not RAW files. They're uncompressed, lossless files that maintain key data and information from the filming process.
Learn more about file types that are similar to DPX.
Apl Tunggal Premiere Pro
Cipta penerbitan yang sempurna dengan perisian pengeditan video yang terkemuka dalam industri.
7 hari percuma, kemudian RM98.91 /bulan.
Aplikasi Tunggal Adobe Audition
Cipta, adun dan reka bentuk kesan bunyi dengan perisian pengeditan audio digital terbaik dalam industri.
7 hari percuma, kemudian RM98.91 /bulan.
All Apps
Get all 20+ creative desktop and mobile apps.
7 days free, then RM250.16/mo (termasuk SST).