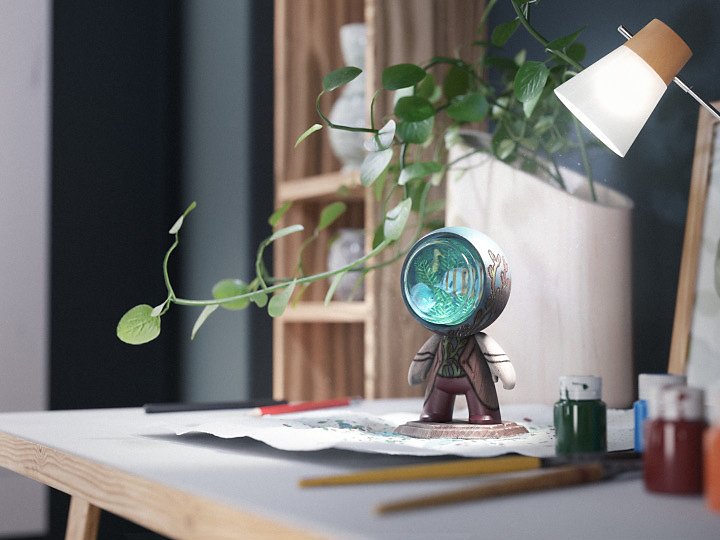 Assemble the perfect shot.
Access Stager in the Adobe Substance 3D Collection plan for   ​.
Are you a business? Call us for a consultation: 0800 007031
Showcase your projects with all the benefits of a real-world photoshoot.

Enhance lighting with the environment lighting editor or add physical lights to your scene manually.
Enjoy support for a variety of formats from CAD, to USD, gLTF and more.

Set up realistic collisions between objects during positioning and transformation.
Import a project from Painter to Stager with a single click.
Switch between real-time rendering and interactive path tracing while keeping high visual quality.
Explore the Substance 3D family of apps.
Frequently asked questions.
Virtual staging software allows you to import 3D assets, then arrange and stage them to build a scene. Users can add lights to further customise the appearance of the scene. Commonly, virtual staging software uses a camera-based system to allow users to set up shots for rendering. Substance 3D Stager is Adobe's solution for photorealistic 3D rendering.
Adobe Dimension is a general purpose 3D application. While Substance 3D Stager has many similarities with Dimension, Stager was designed to include more advanced tools to complement Adobe Substance 3D's multiple apps. Stager uses the updated Adobe Mercury Render Engine, which offers stunning and photorealistic image quality. Stager also includes advanced features like collision during staging and ray tracing.
Substance 3D Stager supports Apple ARM (M1) devices in emulation mode only. Emulation mode may affect the performance of the application. We do not currently have a release date for native support.
Substance 3D Stager uses the Adobe Mercury Render Engine. Mercury is a mixed technique renderer, allowing users to switch between real-time rendering and ray tracing. Each option has shared settings for seamless transition between modes. Real time rendering prioritises interactive frame rates while still striving for the best looks possible, making it a great choice for test renders, mock ups and quick turn arounds on projects. Ray tracing is a powerful rendering technique that shoots digital light rays through a scene to more accurately obtain scene information and mimic real-world lighting scenarios.