Put background music in your next video project.
Learn how the right background music — whether it's original or stock music — can add a cinematic touch to video content.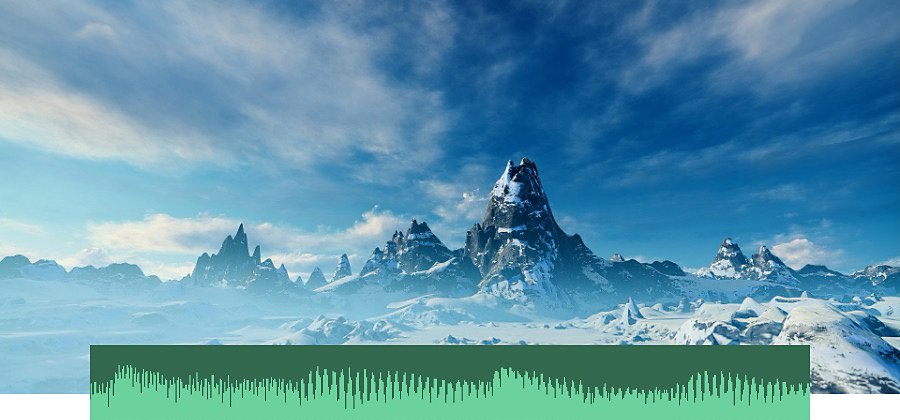 Face the music.
How do you enhance a video clip without taking away from the visuals? Background music is a simple addition that instantly makes your work more immersive and entertaining. Whether it's a short YouTube video or a full-length cinematic feature, the perfect background music can subtly set the mood, maintain attention, and evoke emotion. Discover how and when to use it and where to find the best background music for your project.
Choose the right background music.
Before you shoot, consider the type of video content you will make. What role will music play? Good music can drive your point home without saying a word. If the video is for a new product and its benefits, you can add a bright, uplifting indie track.
If you want a piece to feel current, cool, or edgy, you can incorporate hip-hop. Or, if your clip is epic, use orchestral music to give your viewers a sense of grandiosity. If you're unsure what genre to use, a music library is an excellent way to preview tracks. Either read the script or watch the clip with the music playing to find your fit.
Duck in and out.

If there's a lot of dialogue in your video clip, stay away from instruments like cello, guitars, and violins, which use the same tone as the human voice and make it hard to hear. Once you get your work into a video editor like Adobe Premiere Pro or Premiere Rush, you can also use a sound editing technique called ducking to lower a specific audio source when another is introduced.
"Ducking is when you want a specific vibe so you have the dialogue weave in and out," says sound editor Justin Odisho. If your video content involves frequent talking, like the video version of a podcast, ducking helps keep the audience focused on the words, not the music.
Find your sound.

Depending on your budget, there are a few options to find the ideal playlist for your project. Keep in mind that if you want to use popular songs, you'll have to purchase a music license to avoid copyright infringement; the more notable the song, the higher the pricing.
If you want to keep costs down, you can search for music with a creative commons license, which means it's free to use with some guidelines. Or you can use royalty-free background music from a music library online. Royalty-free background music can range anywhere from $10 to $1000 per track.
"There are a lot of royalty-free music sites where you can find music tracks for smaller projects if you're just starting and want something as filler," says audio engineer Sam Kingston.
If your budget allows and you need something customized for your clip, you can hire a composer. This is helpful if you can't find a track that you like or if there are many mood changes in your work. "The composer is key in producing a cohesive soundscape for the project," Kingston says.
Whatever music you choose, don't forget to add an attribution to the end credits.
Add background music like a pro.
Once you find the music tracks that best embody your work, Premiere Pro makes it easy to import them into your workflow. There are three ways to do this:
Drag the tracks directly into your timeline from your computer.


Import the media file from the Project media panel and then drag it to your timeline.


Use the Essential Sound panel and browse Adobe Stock audio.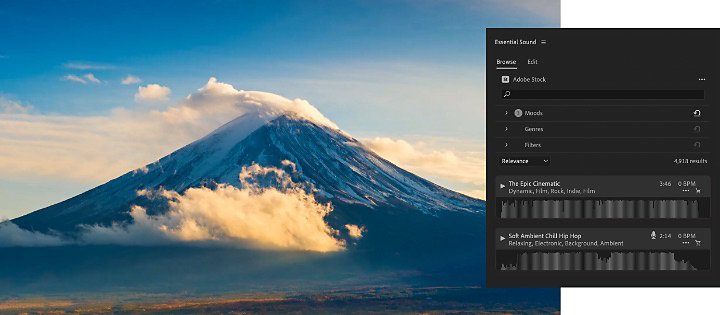 Keep in mind that you'll have to pay for music licensing if you use tracks from Adobe Stock. Once the tracks are imported, edits are easy with the industry leader in video editing software. There are four different types of audio you can adjust: dialogue, music, sound effects, and ambience.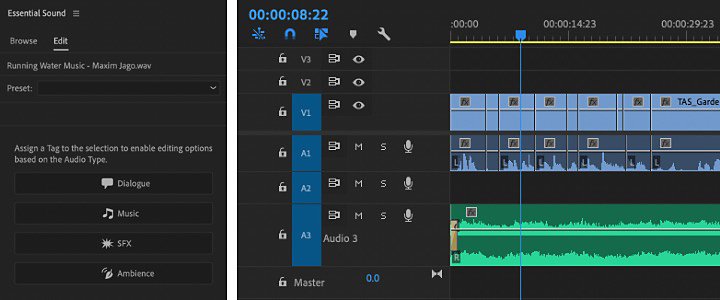 Click Music to get started.
1. Expand your audio waves' height to gain a more detailed look at the tracks you chose.
2. Balance the speakers the audio plays through.
3. Apply transitions like cross-fades, designed to make your next video clip music to your ears.
4. Automatch tracks.
5. Set ducking parameters.
6. Adjust reverb and loudness.
Click the Effect Controls panel to review what you have done or to access more advanced controls.
Add background music on the go.
Bring background music into your video from anywhere with Adobe Premiere Rush mobile app.
1. Tap the + icon in the bottom menu.
2. Tap the Media button to find songs on your device. Or tap the Audio button to go to the Browse Audio screen to discover more high-quality loops, soundtracks, and sound effects embedded in Premiere Rush through Adobe Stock.
3. Pick the tune you want, and tap Add.
4. The track will appear in your timeline where you can edit it using the tools in the Audio menu.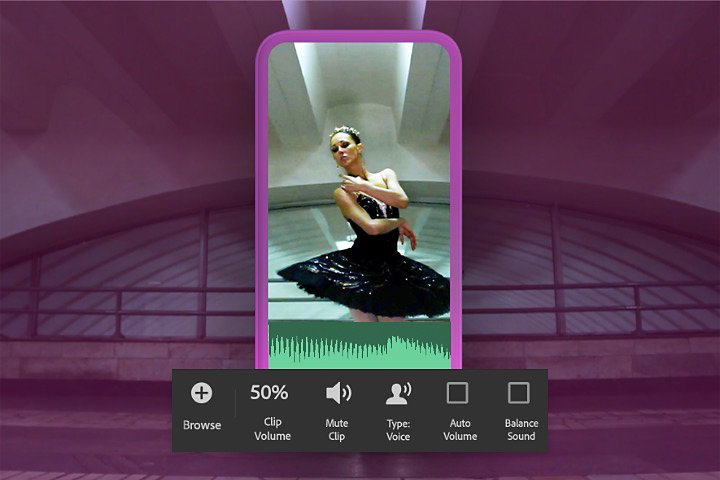 Once the music is in your timeline, you can reduce background noise, reduce echo, and control the volume. Layer tracks to make a score that's distinctly yours. If you're unhappy with your current sound, go back to the original or separate the audio from the video with the click of a button.
Whether you use Premiere Pro or Premiere Rush, it's easy to add background music to help your video strike a chord with your audience.
Do more with Adobe Premiere Pro.
Make visually stunning videos virtually anywhere — for film, TV and web.
You might also be interested in…
Lossy or lossless? Compressed or uncompressed? Find the audio format that fits your needs.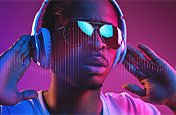 Explore how audio bitrate relates to audio quality and user experience. 
Get Adobe Premiere Pro
Create flawless productions with the industry-leading video editing software.
7 days free, then A$31.35/mo. incl. GST