Brand visualisation in 3D & AR: The power of seeing your brand in context.
Showcasing brand visualisations in 3D is a powerful way for designers to make better decisions while creating, persuading an audience, telling a story and enticing customers. Discover the tools in the Adobe 3D & AR ecosystem that help visualise any 3D design you can imagine.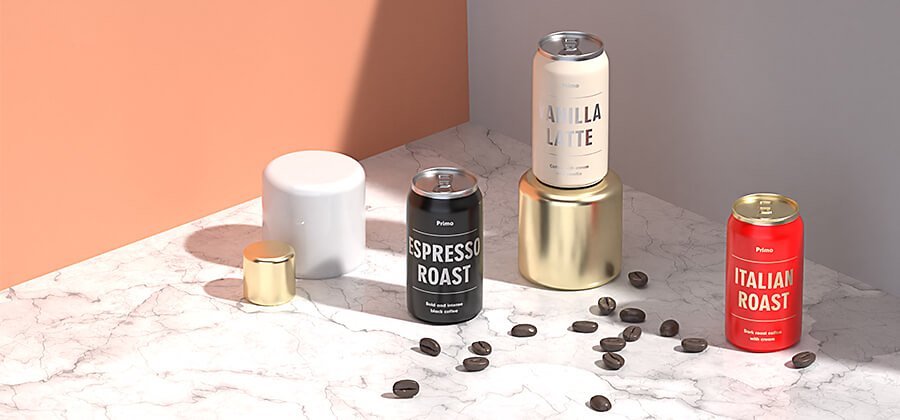 Credit: Jon Vio, House of van Schneider. Created with Adobe Dimension with the brand graphics originally made in Photoshop.
Why visualise 2D designs with 3D?
When developing new branding concepts or product designs, it's of crucial importance to ensure that there is a mutual understanding of what you're trying to accomplish among all those involved in the project, especially during the early ideation phase. Misunderstanding the design intent or the functionality of a new product or simply not seeing eye to eye on new brand identity designs can lead to costly setbacks and slow down the timeline required to get the product into production and out into the market.
Adobe Dimension delivers high-quality renderings that let you visualise 2D designs in the real world. Drag and drop a vector graphic or image onto a 3D model of just about anything — paste it onto a box, a building or wrap it around a coffee cup in a few clicks. Dimension comes loaded with 3D models that you can utilise and Adobe Stock offers thousands of 3D assets perfectly optimised for Dimension. Take your designs further by creating new 3D interpretations of your brand concepts in Dimension directly, rendering out 2D images to then place onto objects.

Both of these images were created with Adobe Dimension along with other Adobe tools. 
Scenes created in Dimension allow you to mock up products in 3D and real-world contexts to better visualise the end result. Relying solely on sketches and 2D illustrations can result in a time-consuming trial-and-error process of developing costly physical prototypes. 3D allows for a clearer picture overall to help viewers determine whether it captures the designer's intent. Now, 3D models, combined with your graphical patterns, colours and materials, can be leveraged in multiple ways to help effectively showcase a developing product and speed up the prototyping and production phases

Companies that are involved in any aspect of brand concepts and product designs can benefit from using 3D visualisations to accurately communicate the intent of their designs.
 
Improving design processes for prototyping.
By visualising 2D designs created in Photoshop or Illustrator in a 3D context, designers have a better opportunity to visualise a final project and iterate quickly to make the best design choices. It also allows them to persuade their audience by more accurately displaying their intention and showcasing it in the best possible light. It can help streamline the back-and-forth necessary to make changes to address stakeholder and client feedback, thus speeding up the process of bringing new ideas to market and increasing the frequency of iterations.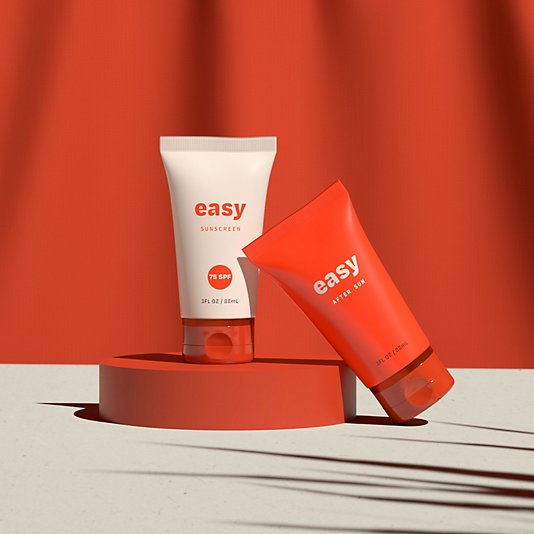 Credit: Easy Sunscreen brand, Julia Masalska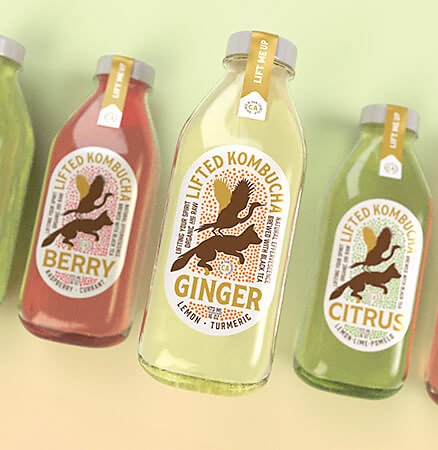 Lifted Kombucha, by John Godfrey
Both of these images were created with Adobe Dimension. 
With Dimension, 2D vector graphics and images can be placed on or wrapped around high-quality, fully realised 3D models, which can then be showcased in ideal scenarios. Rich lighting and realistic props and environments can bring designs to life and provide accurate context and a clear sense of how it will look in the real world. Experimentation is also simplified and speeded up with the ability to easily change 2D decals, materials, background images and environments, lighting and the arrangement of objects and graphics. Development costs can be lowered by reducing the need for physical production of prototypes and related photo shoots that might be needed to share new or updated designs with company stakeholders and clients in context. The freedom to experiment and explore designs in a 3D environment can also help designers zero in on the best shots for showcasing their work, as well as discover design variations that might otherwise not have occurred to them.


Designs created in Dimension can be further customised and enhanced with the 3D authoring options available in Substance, allowing you to easily customise the look of models with different material options. With more advanced 3D experience, you can create your own customised materials in Substance or browse 3D content available on Substance Source or Adobe Stock to enhance your models to a level of photorealism that precisely showcases the full intent of the design.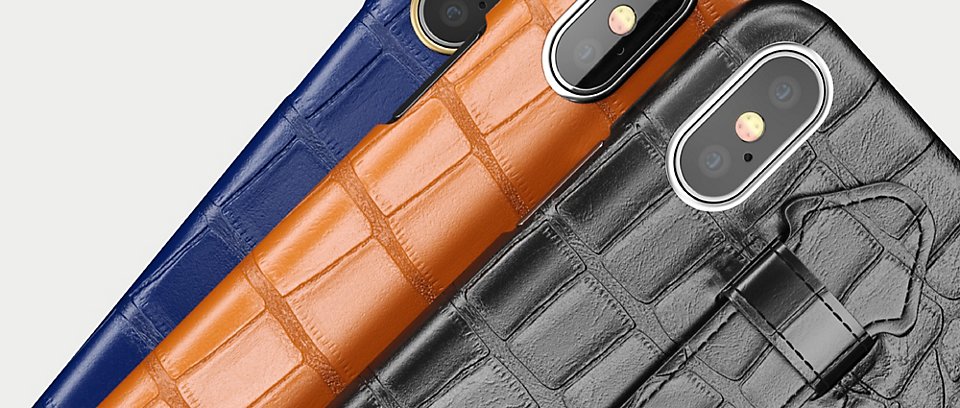 Designs can also be easily showcased in 3D, not just 2D renderings. From Dimension, share 3D models online with a 360-degree web viewer. Also export them to Adobe Aero to see them overlaid in real environments, letting viewers explore them live from any angle. Both a web viewer and augmented reality provide a more engaging experience that users can control while focusing on what's most important to them. Having interactive AR content that can be easily updated and accessible to stakeholders and clients can help further streamline review processes by providing a new perspective on the latest designs.
Improving design processes for final, production-quality assets.
When it's time to introduce a brand or product into the market with final assets, leveraging 3D models to create high-quality renders can speed up the process and provide a multitude of options to present to potential customers.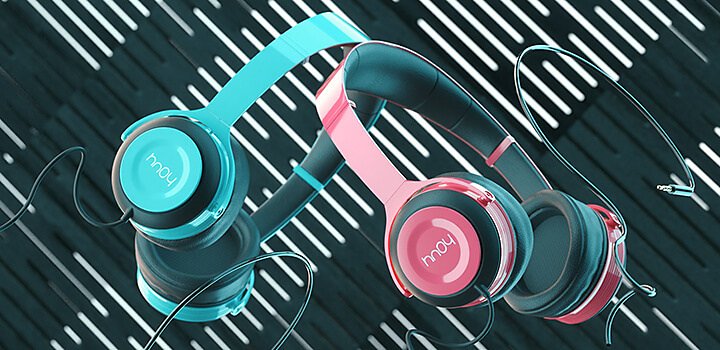 Created with Adobe Dimension
How to craft your own photorealistic renders.

1. Design your 2D elements in Adobe Illustrator or Photoshop.

Use whichever app suits your needs best for creating any 2D components that you'll need. Illustrator is great for crafting graphics and logos to place on 3D objects, while Photoshop can be used to create brand images or edit existing photos.
2.  Author the 3D material elements using the Substance Suite. 
With more 3D experience, get just the right look for the products you're showcasing by adding additional materials and textures to the 3D models in Substance Painter. Pull from the robust library offered by Substance Source to personalise your textures.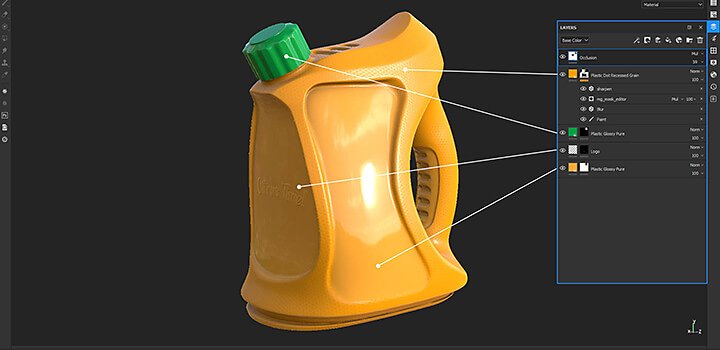 3. Build your scene in Dimension.
a) Place 3D models of the objects you need in your scene. For example, if your scene is set in a sitting room, you'll need the basics, such as a couch, a table, a lamp etc. Dimension comes with a library of models, materials and lights that you can find in the Starter Assets panel. You can also browse Adobe Stock for even more choices or import models from other sources. Dimension supports OBJ, Autodesk FBX, STL and SketchUp SKP file formats.

b) Place the graphics, logos and other 2D images created in Photoshop or Illustrator onto the 3D models, either as decals or fills and then adjust the layer's material properties to get the look you want.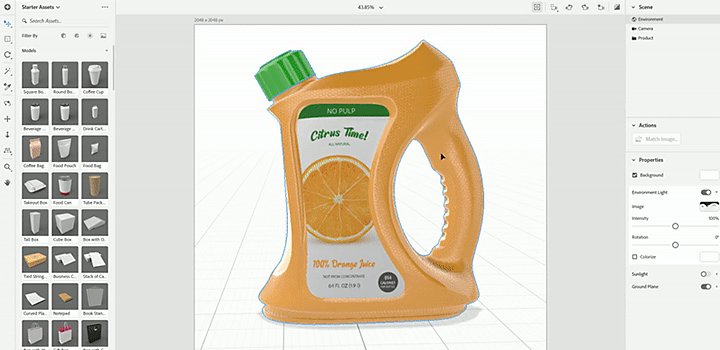 c) Arrange the objects in the scene where you want them. Experiment with different camera angles, adjust the lighting and materials to find what works best for the scene and add a background to your scene. Choose a background image from the Starter Assets panel or Adobe Stock or import your own. Use Match Image to automatically create realistic lighting based on the background image or adjust the Environment Light and Sunlight settings yourself.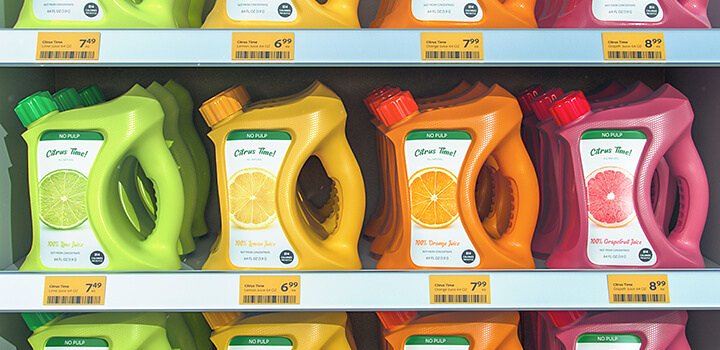 4. Export and share 2D and 3D files from Dimension.
a) Showcase quick iterations and variations as needed, such as creating different camera angles, adjusting colours, graphics, lighting, materials and more.
 
b) Share and publish traditional 2D images or 3D designs with 360-degree views (with bookmarked camera angles) via web links or embedding on your own site.
 
c) Create final assets for customer experiences, such as virtual product showrooms on the web and AR apps.
5. Export assets to continue working in other apps.
a) By importing the finished image files into Photoshop, you can make minute changes and touch up  your images right down to the pixel to further add to the photorealism.
 
b) Import the assets into Adobe XD for use as 3D brand visualisations as part of mobile app designs.
 
c) Import the assets into Adobe Aero to see them overlaid in the real world.

If you are interested in learning more about this product workflow, see the entire tutorial here.
Do more with Adobe Dimension.
See what's possible in 3D, from branding projects to packaging design.
You might also be interested in…
Get Adobe Dimension
Create photorealistic 3D images for branding, product shots and package design.
7 days free.