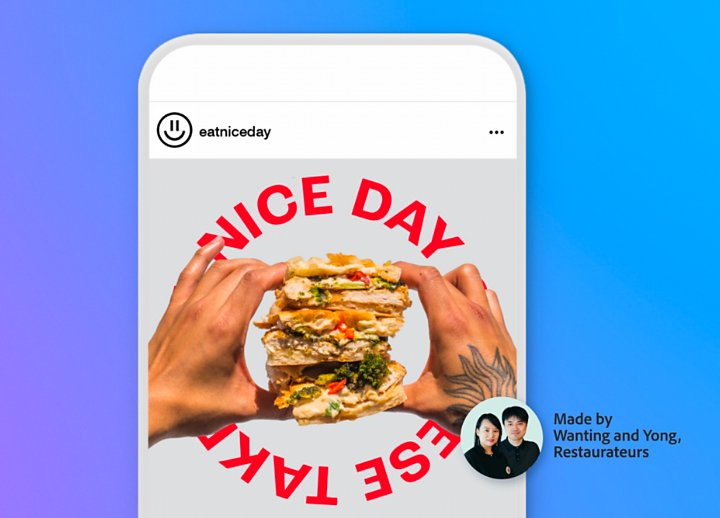 Start your creative journey with Photoshop.
From shareable social posts to dynamic GIFs or photo retouching, Photoshop has everything you need to make creative visions come to life from  £19.97.

Learn a new Photoshop skill in just 60-seconds.
Create something spectacular by combining two images into one masterpiece.
Take your shot to the next level by replacing it's background with something more dramatic.
Learn how to create realistic product mockups to bring your designs to live.
Frequently asked questions.
Simply follow these 3 steps to install Photoshop for the first time:
1. Head to our website, sign in or register for a Creative Cloud account and click 'Download'.

2. Double-click the file that downloads.
3. Follow any instructions that appear on your screen. Photoshop and the Creative Cloud desktop app should then launch following a successful installation.
Eligible students can enjoy a 65% discount when buying Photoshop as part of the Creative Cloud student package. This includes Photoshop and more than 20 other apps, with Illustrator, Lightroom and InDesign among them. Our student package costs £196.30 up front. Alternatively, you can make payments of £16.24/mo. Learn more with a free 7-day trial.
Yes, you can use Photoshop to edit images on your iPhone by downloading the Photoshop Express mobile app for free. Designed specifically for smartphone photography, the app offers a wide range of tools, including help with cutouts, noise reduction and retouching. Simply search for Photoshop Express in the Apple App Store to get started or request a download link.
With Photoshop, you can edit and create eye-catching 2D and 3D images, whether they're photos, graphics or pieces of artwork. With a vast range of editing tools and effects available, you also have the power to put together imaginative composite images from existing files. Ultimately, Photoshop allows you to transform everyday images, for use on websites, posters and packaging - or just for fun.
The basic tools in Photoshop include:
Selection tools, allowing you to move items and create outlines.
Crop and slice tools, which let you remove unwanted elements and divide images into smaller parts.
Measuring tools, such as the ruler, counting feature and colour sampler.
Retouching tools, allowing you to reduce red eye and sharpen images.
Painting tools, where you can create brush strokes.
Drawing and type tools, which let you draw new elements.
Navigation tools, to see an image in more depth.