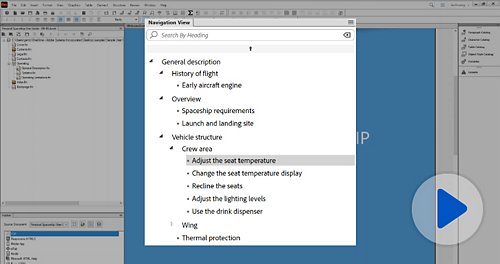 New Navigation view

Use the new Navigation view for classic (non-XML) documents to navigate through unstructured content with ease.
Improved WYSIWYG view (XML) 
Work more efficiently with the updated WYSIWYG view that merges Simplified view capabilities. For DITA content, easily work through the topic by using shortcuts such as Tab, Shift+Tab, Ctrl+B, Ctrl+I, Ctrl+U and more.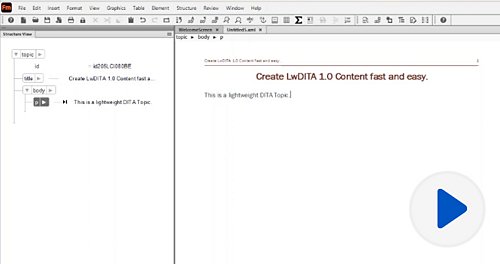 Out-of-the-box LwDITA support

Use the LwDITA standard (Beta) for authoring and publishing content. Simply set the LwDITA authoring mode in the application mappings UI to start authoring Lw-Topic or Lw-Map. Configure templates for LwDITA separately when generating PDF output.
Language-specific smart quotes

Display accented or unaccented smart quotes that match the language you are authoring in by selecting from a predefined list in Preferences.
All-new structure view
Leverage the new, intuitive structure view while working on content in XML or source code view. Use the powerful search functionality to locate content, elements or attributes. Cut, copy, paste and more using the context menu.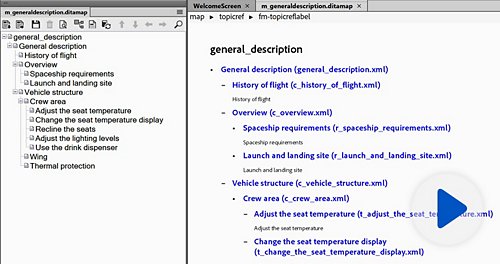 Simultaneous document and tree view for DITA maps
Now a DITA map opens simultaneously in the resource manager (tree view) and as a document, making it easier to edit metadata and work with a DITA map.
Sentence case formatting

Easily format text to sentence case across a document with a single click.
Split documents into chapters
Split imported Word or existing FrameMaker documents into smaller chapters using marker or paragraph styles. A powerful preview allows you to see the new book and chapter structure that will be generated.