A fast and free prototyping tool for UI design and UX design.
Adobe XD is a powerful UI/UX design and prototyping tool for apps, built by the world's leader in creative technologies. With XD, you can quickly go from wireframes and mockups to static UI designs to interactive prototypes that simulate a user experience — using just one tool for your whole design process. Streamline your design process by wiring together artboards with a single click to define user flows, add transitions and animations, and define micro-interactions for all types of user inputs like tap, drag, voice commands, keyboard shortcuts, and more. You can also prototype with UI elements from your design system.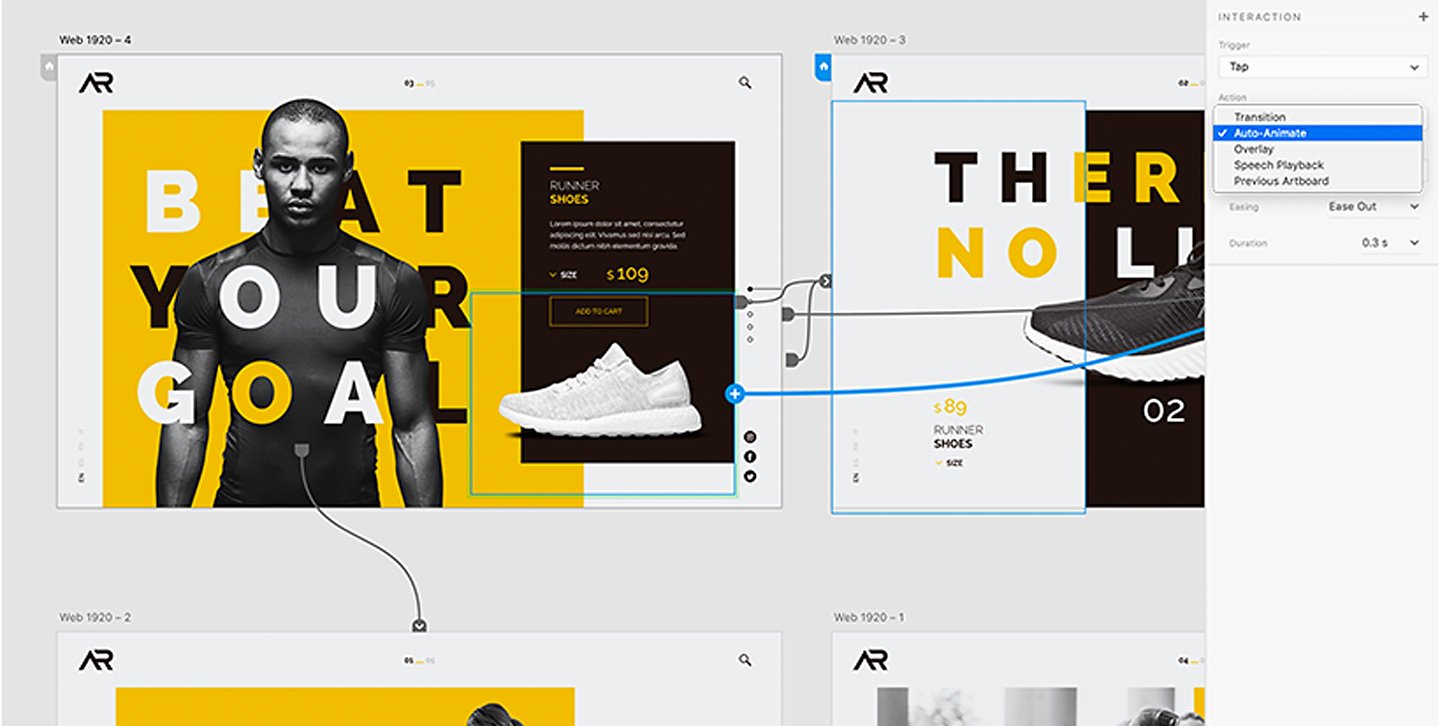 Turn ideas into interactive prototypes and iterate quickly.
Use XD as a prototyping tool to validate usability and user flows, add motion and animation to your high-fidelity designs, and create realistic previews of your experiences — all without writing a single line of code.
Turn static designs and wireframes into interactive prototypes.
XD prototyping tools let you turn wireframes, mockups, and UI designs into interactive user experiences in real time so you can simulate user flows, get feedback, and iterate quickly, whether you're working with a mockup or a high-fidelity design. Drag wires between artboards to add micro-interactions that simulate how an experience will change based on a user's actions. Define transitions and overlays, and create smooth animations as users navigate through your experience.

Create high-fidelity interactive prototypes for different kinds of user experiences.
Whether you're creating mockups, wireframes, or UI designs for websites, mobile apps, voice UI interfaces, games, or any other type of experience, you can use XD as your prototyping tool. XD lets you set triggers for each interaction based on input from your users. It supports triggers like tap, drag, voice commands, keyboard shortcuts, and game controller input, or you can trigger a transition after a certain period of time for things like onboarding flows and loading screens.

Add motion, micro-interactions, and animation.
Beyond basic transitions and overlays, XD lets you easily create prototypes with immersive animations. With Auto-Animate, you can create micro-interactions, drag interactions, or smooth transitions as an object moves from one artboard to the next. This is useful for prototyping slick menus, navigations or toggles, scrolling and sliding interactions, and delightful motion graphics. It's also great for creating parallax scrolling effects.

Preview, record, publish, and share.

XD lets you play clickable and interactive previews of your prototypes using companion apps for iOS and Google Android or on Amazon Alexa-enabled devices, so you can simulate a near-real experience for your designs. Record videos of your prototypes to share with stakeholders and clients. And because XD is collaborative, you can easily publish your prototypes to the web and share them to get feedback and iterate quickly. Once your designs are finished, you can create Design Specs with CSS and downloadable assets to hand off to developers.

A prototyping tool to turn your UI designs into interactive prototypes.
XD is a prototyping tool that offers dozens of features and adds new features and enhancements each month.
Connect artboards to communicate the user flow and feel of your experiences for websites, mobile apps, and more. Use a range of triggers and actions to define the exact experience you want to create and share.

From common touch gestures on mobile and tablet devices to keyboard input and time-based transitions to voice commands and game controller input, XD enables you to create realistic prototypes for any type of experience — websites, mobile apps, desktop apps, voice interfaces, games, and more.

Create animations across artboards. Duplicate an element and change its properties (such as size, position, or color), and XD automatically bridges the differences to automatically generate an animation.

Preview your experiences on your desktop, on mobile devices with iOS and Android companion apps, or on Amazon Alexa-enabled devices to get a real feel for your experience. You can also record an MP4 file to share.
Export your designs and take your animations even further with Adobe After Effects, the industry-leading animation tool.

Generate shareable links to get feedback on your designs, or embed them on Behance or a web page. Reviewers can comment directly on your prototypes and specific parts of your design from web or mobile. 

A prototyping tool 
that performs on Mac or Windows.
Prototype on the platform of your choice. XD offers native applications for both Mac and Windows, and design files are fully compatible in both applications.
Find the plan that's right for you.
Get the free XD Starter plan or get unlimited sharing and collaboration with a Creative Cloud plan.