Create a black-and-white photo in seconds.
Highlight the light, contrast, and simple beauty of your photos by converting them into black-and-white images. Get the look you want in just a few clicks.
Try your hand at black-and-white photography with our free online photo editor.
How to convert an image to black and white.

1. Upload your JPG or PNG image.

2. Select a Black-and-White filter.

3. Save, download, and share your photo.
Apply photo filters to nd the perfect fit.
With ten unique black-and-white filters to choose from, plus portrait and landscape effects, you can edit your photo exactly the way you want. Get a retro vibe with the Aged filter or try an antiqued look with the Vignee effect.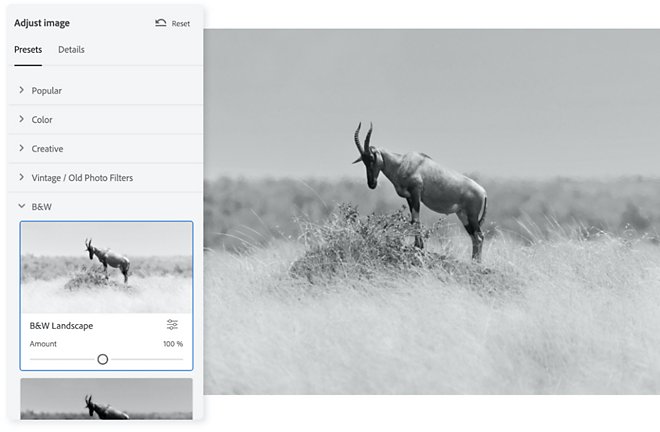 Adjust for every aesthetic.
Create a strong, graphic look by upping the filter intensity. Or lower the intensity for a more subtle vibe that deepens the shadows and adds depth with a hint of color.
Make your subject stand out.
Save your black-and-white image and reupload it to use the Remove Background tool. Create contrast by applying a solid background or blur the background to get a bokeh effect that creates a shallow depth of field look.