Jumpstart Compliance and Soft Skill course creation with ready-to-go slides
Just plug-and-play your content in ready-to-go slides, or use Quick Start Projects to create beautiful, mobile-ready courses in minutes. Watch video ››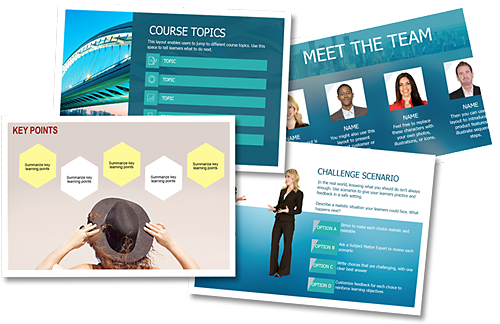 Ready-to-go slides for rapid authoring
Fast forward eLearning creation by picking from hundreds of beautiful, mobile-ready slides designed by experts. Choose from different content layouts, interaction types and quiz slides. Easily swap out the text, images, shapes, characters and videos in these slides and you are all set to publish your course.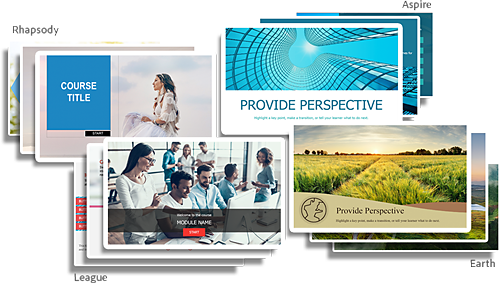 Quick Start Projects to kickstart course creation
Quick Start Projects are a set of ready-to-go slides that can be downloaded at one go and contain all the slides you require to build a complete course. The project includes multiple options for slides - introduction, objective, scenarios, menu, interaction, quiz, etc.

The all-new Asset Library
Explore 75,000+ free eLearning assets to create dazzling eLearning courses. Choose  from thousands of character poses, themes, images, icons, interactions, buttons, intro and outro videos, and more. Add automatic voiceover using text to speech voices that come with Adobe Captivate.

Convert existing PowerPoint to interactive eLearning videos
Create interactive mobile-ready videos of your PowerPoint content. Add cool interactions and knowledge check questions as video overlays. Watch video ››
---
Transform PPT content to trackable eLearning content
Transform static PowerPoint slides into eLearning content that works seamlessly across all devices. Enhance the learning experience by adding interactive elements, assets and quizzes.

*Works only on Windows.
Add knowledge check slides and aid learner remediation
Test the knowledge of the learner by adding question slides at different points in the video. If the learner answers the question incorrectly, take the learner back to revisit the section containing content relevant to the attempted question.

Record your PowerPoint content as a video and add interactive overlays
Simultaneously record PPT content using webcam video, add a voiceover and interactions like drag and drop, click and reveal as overlays at any point on your video to make it interactive.