Create pictures from descriptions with Text to Image.
Do you dream of seeing a long-haired dachshund with flowing rainbow hair? Or flowers growing out of concrete in a lost city? Whatever you imagine, if you can describe it, you can create it fast using Text to Image in Adobe Firefly.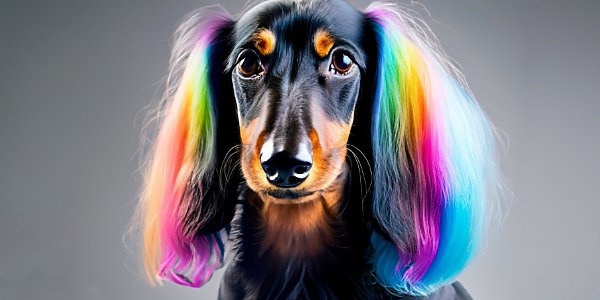 Explore the Text to Image possibilities.
Check out these stunning Firefly images and the text prompts that generated them. Then start dreaming up your own prompts.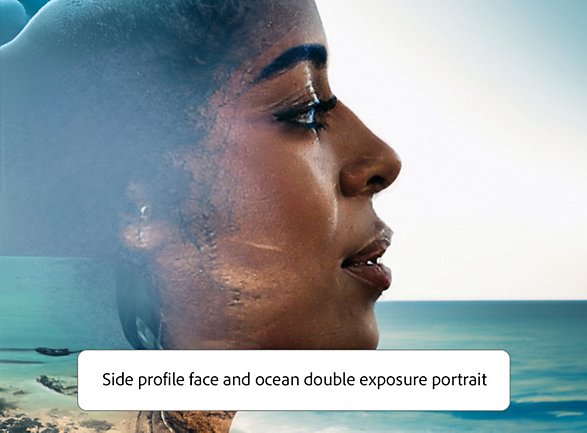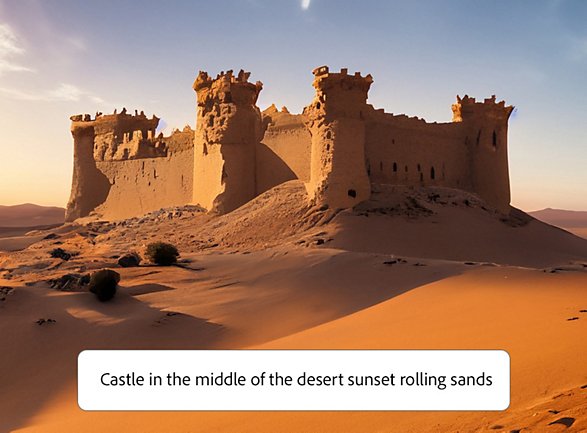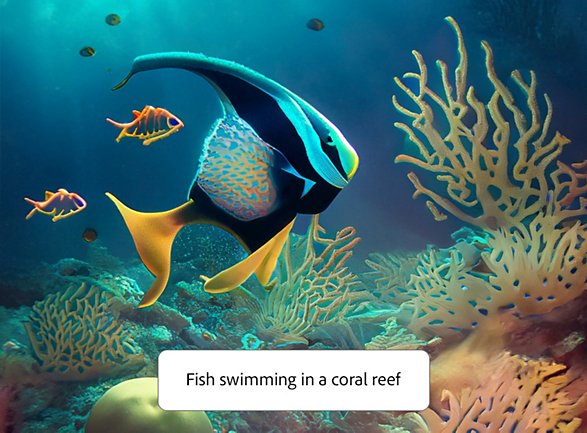 Discover the magic of Firefly Text to Image.
When used as an AI art generator, Firefly makes creative exploration easier and faster for everyone. Use Text to Image to experiment with your wildest ideas, find new sources of inspiration or create eye-catching content in just a few words.
Creative design solutions for all.
Non-designers can stretch their creativity (and powers of description) with prompts that will give them results in seconds. Designers can explore new ideas and follow their inspiration wherever it leads — without spending hours on the exercise.
More options for customised results.
Firefly is so much more than a basic text to image AI generator because it enables you to generate images according to your specific needs. You can easily change aspect ratio, style, colour, lighting and more until you find the right look.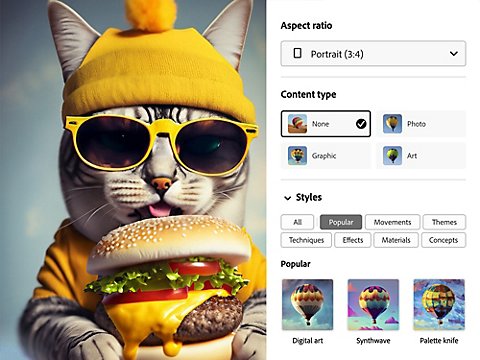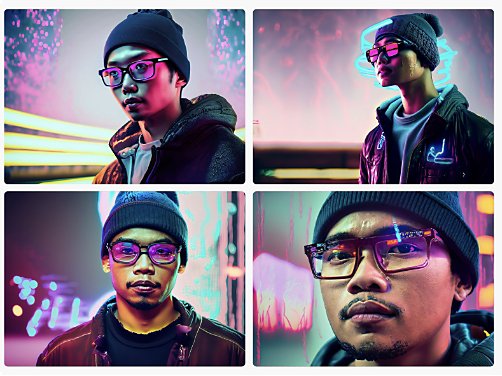 Quick content when you need it.
Text to Image is fast and easy to use. Every prompt generates four suggestions. If you like one, you can click the Show Similar button to generate more images like it. You can also move quickly into the Generative Fill workspace to add or subtract specific elements.
Use Text to Image in Adobe Express.
You can use Firefly on its own, but you can use Text to Image in Adobe Express too. Just start typing in the Text to Image text box in Adobe Express to generate a new image to use in a flyer, social post, banner, Reel or TikTok.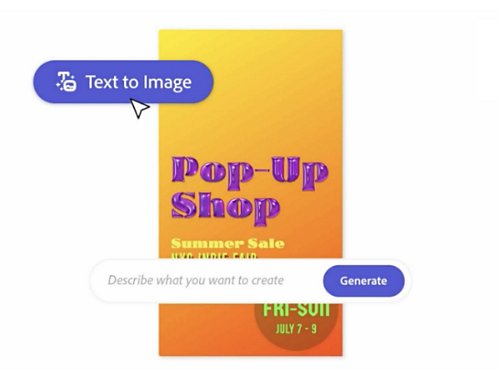 How to use Text to Image in Firefly.
Easily generate your own images following these quick steps.
---
Go to Firefly.adobe.com and sign into your Adobe account. If you don't have one, you can quickly create a free account. Once you're logged in, choose the Text to Image option on the homepage to open the workspace.
---
Type a description of what you want to see in the prompt field. Get specific. For example, "Colourful tropical paradise jungle with golden lily pads and pink flowers and fireflies, vibrant colours, graffiti." (For inspiration, scroll over any of the images on the page and read the prompts that generated them.)
---
When you're satisfied with your prompt, click Generate. The results will appear in a few seconds. If you like one or more of the four images Firefly generates, use the buttons in the upper-right of each image to download as a JPEG or save to Favourites. (You can find all your Favourites in the top menu of the Firefly home page.)
---
4 Refine, revise and regenerate.
Play with settings to explore different variations. In the panel on the right, you can adjust everything from aspect ratio to content type to camera angle. And if you'd like, you can add more detail to your text prompt to generate completely new images. Just make sure that you save any images you like before you create new ones. (When you use Firefly, you get access to a set number of generative credits. Find out more about generative credits.)
---
Create more with more generative AI tools.
Turning text descriptions into amazing images isn't all Firefly can do. Learn more about generative AI at Adobe and experiment with other features like Generative Fill, Text Effects and Generative Recolor, all available in your browser.
Questions? We have answers.
Text to image is a type of generative AI technology that lets you create images with nothing more than a few words. The AI engine receives each word in a text description as an instruction and it builds the image based on the combination of words and their relationships to one another.

Text to image AI generators work like other types of artificial intelligence, using machine learning models and huge datasets to produce their results. In other words, the AI technology learns from thousands and thousands of pictures. It creates brand-new images by applying what it has learnt to the everyday language you enter in the prompt field. The current Firefly generative AI model is trained on a dataset of Adobe Stock, along with openly licensed work and public domain content where copyright has expired.
When choosing your text to image AI tool, look for one that produces high-quality images, allows you creative control to make those images fit your needs and makes it possible to use those images commercially. Firefly is a great choice because it does all these things. 

Dream Bigger with Adobe Firefly.
Imagine, experiment and create with generative AI in the Firefly web app. New to Creative Cloud, now available for commercial use.