Testimonials for
Adobe Captivate
Testimonials for Adobe Captivate
---
"Adobe Captivate is by far my favourite eLearning tool for several reasons. It integrates great with Creative Cloud applications, is very flexible which allows its use for any type of engaging eLearning course, whether responsive or not. I particularly appreciate that my creativity is never pulled down by lack of functionality, due to the possiblities of advanced/shared actions and embedded JavaScript. The new version - which I could try out - adds 360 degree images and videos with hotspots, interactive video functionality, enhancements to video demo (webcam and greenscreening) to its toolbox. As a trainer I appreciate the easier fluid boxes workflow in this second version of that innovative responsive project method."
— Lieve Weymeis
"When Adobe launched Captivate 2017 one of the features I was most excited about was responsive design with Fluid Boxes. Within minutes of using Fluid Boxes, it was clear to me that before long all responsive design would be built this way. It was so intuitive and predictable. that I still had a few items on my wish list for Fluid Boxes. With Adobe Captivate 2019, all those outstanding features are now in place. Now I can precisely size my Fluid Boxes and get a predictable layout on any screen. With 1 click I can also ensure precise arrangement of my objects distributed within the Fluid Box. I now have much more control over the layout of my static Fluid Boxes as well. Adobe Captivate 2019 is still the industry standard for responsive design eLearning authoring. It's the best Captivate yet!''
— Paul Wilson
"I've been using Captivate since version 1 and the evolution I have seen is mind-blowing. This release makes no exception. It is one of the strongest ever with tons of new and enhanced features. The new Virtual Reality and Interactive Video workflows are something I've been waiting for a long time and I'm very happy with the way the team has implemented it in Captivate 2019. Now, I'll be able to satisfy even more customers in a simple yet professional and effective way. The ever-growing collection of free assets is a huge blessing, not mentioning the Fluid Boxes and other responsive eLearning features. I'm confident that the feature set of Captivate is the strongest of the market. With the new features of Captivate 2019, no doubt that it will continue to lead the way for years to come…"
— Damien Bruyndonckx
"The new release of Adobe Captivate is truly amazing! We all know that new technology like virtual reality are soon to enter into the field of learning and possibly become mainstream. Therefore, I'm really excited to see that Adobe Captivate has taken this huge step ahead and made it really simple to create immersive learning courses which can be experienced through VR headsets. As we struggle to create engaging training material for learners, it's really important that there's a tool which empowers us to use latest technology to enthrall our learners with an immersive and interactive experience."
—Debbie Richards
"Without a doubt, video training courses are becoming more and more popular among learners these days. However, for trainers and instructional designers, it's not easy to create video content all the time. A lot of planning, technical skills and production costs are involved. However, the new Adobe Captivate has made it extremely easy to create interactive video courses. I can either use my own videos or videos available on YouTube, and add interactive quizzes, assessment slides, etc. to create a course within minutes."
— Josh Cavalier
"I'm personally very happy with Adobe Captivate 2019. I've been creating responsive courses right from when Adobe came up with responsive eLearning features 4 years back. Last year, I was totally taken by amazing features like fluid boxes, "Save as responsive" option to auto migrate desktop-only content, responsive sliders, etc. These took Adobe Captivate way ahead of the rest of the tools. This year also, I'm very impressed with the enhancements in fluid boxes. It's now more simpler and customizable, and can help author responsive courses faster than ever. Additionally, there's a new feature which allows us to scan a QR code and preview the responsive courses on mobile devices. This is really useful since it helps design the courses better."
— Phil Cowcill, Retired Professor - Canadore College
"Even though the new release of Adobe Captivate has some cool and jazzy features like VR and 360 degree, as far as I am concerned, this release is more significant for the simple reason that some of the features will improve my productivity and I can create microlearning modules with interactive videos. It's now so easy to use any video file and create a training course by adding quizzes and assessment slides. Also, the same can be done with PowerPoint slides. I can now reuse a lot of my older content by bringing in the PPT slides, adding interactivity and creating mobile learning courses."
— Ray Jimenez
Industry reviews for Adobe Captivate
Industry reviews for Adobe Captivate
---
Top 8 features of Adobe Captivate 2019 for creating Immersive Learning Experiences
"Captivate 2019 truly meets the mandate on several counts. It is a power packed release and is a great addition to your repository of authoring tools that can craft engaging and immersive learning experiences." - Asha Pandey, Chief Learning Strategist, EI Design
You can't explain VR, you have to experience it –
Adobe Captivate 2019

"You can't really explain VR, you have to experience it.  With Captivate 2019 you can finally do that for your students. Traditionally creating and annotating 360 degree video is a tedious technical process that includes specialized software or advanced After Affects techniques.  Captivate now allows you to do this easily and elegantly." -  Steve Pixel
Adobe Captivate 2019: The Tool of Choice

".....even though I have been a long-time user of Captivate, I must admit that when I reviewed the new feature set of Captivate 2019, I was like, "WHOA!, I would really like to try that out!". Behaviorally, after installing the new version, I experimented with some ideas using the new features and was pleased, having observed that the outcome was as expected without being difficult to figure out. " -  Greg Stager, Technical Curriculum Developer
Adobe Captivate 2019: New Opportunities for Immersive Learning and Interactivity

"Captivate 2019 not only allows the use of 360º images within the VR workflow, developers can add hot spots and other elements to create a more interactive and engaging learning experience." - Jim Farrell
Interactive Videos so much easier in Adobe Captivate 2019

"Captivate 2019 has made the creation of interactive videos so much easier, and more flexible with the ability to set your cue points and attach a range of assets including quiz questions."-  Andrew Glennie
Adobe Captivate 2019 – Two Methods of Making PowerPoint Mobile Friendly

"When it comes to software, a redundant interface is a good thing. A redundant interface allows you more than one way to do something. Captivate has two methods where you can create a slide show that is mobile friendly." -  Phil Cowcill, Retired Professor - Canadore College
Congratulations! – pre-release Experience

"Captivate has grown  in all these years from an application mainly meant to create (good) software simulations to an all-round tool suitable for all possible eLearning assets. Look at this release: easy workflow for Interactive Video, stepping into the VR world, integration of the cool features of Video Xpress in  Video Demo, CSV import as alternative to GIFT import…."-  Lieve Weymeis, Consultant and Trainer for Advanced Captivate.
Adobe Captivate 2019 – Major Move Forward

"....since the Robo Demo days, I can not recall the last time a new version had such a wide range of new features. I am most impressed by the new Interactive Video functionality. The availability of having a method to add meaningful interactions into an existing linear video offers a new level of re-usability. Properly designed, this poses a great challenge that can leverage existing media assets into presentation, verification, and remediation of the previous linear content."-  Kevin J. Brown, Vice President, SunTech 3, Inc.
Fluid Boxes – Adobe is Listening!

"I predict that if in 5 years time if you are not designing responsive elearning, you will not have a competitive edge. When you look at the improvements to fluid boxes in Captivate 2019 it is clear that Adobe is preparing for that eventuality." -  Paul Wilson, eLearning veteran
A Powerhouse of Possibilities – Unleash Your Creativity with Captivate 2019

"...with the latest major version of the software, Captivate 2019 proves to make your job easier, refine your skills as an educator/designer/developer/etc., and no doubt, wow your audience." -  Adam Beardslee, Senior Corporate Trainer
Industry reviews for Adobe Captivate (2017 release) and older
Industry reviews for Adobe Captivate (2017 release) and older
---
I'm convinced eLearning is dead and all of us need to focus on delivering compelling learning experiences that are fluid across multiple screens, taking eLearning beyond the desktop computer. Captivate Draft strengthens the idea that mobile devices are maturing from simple consumption tools to powerful authoring devices. Adobe has set the bar really high for everyone else developing learning design software.
—RJ Jacquez, The mLearning Revolution Blog
Captivate Draft, a storyboarding tool, is an iPad app that is designed to work in conjunction with Adobe Captivate 9 and its 2017 release. It allows designers to convert their ideas into storyboards complete with eLearning elements such as content and questions slides, branching and more. The advantage of having this tool as an iPad app is clear. I can't tell you how many times I have gone to eLearning development meetings and debated whether I should bring my clunking laptop with me.
—Paul Wilson
Multi-state objects was one of the new features in Adobe Captivate's earlier version that I really like. It allows you to define various states for an object and then switch between these states based on user interaction, advanced actions and so on. It could be done before also but now it is much simpler.
—Michael Lund, CP Guru  
This new release includes some solid updates. There's an actual Effects module with the selected effects visible on the master timeline. And an updated Objects panel allows you to convert any element into a multi-state object. Improvements to the Responsive Design capabilities Captivate offers give it a HUGE advantage over competing products in this space. I was surprised to see Captivate Prime and not Connect Prime. Looks like Adobe has put significant effort into this LMS product, building it from scratch.
—The Chef, eLearning Chef
One of the more exciting features that I really like is the Adobe Captivate Draft app available in the Apple App Store. Create your storyboard in the app, save it to Creative Cloud and open it directly into Captivate (2017 release) for full development. Another fantastic feature that has been enhanced is responsive projects … now they can have up to 5 breakpoints. A new level of interactivity has been added with multi-state objects ... you can create these interactions without having to use show/hide techniques.
—Will Constantine, Learnhaus

My favorite new features: (a) Responsive design – it's faster and easier than ever (b) Advanced Actions – it's the small simple things that make developing eLearning so much easier (c) in-product preview … yes, preview your course right within Captivate to see how it functions within an LMS … SO cool!
—Anita Horsley, Founder, Calex Learning Consultants
No better way to get the feeling of new features than to create a real project from scratch. I discovered some gems while exploring. Roundtripping with Adobe Illustrator … I call this the (until now) missing link in the beautiful bracelet of Adobe applications that allow you to create amazing eLearning courses: Captivate, Photoshop, Audition, Edge Animate, Edge Inspect and now finally Illustrator!
The previous Effects panel is gone! You can have all motion paths on different objects visible at the same time. That makes life so much easier.

—Lieve Weymeis, a.k.a. Lilybiri

The important question to ask is, "Are the added features worth the upgrade?" In this case, the answer is definitely Yes. Here are my top nine reasons to update.
—Joe Ganci, Learning Solutions Magazine
---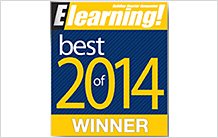 Elearning Magazine 2014
Award: "Best Simulation tool" Category – Best of Elearning! 2014 awards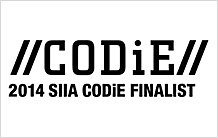 Codie Awards 2014
Award: "Best Solution for Special Needs Students" Category – Award of Excellence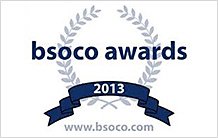 BSOCO Awards 2013
Award: "eLearning / Rapid Learning Category - Gold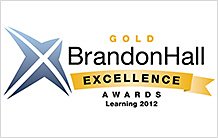 Brandon Hall Excellence in Technology Awards 2012
Award: "Best Advance in Content Authoring Technology" – Gold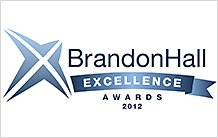 Brandon Hall Excellence in Technology Awards 2012
Award: "Best Advance in Technology for Testing or Learning Evaluation" - Silver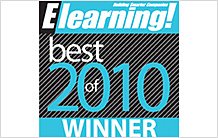 Elearning Magazine 2010
Award: "Best Rapid Development Tool." Category – Award of Excellence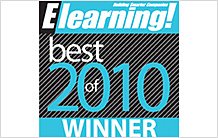 Elearning Magazine 2010
Award: "Best Simulation Development Tool." – Category Winner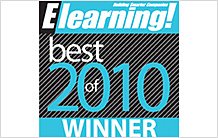 Elearning Magazine 2010
Award: "Best eLearning Development Tool." Category – Award of Excellence
Brandon Hall Research Award
Best Advance in Learning Content Management Technology – Gold Category Winner
Training Media Review
Award: Product of the Year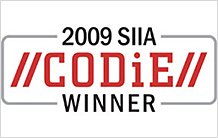 CODiE
Award: Winner, Best Corporate Learning Solution May 07, 2009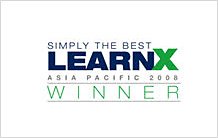 Learn X Asia Pacific
Award: Winner, Best Simulation Solution 2008