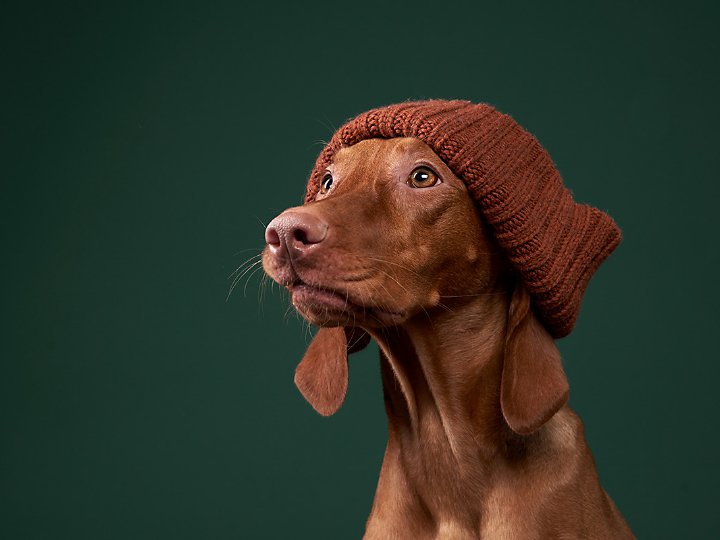 Stock photography: What it is, how to shoot it, and how you can use it.
Stock photography is a powerful tool in the designer's arsenal and a way for photographers to make money. Learn what stock photos are, how to use them, and how to start taking them yourself. 
What you need to know about stock photos.
Stock photography is a commonly used design element — you probably can spot a stock image where you are right now. They appear in ads, brochures, on websites, and much more.
Taking stock photos can be a great place to start developing skills — and earning some money. 
Understanding the visual storytelling principles of good stock photo taking can improve all your photographic skills. 
What is stock photography?
Stock photos are photographs that are licensed for commercial purposes. Commonly, marketing agencies and people who need a photo for graphic design will use them to add personality and excitement to an image — without having to conduct a photoshoot of their own. They're usually not tied to a specific place or time, for good reason. 
"With stock photos, I keep my edits realistic, not over the top," stock photographer Nicole Glass explains the logic. "You want to give other people the chance to customize a photo to their own needs."
Stock photography often refers to an industry more than an individual photograph, and many are surprised to learn that stock photography has been a business model for photographers since the 1920s.
Types of stock photos.
There are different types of stock photography. Traditionally, macrostock photography refers to large packs of images sold with a license for use in commercial materials. 
What's more common now is microstock photography, where businesses and individuals purchase individual photos or stock video from large online repositories, like Adobe Stock, finding the exact image they need from a massive available library.
Even free stock photos and stock imagery are out there.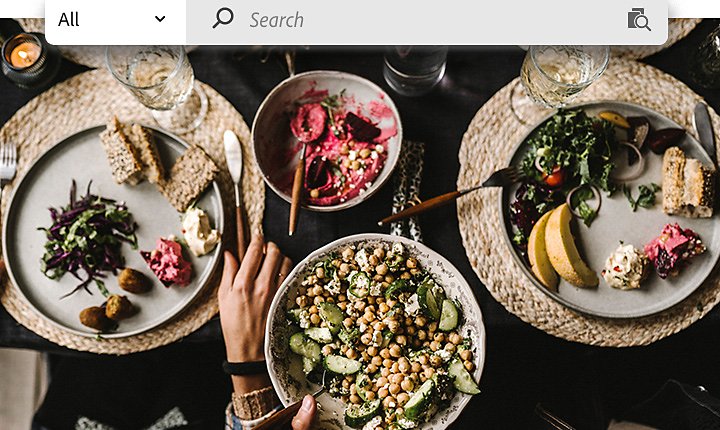 Take stock of your photos.
Stock imagery can be useful for professional graphic designers making a small flyer for a local business. One of the best ways to use stock photography is to find a resource online and start looking for what you need. These questions will help you get started:
What type of photo do you need?
To find the right photo, use your search engine skills. Most high-quality stock photography websites have sophisticated search tools that reward specificity over generality. 
For example, if you're trying to find a stock photo of people eating dinner, figure out how many people you want, what type of people you want in the shot, and maybe even where you want the photo to take place. In this example, the basic search term "people eating" might not get you where you need to go, while "three women eating dinner at night" might get you a better series of results. Experiment until you find what works best. 
How will you use the photos?
If you want to drop stock photos into an existing design template, the main consideration is that they are sized properly and are high resolution. There's nothing less professional than a flyer or advertisement that is pixelated or grainy. 
Often, however, stock photos are manipulated or modified by a graphic designer in applications like Adobe Photoshop, so when you're selecting a photo, this is important to keep in mind. For instance, a modified background is much easier to work with if the photo has a single color or is shot on a green screen. 
The final consideration for using a stock photography site is a simple one — the budget. Different stock photography websites have different price packages depending on what you're looking for and how you'll use the image. Some are priced for the individual photo while others charge subscription-based fees. Still others have free or public domain images that are available under Creative Commons licenses. Determine how much money you have allocated for a project and the types of photos you can afford. It'll help you in the long run, especially if you're working with tight budget restrictions.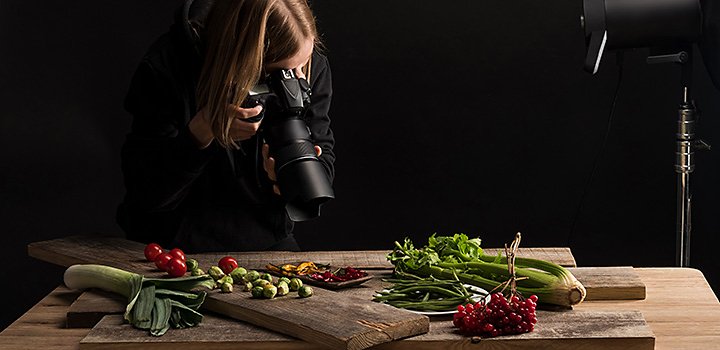 How does stock photography work?
When you're working on a new project, sourcing a professional photographer might be beyond your budget. This is where using stock photos can be a great way to round out your work.
When you're looking to drop in some high-quality photos, it helps to start with some knowledge of the different types of licenses available:
Royalty-free images: This type of license is usually how stock photography agencies sell photos. These royalty-free licenses give the buyer the rights to use the image in a certain number of ways a certain number of times. This way, the user of the photo pays for the photo once, because all of the dealmaking has been done for them in the background. 
Rights managed images: This is for images that are sold on a pay-to-use basis, and are often limited to a certain period of time or for a specific project. 
Extended or enhanced licenses: This type of license allows other liberties for the license, including allowances for resale and commercial uses. Many stock photo sites offer this as an option.
Exploring your own stock impulses.
"What does someone need that is not already being offered on a stock photography platform?" Glass asks when it comes to deciding what images to upload to a stock photo site. If you're a budding stock photographer looking to start a photography business (and possibly uploading them to websites that sell them), you don't need much to get started. 
The small amount of money made from selling individual images might not seem like much, "but when you get hundreds of downloads, that passive income really adds up for the photographer," says Glass.
Spend some time on stock libraries to see what the current trends are in photography, and find what you can reasonably capture photos of. Not everyone has the time to stage actors for a stock photoshoot, but there are many other options and needs for stock photography, from landscapes and cityscapes to animal photography.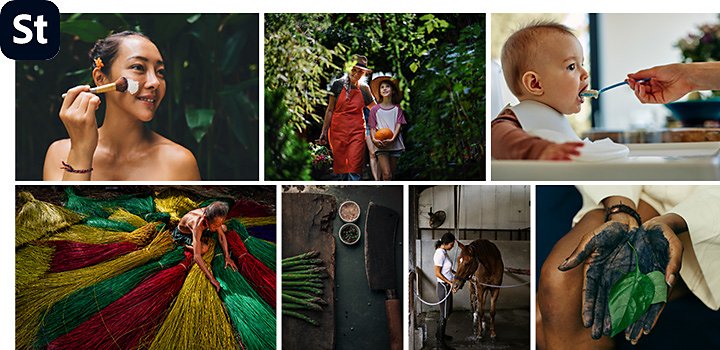 Adobe Photoshop and Adobe Stock.
One of the best places to start researching and experimenting with stock photography online is Adobe Stock. With an Adobe Creative Cloud subscription, you'll have access to a wide library of stock assets, including free stock photos, templates, and more. Easily manipulate your images from Photoshop or Adobe Photoshop Lightroom to make the designs you need. 
As an added benefit, you can search Adobe Stock from desktop applications that support Creative Cloud Libraries, including Adobe Photoshop, Lightroom, Illustrator, InDesign, Dreamweaver, Premiere Pro, After Effects, Dimension, and Animate. From most Adobe apps, the Libraries panel will directly plug you into the Stock library. Plus, when you're experimenting, the Find Similar option will help you locate similar images that might be perfect for your project. 
Stock photography creativity can start with any project. Learn more about what you can do with Adobe tutorials and guides.       
Not sure which apps are best for you?
Not sure which apps are best for you?
Take a minute. We'll help you figure it out.
Take a minute. We'll help you figure it out.
Please make sure that the "dexter.base.react.umd" and "dexter.base.consonantcardcollection" clientlibs have been added to the template's Page Policy