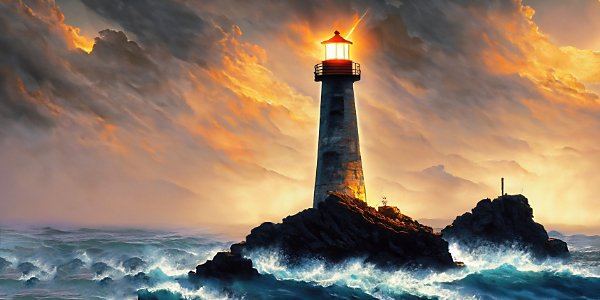 Turn words into artwork using Adobe Firefly as an AI painting generator.
You don't need paint or hours of spare time to make a frame-worthy work of art, just an idea and the power of generative AI.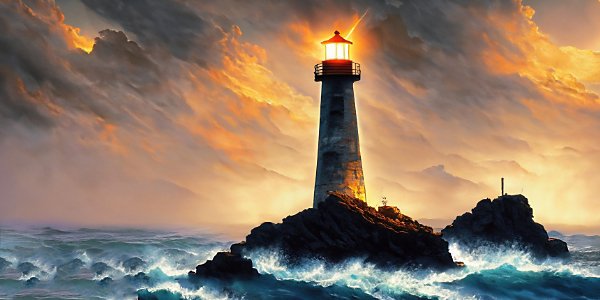 Explore what's possible with Firefly.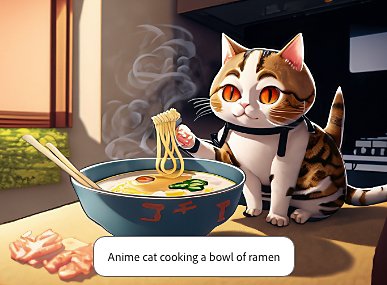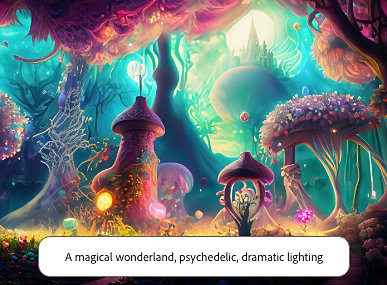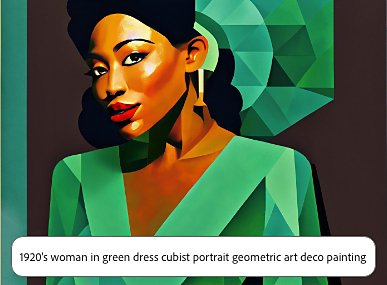 Take your creativity to new heights with Firefly.
From sun-drenched landscapes to fantastic creatures, AI painting generators empower you to make images in the style of analogue mediums — like watercolour or oil — using just your imagination and a simple text prompt. With Firefly, our generative AI web application, you can use powerful text to image capabilities to jumpstart your creative process, explore new artistic avenues and make beautiful images. To make AI-generated paintings, just type in a simple description to generate an image and then customise it to get that painterly look.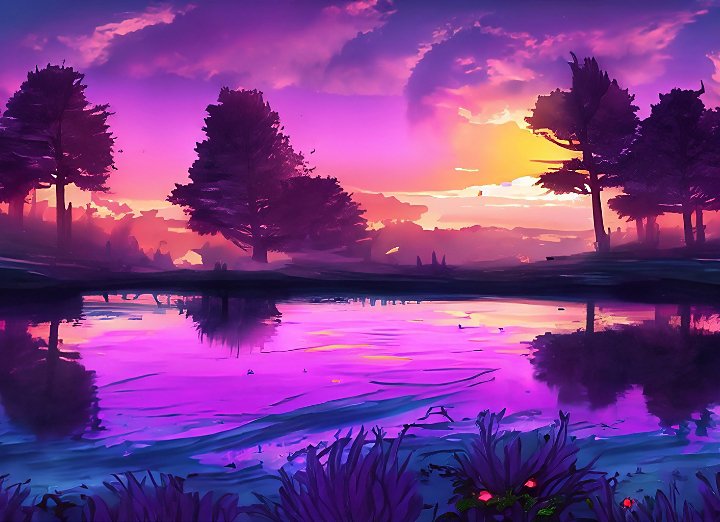 Text to image prompt: purple sunset over a pond in the style of a videogame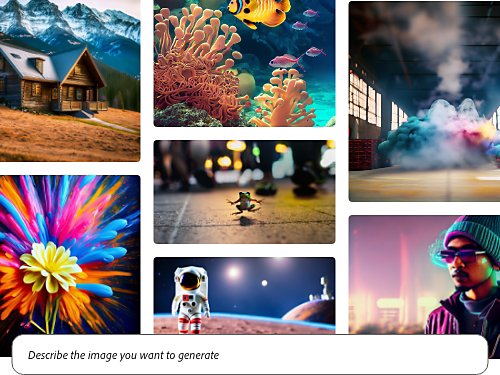 Endless inspiration — in no time flat.
Save time on brainstorming by trying your ideas out in Firefly. Iterate on your favourite prompts and try out sample prompts from the Firefly gallery to kickstart your creative process. You can also create reference images for your art projects — with Firefly you never run out of fresh ideas.
Powerful custimisation options.
When using Firefly's Text to Image feature as an AI painting tool, you can combine different styles like "oil painting" and "palette knife" to enhance the painterly look. And you can adjust your image even further by changing the Colour and Tone, Composition and Lighting options — a muted colour palette with low lighting can give your creation an antique vibe, for instance.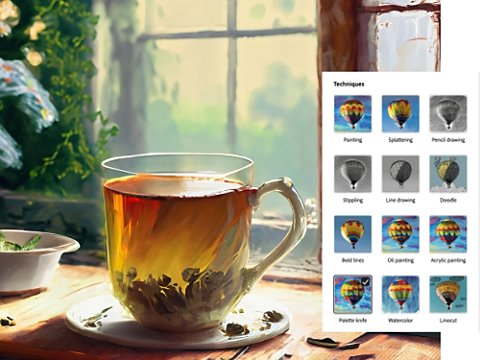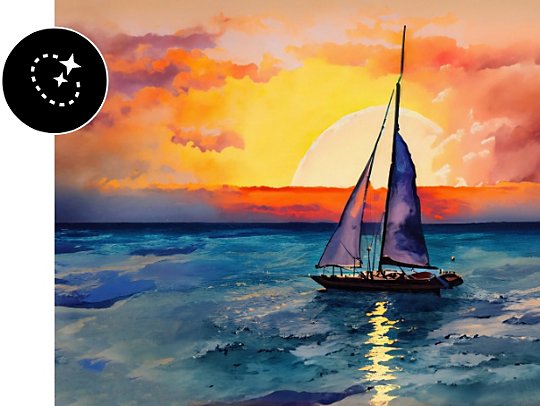 Once you've generated an image you like, you can make targeted changes with Generative Fill, which allows you to selectively edit and replace parts of your artwork. Just click the Generative Fill icon at the top of every generated image. Or bring your AI-generated paintings into Photoshop or Illustrator to customise them even more with precise editing tools.
How to use Firefly as an AI painting generator.
---
1 Get started with Firefly.
Visit  Firefly.adobe.com and sign into your Adobe account. If you don't have one, you can create one for free. Once you're logged in, choose the Text to Image option on the homepage, which will open up a workspace where you can type in a prompt to generate your artwork. When you use Firefly, you get access to a set number of generative credits. Find out more about generative credits.
---
Type in what you want to see in the prompt field. Be descriptive. For example, "A unicorn in a magical grove, extremely detailed, concept art, fantasy." Get more tips on how to write a text prompt for Firefly.
---
Once you're happy with your prompt, hit the Generate button and in just a few seconds you'll be looking at the results. Once you've generated your result, try changing the Content Type to Art or Graphic to get a painterly look.
---
4 Customise your settings.
You can customise your artwork's appearance by changing the settings on the results page. Play with the styles options to explore effects like watercolour, pop art and more. You can also tweak the original prompt and refresh your results.
---
5 Download your painting.
Once you've perfected your masterpiece, click the download button at the top of the image to save a JPEG to your device.
---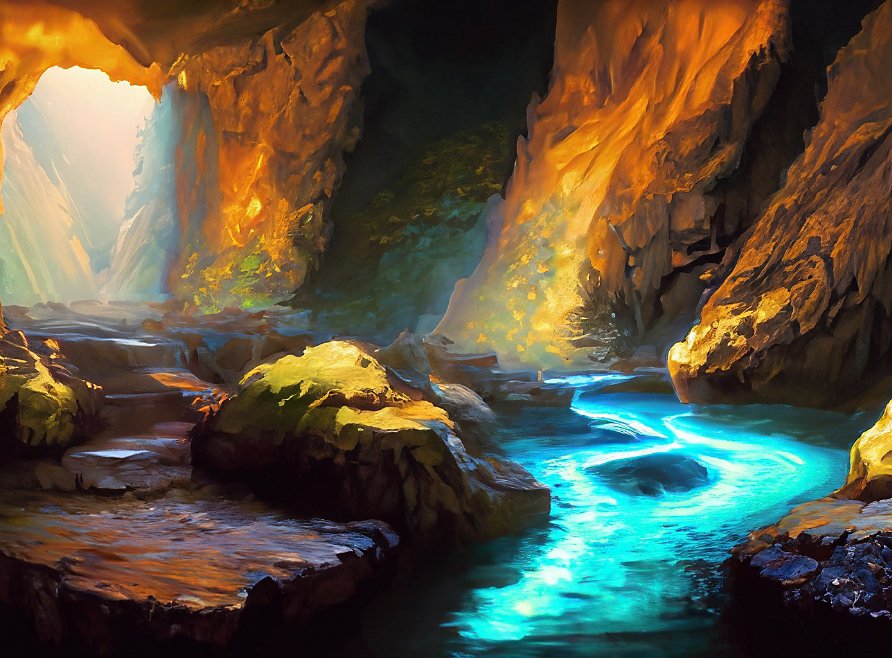 Make a painting with Firefly today.
Firefly removes limitations on creative expression. Just type out an idea and see a complex AI-generated painting appear on your screen — then customise it to make something totally unique.
Questions? We have answers.
AI-generated paintings are digital artworks created by generative AI. Firefly is a generative AI web app that uses text prompts to generate images. These images can then be customised to look like paintings made with analogue mediums like oil or watercolour and in the style of art movements like surrealism and pop art. Learn more about how generative AI is changing creative work.
AI painting generators are a type of generative artificial intelligence. Like other types of artificial intelligence, generative AI relies on large datasets to produce the desired result, such as a digital painting, creating something totally new — all triggered by a single text prompt. The first Firefly model was trained on content from Adobe Stock, openly licensed content and public domain content where the copyright has expired.
It is up to the individual creator to determine what tool is best suited to their needs. Firefly is a powerful family of generative AI models that enables users not only to create detailed AI-generated paintings in seconds and customise them, but to create complex text effects, photo-realistic creations and more.
Dream Bigger with Adobe Firefly.
Imagine, experiment and create with generative AI in the Firefly web app. New to Creative Cloud, now available for commercial use.