Delight friends with customised birthday videos.
Learn basic video editing techniques in Adobe Premiere Rush and say "happy birthday" to your loved ones with personalised birthday messages. Then see what other video gifts you can create.
Turn audio and video clips into impressive happy-birthday videos.
If you're looking to create something a little more exciting than a paper birthday card or birthday eCard, send your happy-birthday greetings with a customised video. Whether it's just a simple birthday slideshow video or a more cinematic edit with moving clips and multiple soundtracks, put together professional-quality videos easily with Adobe Premiere Rush.
The best birthday video maker.
Premiere Rush provides high-quality results on your phone or computer, with a more lightweight interface than Adobe Premiere Pro. Combine video clips, adjust their speed and length, add and refine multiple sound tracks, add sleek transitions and titles and much more.
Everything you need and more.
Balance high-powered editing tools with an easy-to-use interface. Edit on your iPhone, Android or Desktop and switch over to Adobe Premiere Pro any time to achieve more nuanced edits.
Access your clips from anywhere.
Get from 100 GB to 10 TB of Adobe Creative Cloud storage space so all your projects are synced across devices. Easily jump from your phone to your laptop to stitch together clips from multiple sources and never lose track of a clip or an edit.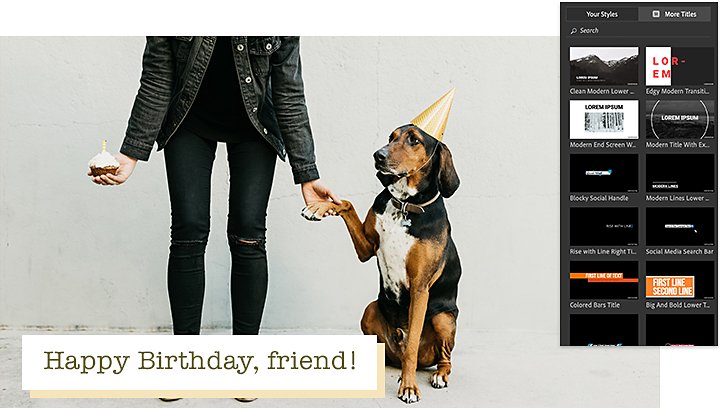 Customise your titles.
Add text over your videos and easily adjust the size and colour. Choose from thousands of amazing typefaces through Adobe Fonts. And find unique title templates from Adobe Stock, right in the app.
Add up to three audio tracks on your video and adjust their volumes individually. Use the Auto Duck feature to automatically reduce music while someone is talking.
Speed up, slow down and pan and zoom.
Control the speed of different audio and video tracks individually. Plus, you can use the Pan and Zoom feature to zoom in and out of images you include in your happy-birthday video.
Send birthday wishes with video in 6 simple steps.
1. Get started.
Launch Premiere Rush and tap the plus (+) button to start a new project.
2. Add your clips.
Choose Add Media to add photos, videos and sound clips from your device. 
3. Trim and reorder.
Drag clips along the timeline to change their order or hold and drag the orange edges of each clip to trim or lengthen. 
4. Add titles and transitions.
Add transitions to help smooth out the changes between different clips and add professional-looking titles anywhere to add text to your story.
5. Add finishing touches.
Speed up or slow down tracks to emphasize certain parts. Add colour filters to adjust the hue and tones of your video. Fine-tune your audio track volumes and use the Auto Duck feature on tracks with dialogue.
6. Save and share.
Tap the export icon on the upper-right corner of your screen to save the video to your device.
Take your video messages further.
With your newfound skills as a video editor, try making videos as birthday invitations or recaps of a ​birthday party or other special days, like weddings or holidays. Follow these tips and tricks to capture video footage like a pro and read up on everything you can do in the Premiere Rush editing timeline.
Make a video collage with the picture-in-picture effect.
Want to show one moving clip on top of another? Get creative with this easy-to-achieve effect.
Use static images to create a stylish looping video.
Have only still photos to work with? Use Premiere Rush to make a stylized looping video.
Produce a birthday gift your family members and friends will replay for years to come and then see what other unique videos you can think up. Premiere Rush makes it simple.
You might also be interested in…