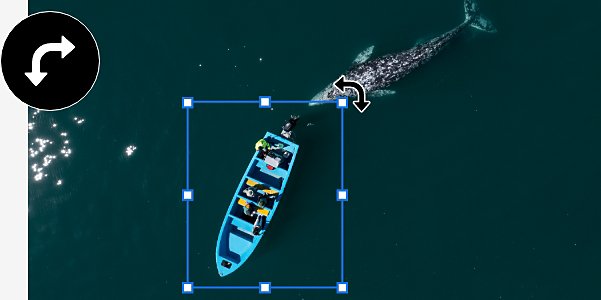 How to rotate a layer in Adobe Photoshop.
Learn about the many ways to rotate a single layer in your Photoshop project.
What does it mean to rotate a layer?
Layers are key to almost everything you do in Photoshop. Every edit you make to an image can be overlaid on top of the image as a new layer. By adding and editing individual layers, you can edit nondestructively — preserving the original image so you can go back to square one at any time.
Rotating a layer is simply taking one of the many layers in your project and turning it clockwise or counterclockwise around a fixed point, all without rotating any other part of the image.
There are several ways you can give your image just the tweak it needs by rotating a layer.
If you've added a logo as a layer to your work, you can rotate it to make sure the design looks like you want.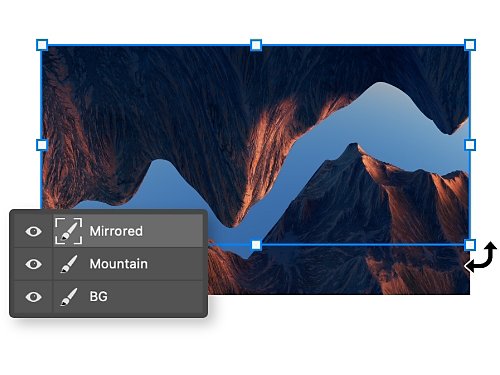 Fine-tune a mirrored image.
Creating a mirror effect? Rotate the layer with the duplicate image to line it up with the original.
Rotate a single layer of a graphic design to subtly change its appearance.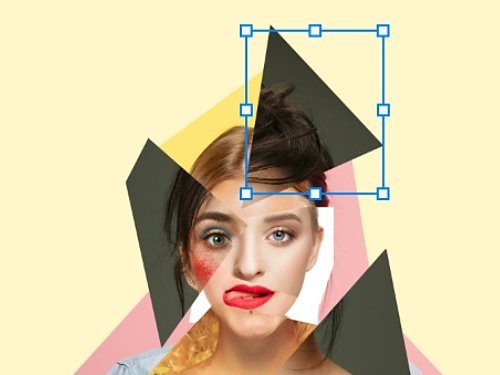 While photo manipulating a composite, you can alter the angle of an element you've added to blend it in with the picture.
How do I rotate a single layer in Photoshop?
There are a few different ways to rotate a layer. The quickest and easiest method uses the Move tool to get the job done in just three steps.
---
From the Layers panel, select the layer you want to rotate.
---
From the toolbar on the right, choose the Move Selection tool. A bounding box will appear around the layer.
---
Click and drag the corners to rotate the layer. Hold the Shift key to rotate in 15-degree increments.    
---
How else can I rotate a layer?
You can also use the Free Transform tool to rotate your layer. Although it's a more manual workflow, this method offers more options for turning your layer by a specific number of degrees.
---
Choose the layer you want to rotate from the Layers panel.
---
From the top menu bar, select Edit › Transform. The bounding box will appear around the layer.
---
Choose between different rotation options — you can rotate 90 degrees or 180 degrees in either direction. Alternatively, click and drag to rotate the box, or enter the number of degrees you want to rotate the layer in the top toolbar. 
---
What are some shortcuts to rotate a layer?
Speed up your workflow and spend less time navigating menus with these tips and best practices.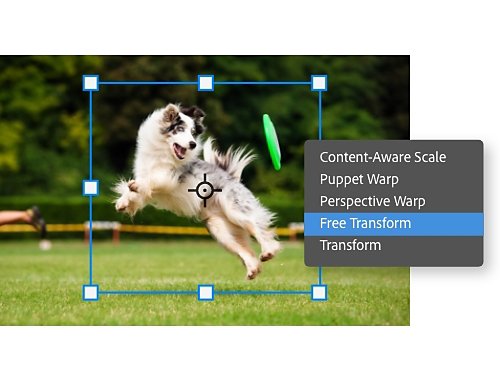 Press Ctrl+T or Command+T on Mac to open the Free Transform menu or right click on the layer and select Free Transform from the drop-down menu.
Hold down the Ctrl key and click each layer you want to modify in the Layers panel. When you use the Move or Free Transform tool, they'll all rotate together.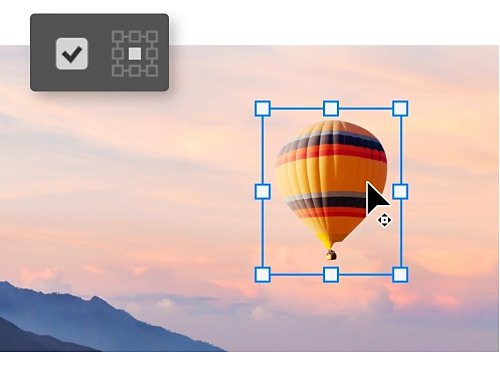 When Show Transform Controls is enabled, you can see the pivot point your layer will rotate on. Click and drag the pivot point to set it anywhere on your canvas.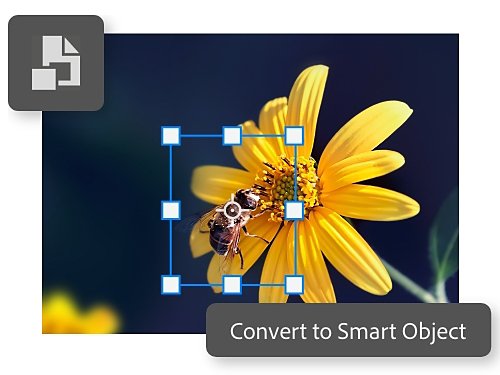 Convert a layer into a Smart Object to protect its pixels when you rotate or resize it. This will preserve image quality through multiple edits.
Learn more Photoshop functions.
Explore tutorials to discover what else you can do with Photoshop.
Filters are a quick way to make major changes to the color and tone of an image.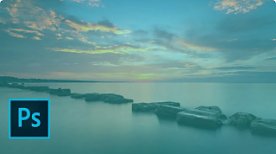 Learn how to crop, straighten, or otherwise alter the size of an image in Photoshop.
Find the Creative Cloud plan that's right for you.
Adobe Photoshop Single App
​
Get Photoshop on desktop and iPad as part of Creative Cloud.
Learn more
   US$15.99/mo ​
Cyber Monday: Save over 70% on Creative Cloud All Apps. First year only. Ends Dec 3.
See terms | Learn more