Take a shine to sun illustration.
The source of all energy on earth, the sun is a popular symbol in art and design. Learn how to bring your unique solar take to life with sun icons, sun designs, and sun logos that sparkle.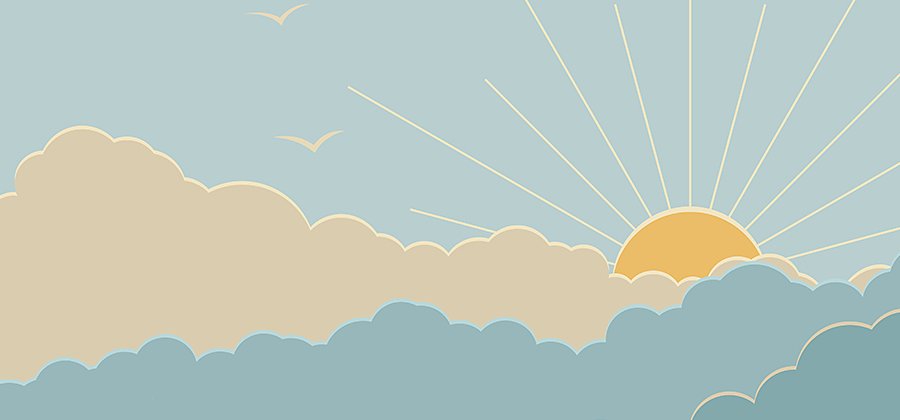 Here comes the sun.
The sun comes in many different colors, shapes, and sizes in art and design. Whether it's the Smiling Sun of the "Nuclear power? No thanks!" campaign or the abstract suns that populate van Gogh's landscapes, no two suns look the same. Each takes on the personality of the artist or the vibe of the project.

Explore some of the relatively simple practices that can help you customize sun illustrations in many ways to give your big ball of fire some character.
Become the sun king or queen.
Draw inspiration from the countless media representations of the sun. Like any other subject, use contemporary and historical references to shape your vision of how your sun illustration will look. You can't look at the sun directly, but you can find reference images of what it looks like and how it interacts with the environment.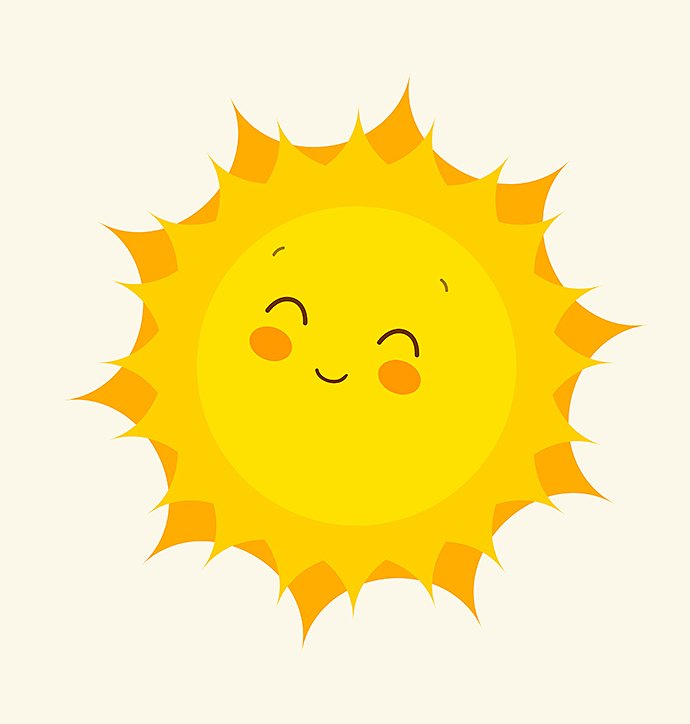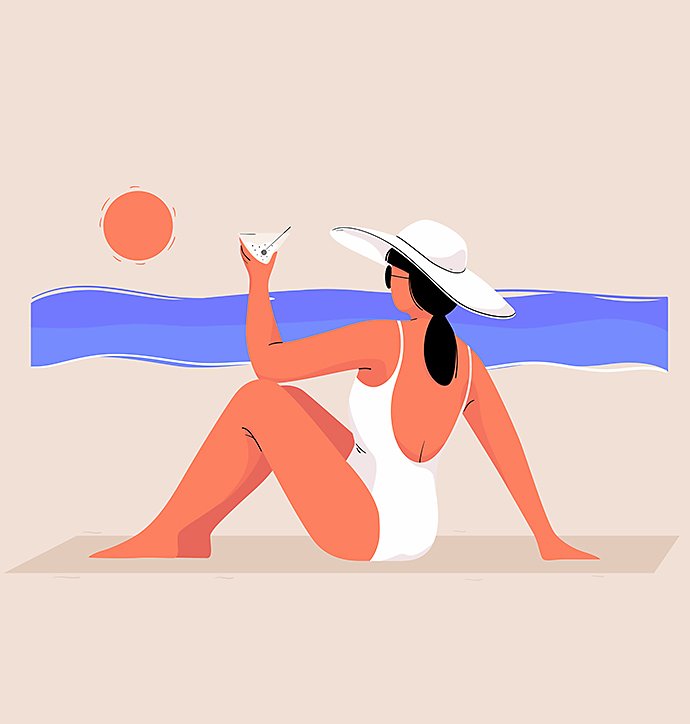 Theme
Before you start to draw, consider what kind of sun you want to create. Is it a cute sun, a happy sun, or a sunburst perhaps? Is it the focal point of the image or in the background of a bird illustration?
"I think, 'What type of sun do I want this to be? Do I want to have rays around it?'" says illustrator Morgan Dees. "If I want it to have rays, I would draw simple lines around it and start to put some darks and dimensions in." Sun rays convey warmth. You can use straight lines or squiggly lines. Use other basic shapes like circles or triangles to add levels to your sun and make it a complex figure.
Added details
Give your sun some character. "I always love putting faces on things," says illustrator Allison Cole. "They have a little more character and personality than they would have otherwise." Add cheeks, freckles, eyebrows, and whatever else comes to mind. Choose accessories like sunglasses to further humanize your sun. If you need inspiration, use a friend or family member as a reference for your face to give it a more personal touch.
Setting
Think also about where your sun will be. Add a blue sky to offer a cool contrast or a star field to capture a cosmic view. Try different colors for your sun background to find the best match for you.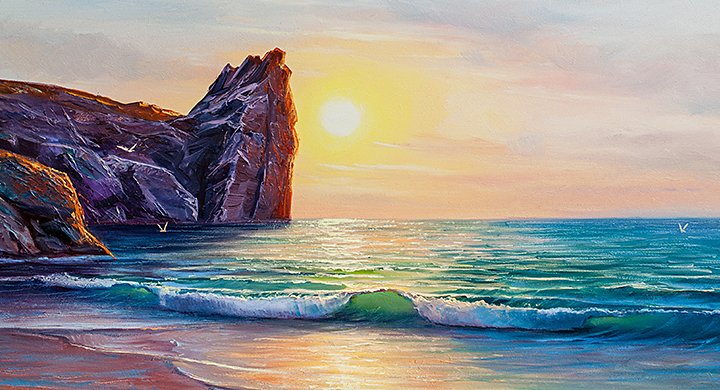 Think summer sun thoughts.
"I gravitate toward warm colors," Dees says. "I usually keep it yellow or orange, just to keep it on the side of warmth because that's what the sun evokes."

The range of solar colors goes well beyond a simple, classic yellow sun. Use a color wheel to decide which warm colors best suit your piece. Stick with colors close to each other to properly accent and highlight the colors you use in your sun illustration. Choose colors for your sun and background that work well together to ensure they have good contrast.
"It's important for beginning designers to understand color and how it works. If you're going to put an orange on top of a pink, it has to be a dark enough color that the two don't blend, so it pops off the page," Dees says. If you're unsure what colors to use, you can use Google or Adobe Stock to find similar images to your daytime or nighttime scene for inspiration.
When it comes to sun illustrations, there's no formula to make them perfect. Art is all about exploration, and sun designs are no different. "Keep those connotations you have, where you're drawing from that stereotypical sun, but then push yourself and see how far you can abstract it. And the harder you push, the more interesting options you'll discover than that initial sun design you started with," Cole says.
Heat things up with Adobe Fresco.
No matter what format you illustrate in, Fresco has all the tools to make your sun come to life. Use a live watercolor brush to make your sun look like a painting or use a pixel brush to produce sun vectors. If your goal is to create a logo or background design, vector illustrations are an excellent choice. Vector images can be adjusted to any size — a versatile format for icons, logos, and other designs.

Explore the settings of your pixel brush and use Textured to make your sun look more realistic and fully formed. With over 1,800 digital brushes, and the option to download more styles (from the Kyle. T.  Webster collection or import your favorites from Adobe Photoshop), your only limit on what your sun could look like is your imagination.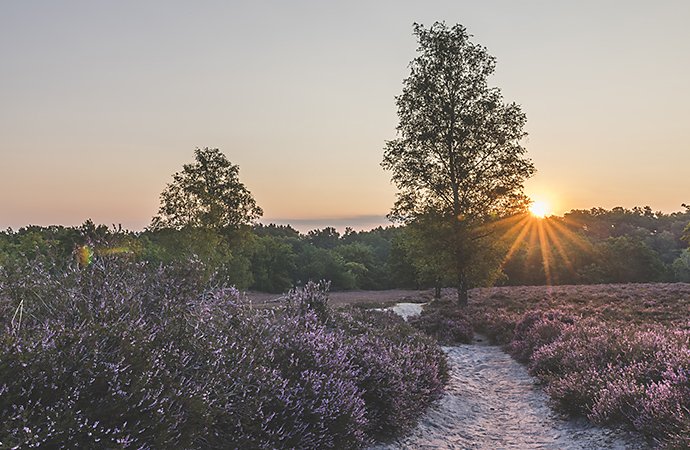 Find any sun you need.
Whether you need stock photos to use as reference or icons and illustrations to use in a design project, Adobe Stock is a great place to track down sun illustrations. Find inspiration in the stock images or search for templates featuring suns to add to your next project. With Adobe Creative Cloud, seamless integration makes it easy to bring images from Adobe Stock into any Adobe app to continue your work. 

You might also be interested in…
Explore how to draw water, a true test of an artist's skill with light, color, and shape.