Bring narratives to life with editorial photography.
Explore the world of editorial images and learn how to tell stories, plan photoshoots and leave a lasting impression.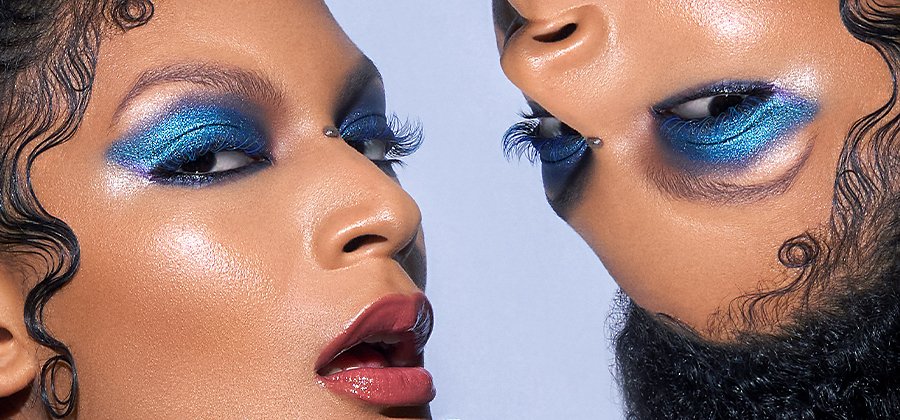 Stand out with editorial images.
Traditionally, editorial photography means the images that accompany an article in a publication. But editorial images can also exist on their own and imply a narrative or outline a creative concept. "What distinguishes it from advertising is that there's an element of storytelling to it," says professional photographer Amanda Lopez. Different from an unstaged photo of a football game or political rally, editorial images require more planning and preparation.
Typically when an article highlights a specific subject matter, like a person, fashion show or piece of architecture, it's photographed in a more intimate or elaborate way that highlights the narrative. "It's about capturing those in-between moments. I make sure that I'm not only focusing on whoever's in front of my camera, but on capturing what's around them," says photographer Allie Hine.
A different type of photography.
"There are so many different kinds of editorial photography," says Lopez. "For example, my editorial focus is people, but there are food photographers, fashion photographers, photojournalists — and all of that falls under the umbrella of editorial photography." Plus, images in magazine articles and newspapers are often for editorial use only, meaning their usage rights are limited and they can't be repurpose for advertisements.
While certain kinds of photography are more prone to be editorial in nature, like fashion photography, almost any subject can be photographed in an editorial style. Editorial portraits can focus on an individual's life or passions, while a fashion editorial could focus more specifically on an individual garment or fashion line.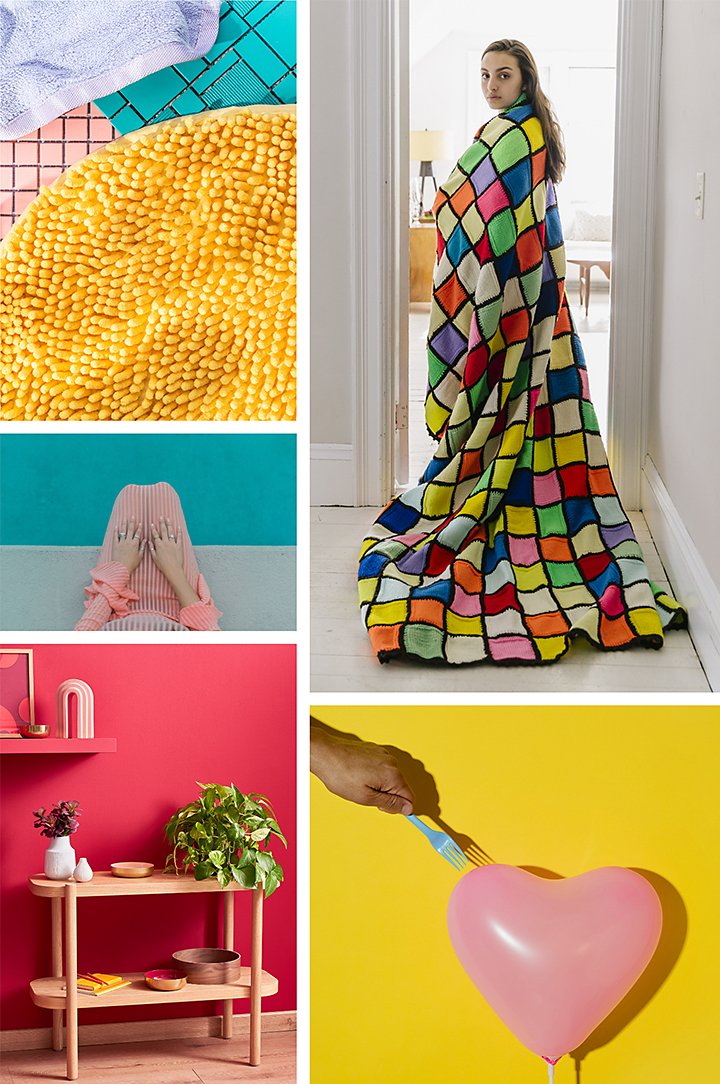 It all comes down to the story you tell and where your photo will live. If you create something for the New York Times, your editorial style will vary from what you'd make for Teen Vogue. Always keep your client, the product, the story and the destination in mind when crafting an editorial photograph.
How to plan an editorial photoshoot.
For editorial imagery, a creative director, photo editor or publisher will probably be the one to keep in touch to you about planning a photoshoot. But before you can bring out the camera and get to work, you need to prepare for the big day.
You'll want to get as much information as you can prior to the photoshoot so you can bring the right gear and plan the right kind of shoot. Make sure that you ask plenty of questions, including: What's the story about? Who is the person or subject? What's the mood or tone of the story?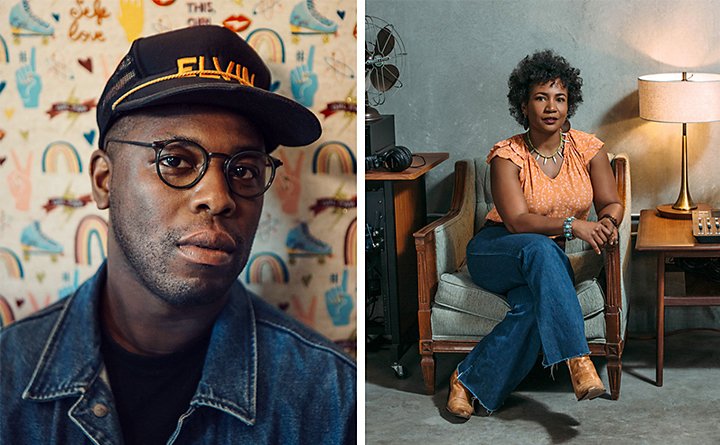 "I always ask myself: How has this person been photographed before? And in what way can I shine a new light on them? Because you always want to create new, different work. You don't want your photo to look like someone else's," says Lopez. As you research your subject, you can start brainstorming ideas for the photoshoot.
Depending on the client and the story, you'll probably have a conversation about what the client wants and needs from the shoot. "It happens a lot with me. I'll go over the top before I go for the safe route because I'd rather the client tell me to bring it down than need to turn it up," says photographer Stephen Hudson.
With editorial photoshoots, a mood board is essential. It keeps everyone involved aligned on the goal of the shoot and the ideal aesthetic. "Mood Boards are the best way to translate your ideas and what you want. But you can't always find the exact picture. I've seen some photographers that draw out the storyline, almost like a storyboard in film. And that helps a lot with knowing the colour palette," explains Hudson.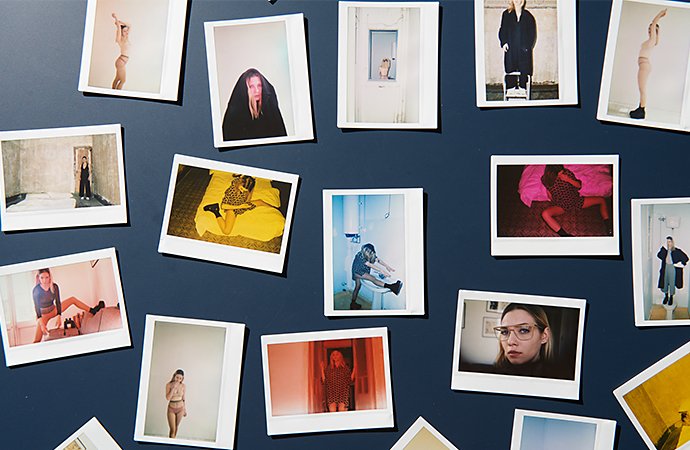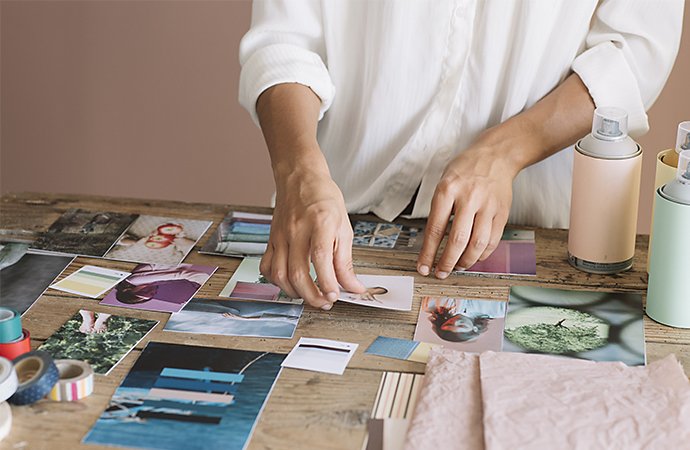 "I'll always create a mood board of inspiration. But a lot of times when I have a client come to me, they already have a mood board in mind, so then we'll kind of hash it out together," says Hine. "Print out your mood board for the shoot day. Because we live in such a digital age, it's refreshing to see the vision we're trying to capture pinned up on the wall."
Work out the details.

When you've got the mood and aesthetic planned, it's time to get into the specifics. In addition to packing the right equipment, bringing the right props and finding the perfect space, you'll probably need to fill in some paperwork. If you hire models or rent space for the shoot, you'll need release forms — like model releases and property releases. These forms can protect your client and ensure everyone is fairly compensated.
Editorial photography tips and tricks.
Focus on the story.
During the photoshoot, always keep the narrative at the forefront. "Evoking a feeling is an important part of the editorial process. It should feel personal to the story," says Lopez. You want the imagery to be an extension of the story, so make sure that you follow your shot list and stick to your plan.
Always be respectful.
"Editorial work is a privilege. You're coming into people's space and it's a privilege that someone is letting you into their home or into their world. And you have to respect that environment, that space and the people that you're working with," says Lopez. From the stylist to the creative director to the model, be sure you're always friendly and respectful of everyone on set. This puts everyone at ease and lets you work more organically and collaboratively with your peers.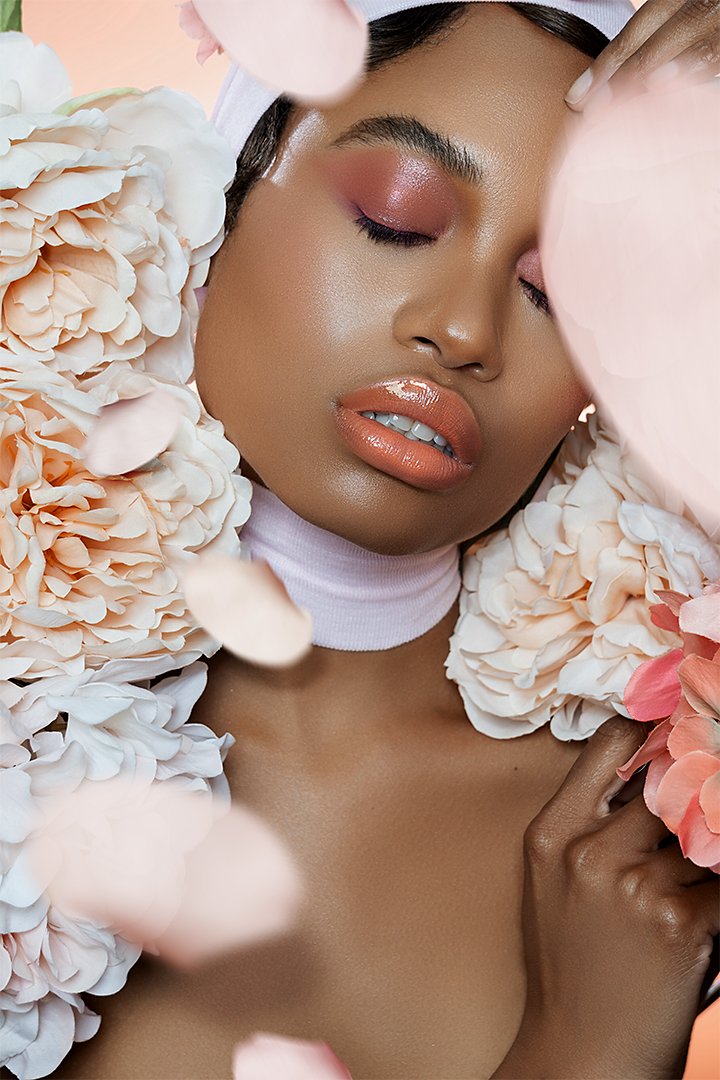 Develop your own style.
Editorial photographers all have their own unique aesthetic. "My photography work is pretty high key, bright, bold and in your face. So that's something that really stands out when it comes to my style and consistency," says Hudson. Play around with light sources, camera angles and unique poses to see what best fits for your approach. Whether you're drawn to bright, cheerful vibes or dark, dramatic moods, this can help you craft a signature style that stands out from the crowd.
Embrace your flexible side.
You will inevitably run into issues on set, so be ready to think quickly on your feet and have backup plans in place. "My goal is always to make a photo that highlights the person in the best light, is respectful and tells the story. It's also collaborative, so I can have all these ideas about what I want to do, but I might get to a place and meet the person and then those ideas shift," says Lopez. Just let the story drive your decision-making during the shoot and you'll be able to create some great editorial images.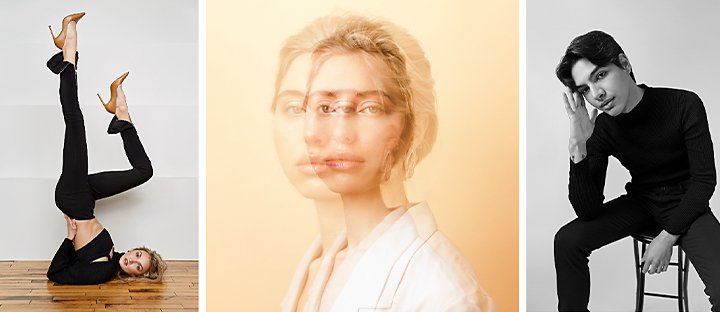 Don't forget about post-processing.
Editorial photos aren't snapshots, so they'll often require post-production editing. Be sure you've got editing software like Adobe Photoshop Lightroom on hand to tweak your shots and enhance the images. If you conduct your photoshoot in a public space, you may need to edit out unwanted objects in the background of shots, like dustbins or street lights. If you want all your images to have the same look or vibe, you can also experiment with customised presets to save time while editing large batches of photos.
Editorial images offer photographers a way to explore their creative freedom while telling a story. Whether it's portraiture, fashion shots or conceptual photos, weaving narrative into your photography can help you build skills and add something unique to your portfolio.
You might also be interested in…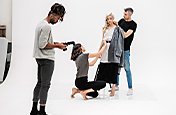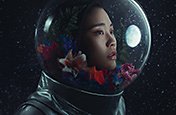 Lightroom plan
Edit, organise, store and share photos from anywhere.
7 days free, then RM47.07/mo (incl. SST). 
Photography
Get Lightroom, Lightroom Classic, Photoshop and 20 GB of cloud storage. 7 days free, then RM47.07/mo (incl. SST).
All Apps
Get the entire collection of creative apps and more.
7 days free, then RM250.16/mo (incl. SST).