Use photoshoot props to elevate your next shoot.
Bring character to your portrait photography with photo backdrops and other great prop ideas that can add complexity and depth to your next photo session.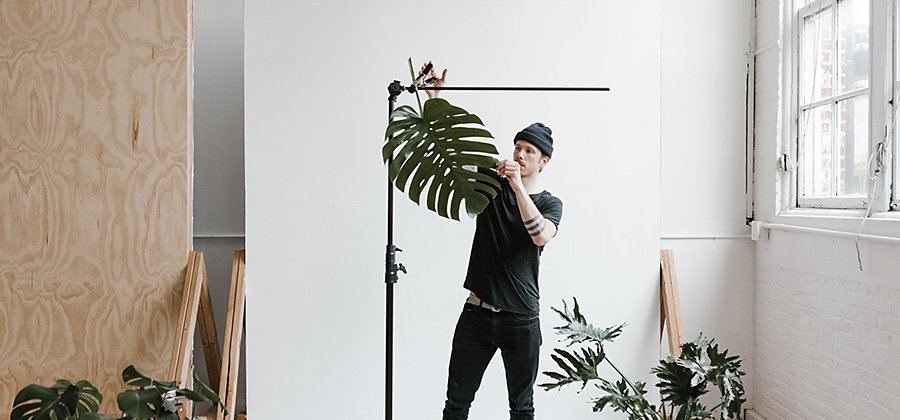 Prop up your next photoshoot.
Variety is the spice of life, and you can add some flavor to your work with photoshoot props. Often used in newborn photography and other forms of portrait photography, props are physical elements added to a setting with the subject for stylistic or emotional effect. Props can signify the subject's uniqueness, showcase an aspect of the subject's personality, or be there for aesthetic purposes.
If you're a florist who needs a new portrait for your Etsy shop, place flowers or other greenery in the foreground of your image to add an earthy feel. If you're a cook or baker, bring your best dishes and utensils to the forefront to make your viewers feel like they're in the kitchen with you. If you're a musician, place an instrument you play front and center for an unforgettable perspective that captures the real you.
Whoever you are or whatever you do, photoshoot props can help communicate your story better.
What makes photoshoot props important.
No matter the type of photography you want to shoot, photo props are an easy way to mix it up and evoke different emotions with your images. "I do it basically to add another dimension or another layer to photos," photographer Julia Cox says.
Props can transform even the most basics of photos, like a headshot, into something that's more uncommon and personal. They give photographers a license to create interesting and fun photos.
Consider photography backdrops as well. The right pattern can amplify a shoot and work in tandem with props. Try placing a teacher in front of a chalkboard to convey their academic prowess. Or use a lush red background for couples capturing Valentine's Day memories.
Props and backdrops can add extra storytelling to the visual narrative of your shots.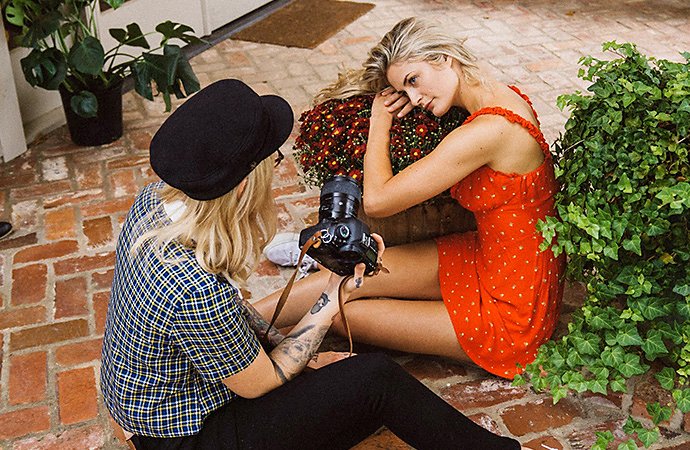 Give yourself props.
Before you commit to using photography props on your next shoot, take into consideration what type of photography you're shooting. Baby photography props will be different from those you'll need for a baby shower, let alone a wedding or magazine editorial, so plan accordingly. Think about the props you need and make a list of the items you require beforehand for a smooth shoot.
It can take a while to find all the props you're looking for. "It's not an overnight process," says photographer Stacey Marsh. "You may end up with this huge stash of props, but that's from year after year of collecting and not getting rid of anything."
Always keep your eyes open for rare pieces that you could incorporate into your next shots. If your budget is limited, try secondhand or thrift stores to find items that can transform a good photoshoot into a great one. Or put on your DIY cap and create an object you need if it's not available to you. 
It's best to start with things already around you. Friends and family are a good resource to help populate your collection.
Depending on the type of photography you shoot, the way you source your props will be different. Usually, the props for a baby photoshoot consist of baskets, blankets, and other infant-related objects, with the expectation the photographer provides them. For pet photography, keep treats and favorite toys in your photography studio to either use as props or reward dogs and cats for sitting patiently in an antique chair.
For a fashion shoot, the objects and staging pieces — like an inherited romper or a vintage headband — are brought onto the set by the model to add a personal flair. Or, if your subject is an art blogger, they might bring paint, brushes, easels, or anything else that highlights their connection to the fine arts and gives viewers more insight into their personality.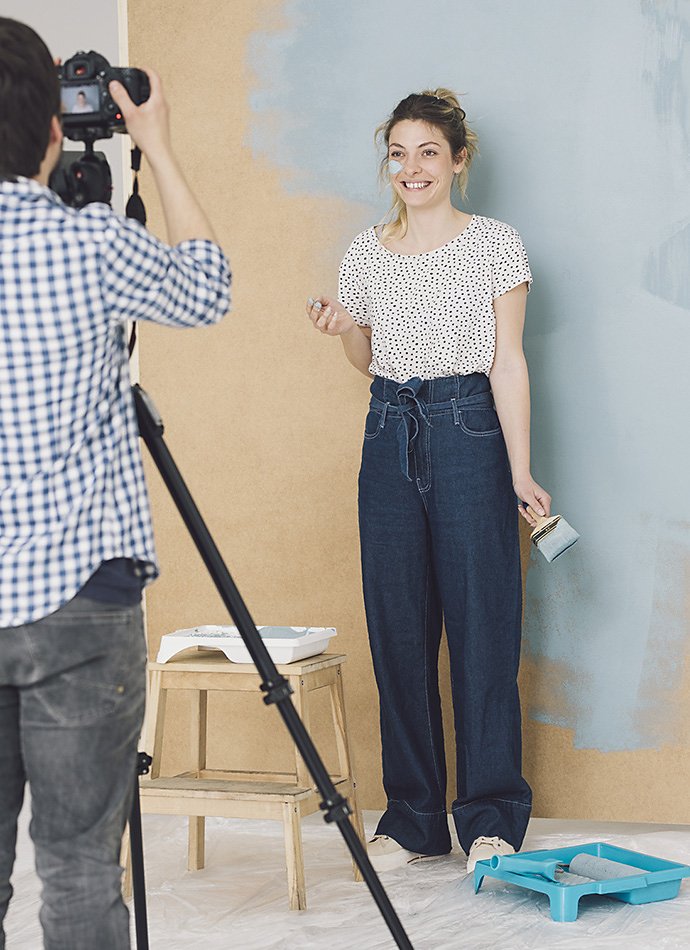 Make your props pop.
Here are some tips to bring your photo prop game to new heights.

Use a stool.
One of the most common photoshoot props, a stool, can be a simple seat, but your model can get creative with it as well. Instead of having your subject simply sit on the stool, encourage them to use it in different ways. They can perch on it like a bird, ride it like a horse, or even sit on the floor next to and place a different prop on the stool itself. 
Have a purpose.
Make sure all your photography props are carefully curated for the photo in question. All your items should add to the depth and texture of the image itself or to the subject's story. Unnecessary items will distract the viewer and take away from your photo's composition.
Change your perspective.
Other than items in your scene, photography props include items used in front of your lens, like a filter, glass, or prism, to create unique effects in your photos.
"If you're shooting on location, try shooting through things. Pick up an object and shoot through it. Play around with that and see what kind of different effects you get," Cox says.
Use sunglasses, crystals, and other lenses on your camera to play with the lighting in your photos for dramatic effect.
You can do more than just let your photo props sit there and look pretty. Have your subject interact with them so your photo feels candid, compelling, and real. Shoot a newborn baby's cake smash, take a family photo during game night, or show how the knitting blogger does crochet to add some character to your pics.
"If I'm going to introduce a prop, I want it to feel genuine," Cox says.
Trust your instincts.
As the creator behind the camera, it's ultimately up to you to decide how your shots will look. If something's not working with the photo props you have, try something else. 
"Have fun with it. There's nothing you can really do wrong because it's art and there are no mistakes," says Cox.
If you feel uninspired or don't know what props work best for the type of photo you want to capture, these ideas can help you get started.
Food photography: wooden cutting boards, wine glasses, white china, parchment paper, or marble slabs.
Travel-related shots: postcards, currency, maps, clothing, local cuisine, cars or bikes, landmarks, or local people.
Family photography: signs and banners, old photos, sparklers, balloons, toys and books, umbrellas, or picture frames.
Push into post-production with Adobe.
After you've captured a few prop-laden shots you're happy with, let Adobe help you fall in love with them.
Choose a select few you want to edit, and then export them to Adobe Lightroom. From there, you can adjust the color, darken shadows, highlight the contrast, and more with the Color Grading tool. For finer edits, export high-res copies of your images to Adobe Photoshop and use tools like creative filters and blurs to corner that elusive perfect pic. If you can't find a picture you like, take elements from others to create a collage, either from your photo collection or from Adobe Stock. Let the power of props compel you — from post-production to published.
You might also be interested in…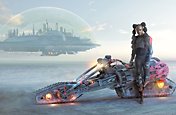 Lightroom plan
Edit, organize, store, and share photos from anywhere.
7 days free, then US$ 10.49/mo. 
Photography
Get Lightroom, Lightroom Classic, Photoshop, and 20GB of cloud storage. 7 days free, then US$ 10.49/mo.
All Apps
Get the entire collection of creative apps and more.
7 days free, then US$ 55.64/mo.