Everything you need for the perfect moon illustration.
From crescent to full moon, learn how to give life to your lunar illustration. Discover tips and expert advice to help you shoot for the moon with your drawings and designs.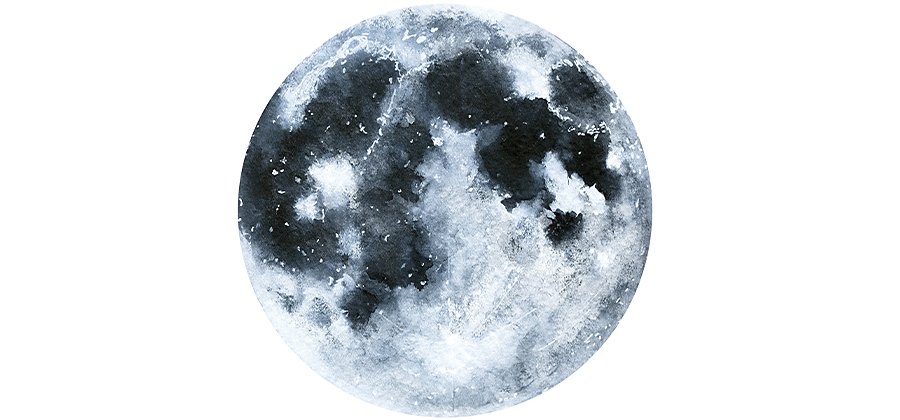 A total eclipse of the art.
Few things in the world inspire the imagination like the moon. Both mystical and familiar, it's an endless source of artistic inspiration for many illustrators. Inspiration for your moon illustrations is everywhere. Pick up a few ideas, and learn four universal steps for a stunning moon illustration.
Take your illustration over the moon in four steps.
Pick your style.
The sky's the limit when you add style to your moon illustration. Whether you want to create a realistic moon, go for a colorful illustrative approach, or draw a moon with a face, don't be afraid to take creative liberties. From a new moon to that rarest-of-rare blue moon, find reference photos or artwork of all kinds to kick-start your imagination.
With any moon phase, you'll want to start with a circle to get the basic shape. If you want a full moon, you can stop here.
For a crescent moon, or any type of waxing or waning gibbous, the simplest way to get a perfect moon shape is to stack two circles on top of each other. "To make a crescent moon, I make two circles and move the top one around," says illustrator Morgan Dees. "If you want a sliver you can make the overlapping circle really big, but if you want a thicker moon, make the overlapping circle smaller."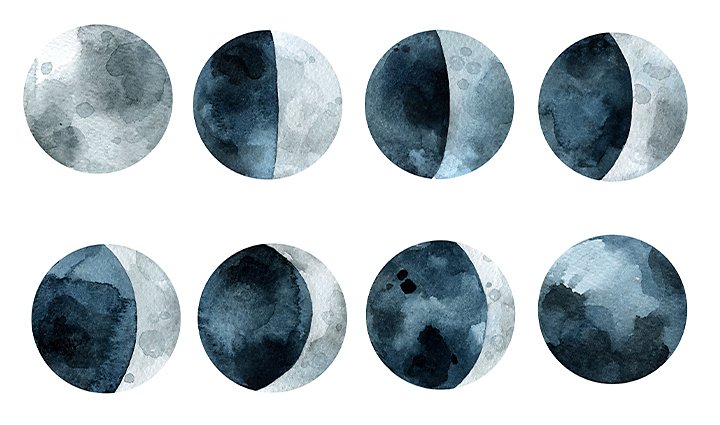 It's easiest to do this digitally, in illustration apps like Adobe Illustrator or Adobe Fresco, where you can work in layers and easily erase lines. The benefit of constructing your moon this way is that "you can't mess it up," according to Dees. "If you build with shapes, you can figure it out. But if you just try to freehand it, it's not going to look as crisp." A hand-drawn approach is perfectly fine if you want that perfectly imperfect illustrative look, though. You can always start with exact lines and loosen them up to make your drawing less rigid.
For a half moon, start with a circle and either trim it to a half circle or pull a background-colored gradient over half of it to imitate how the moon gently fades into the dark.
Once you have the basic shape of the moon down, add color and texture to the moon surface. "Drawing the detail of the moon surface is a great way to keep your illustration interesting," says illustrator Allison Cole. There's no wrong way to do this. Think about texture and shading, experiment with different brushes, blending modes, and clipping masks, and create your own unique look.

"I grab a brush that has some grit to it, and shade it in as a darker or lighter color, like you would a circle," says Dees. "It helps to add dimension to your moon."
Sometimes less is more. "You can keep it really simple with just the moon and a few dots for stars," says Dees. "The moon is nice because it looks so good on a page just as it is." This minimal approach might serve you well if you illustrate a moon icon or want a simple vector illustration instead of something more elaborate.
Your illustration doesn't have to stop with the moon. Go on and create a whole night landscape, place your moon in the solar system, or make a fun sun-and-moon combo.
Another option is to paint or watercolor a night sky background and fill it with stars. Sometimes a simple solid background is enough to place your moon in context and add interest to the illustration.