Make a student government election poster that gets the vote.
Highlight your message and grab attention with a compelling campaign poster. Get started with these simple tips and templates so you can make a difference in student government.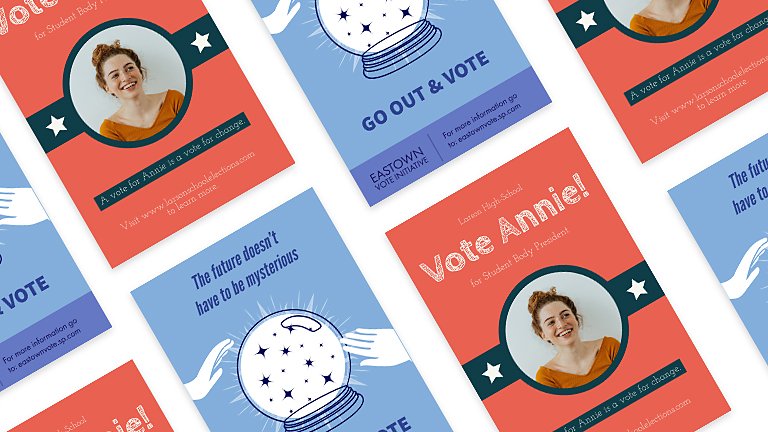 Throw your hat in the ring for student council.
If you want to get leadership experience and make positive changes at your school, a position on the student council can help you do it. It's a great way to get involved, learn new skills, and broaden your horizons. But first you need to get elected.

Student council elections exist across all kinds of academic institutions, including colleges, high schools, middle schools, and even elementary schools. While the rules and criteria vary for each election, the basics of a great campaign poster remain the same. Whether you run for class president, vice president, or treasurer, these tips can help you rise above the crowd on the bulletin board or online, so you stand out on the ballot.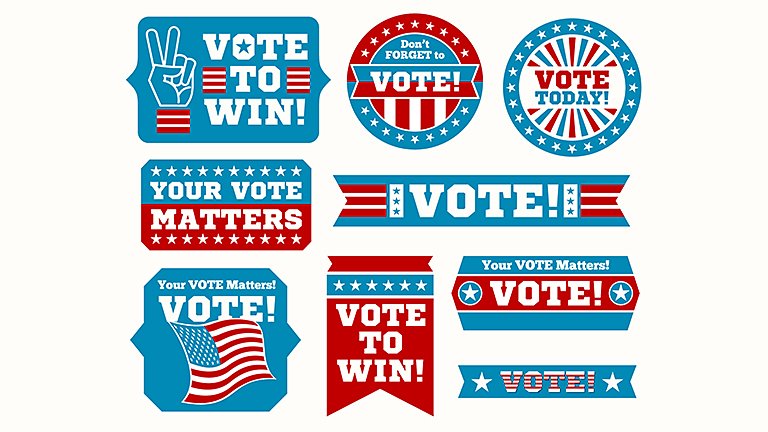 Design your school election campaign.
Write a great school campaign slogan.
Every candidate needs a strong, resonant message. The best school campaign slogans focus on what's important to you. Before you write your slogan, consider the key components of your campaign. What do you stand for? What do you want to achieve? When you've identified what you believe in, you can turn your attention to a slogan. Play with different phrases, use alliteration, or make it a call to action. A catchy slogan can help you get ahead of the competition. The classic "I Like Ike" is more memorable than a simple "Vote Eisenhower."
Design your own logo.
A nicely designed logo can give your student council campaign a cohesive appearance. The design should reflect your overall message and the image of yourself you want to present. Use relevant visuals, simple icons, or attention-grabbing colors to give your logo an extra edge. Design it with Adobe Illustrator. This allows you to save it as a vector file and scale and print your logo at any size, on everything from a tiny pin to a t-shirt or a giant poster.
Seeing a poster in person can be impactful. If you can hang posters in public spaces, it can get your name out there and help you grab attention. A student council poster can range from a simple text-based design to a complex illustration. Whichever approach you take, make sure your poster contains a few key elements including: your name, logo, slogan, and an image of yourself. Browse some student council poster ideas and explore these poster templates to get a head start on your design.
Make a version of your poster that you can share online on your Instagram, Twitter, and Facebook pages. Your classmates are on social media, so your campaign should be too. Your digital fliers should match your posters stylistically, but create them in the sizes and formats that are appropriate for social media platforms, like these social headers.
What makes a strong election poster.
When you design a school poster for an election, keep these design elements in mind to make it compelling and effective.

Font
Your choice of font can say a lot about your campaign. Every individual style evokes a reaction out of your audience. A handwritten font can be fun. A serif font can look professional. Be thoughtful about your choice of font and stick to just one or two fonts for your posters. Mixing too many styles can obscure your message and distract the viewer.
Color
Choose one or two colors and use them throughout your campaign to create consistency and boost your brand recognition. In this case, your name and campaign are your brand. Different colors evoke different emotions and thoughts. Yellow can be cheerful or playful, while blue can be tranquil or serious. If you use your school's colors as your campaign colors, you can lean into your school spirit. Just make sure you use your colors consistently and choose ones that complement each other.
Graphics and layout
How you organize the information and design elements on your poster can make a big difference. Use the white space in your poster to draw the viewer's eye between the key components of your poster. Or pull in icons and graphics that reflect the key messages of your campaign.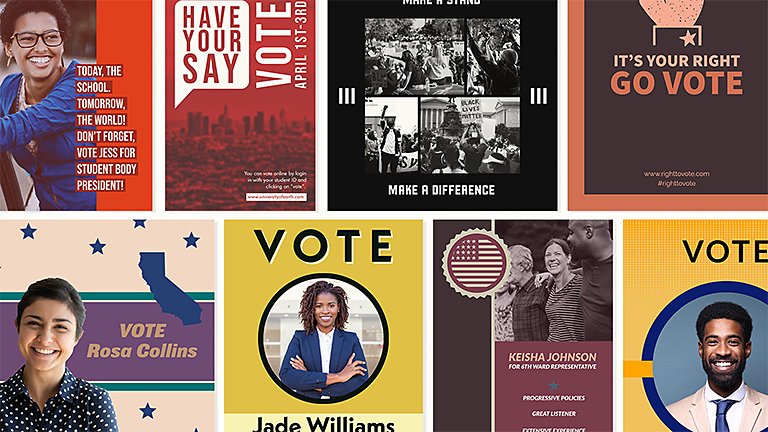 Make a school campaign poster that gets the vote.
If you need to make a campaign poster fast, use these simple steps to create one with Adobe InDesign.
1. Choose a size.

Whether you print your poster or save and share it digitally, find the size and layout you need. You can always go back and save the design in additional formats later.
2. Use strong visuals.

Pull your logo, headshot, and campaign graphics into your InDesign file. From there, you can rearrange elements and change your layout.
3. Add your slogan.

Experiment with different fonts and typefaces and add your key campaign message or catchy slogan to your poster.
4. Download and use your poster.

Save and print your design or share your final poster on social media in a snap.
What comes after student council elections.

With a well-designed student council representative, secretary, vice president, or president poster, your classmates might just check the box on the ballot and vote you into student council. But when elections are over, your poster design career doesn't have to be.

In addition to campaigns, student councils normally work to promote leadership and inclusion, plan events, and make the school a better place. There are lots of activities that need posters or flyers. Whether it's for a fundraising charity auction or a back-to-school student appreciation day, posters are an effective way to connect with your peers and raise awareness.
Explore related creative projects and topics…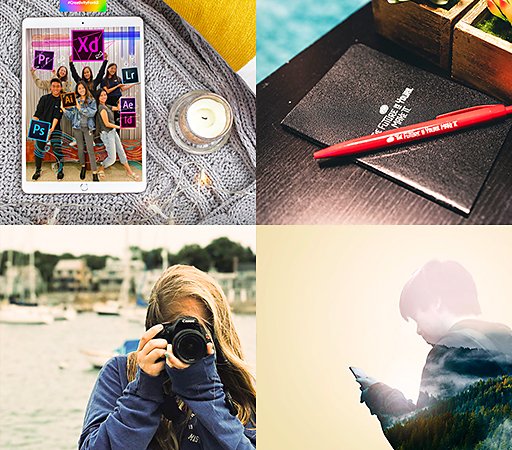 Shaping the future. One student at a time.
Adobe Ambassadors and campus clubs make it easier to get started with Creative Cloud.

Get the apps on all your devices.


Access the latest version of all the apps.
---
Students get all apps for the price of a single app. 
Creative Cloud for students and teachers 
Get 20+ apps, including Photoshop, Illustrator, and lnDesign. Save over 60%.
---