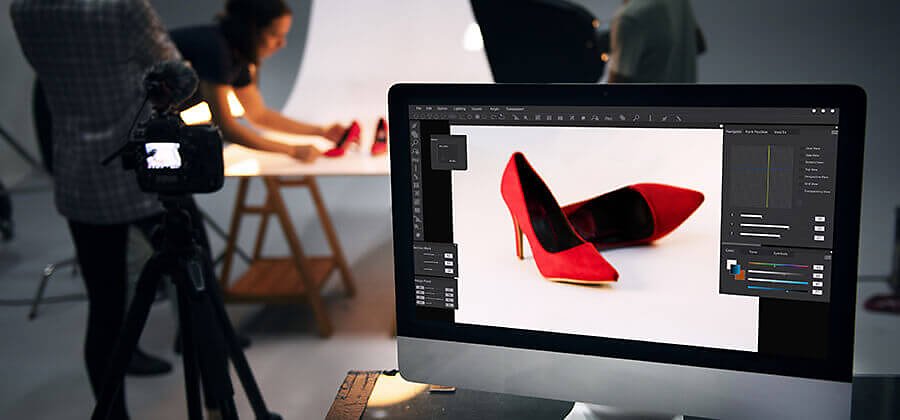 What is product photography and how do you do it?
This commercial form of photography comes with a unique set of challenges and opportunities. From styling to editing, learn how to polish your products and capture great photos.
Not sure which apps are best for you?
Not sure which apps are best for you?
Take a minute. We'll help you figure it out.
Take a minute. We'll help you figure it out.
Understand the big picture of product photos
Clear, high-quality photos are crucial for selling any product.            
The best product photography setup is a controlled environment with good lighting and a clean background.
For lifestyle shots, use models and natural lighting to show the product out in the world.
Editing lifestyle photos.
Whether you captured unintentional glare on your product, or you need to edit people or cars out of your background, check out these tutorials to help you perfect that product shot.
With lifestyle shots, especially those taken outdoors, you don't always have control of your setting. Use the Content-Aware Fill tool to edit out unwanted objects in your images.
A color cast is an overall wash of color caused by the lighting in which your photo was shot. If it looks unnatural, remove it from your photo.
How to start a product photography business.
With the rise in online shopping, there's never been a better time to be a professional product photographer. Ecommerce websites like Amazon dominate retail sales, and with sites like Shopify, Etsy, and eBay, any small business can quickly build an online presence. To get hired to create product photos for any business, first demonstrate that you can do good work.
Build a product photography portfolio.
The first step to growing your business as a product photographer is to create a portfolio. Collect your best work on one site, which you can then share as a link with potential clients. Include only your very best photos so you don't overwhelm people with too much work. Limit yourself to 20 or 25 images, and try to show a variety of shots of different products in different styles and settings. You want to demonstrate your versatility as well as your artistry.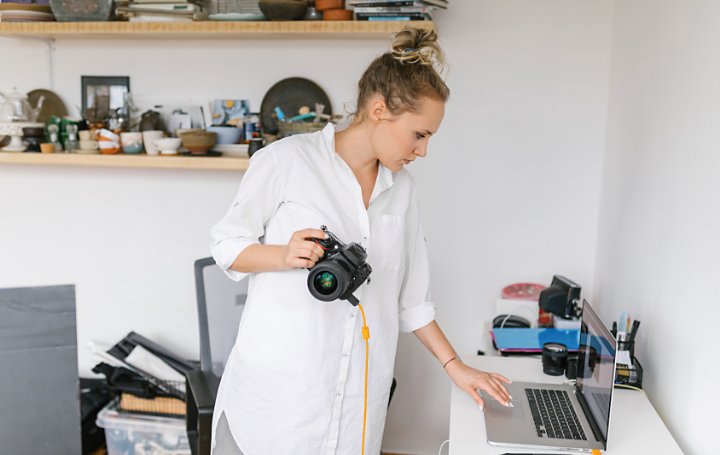 Optimize your portfolio for the web.
High-resolution image files tend to be very large, and hosting a lot of them on your website can take up a great deal of server space. To upload as many images as possible without breaking the bank paying for web hosting, consider using a program like Adobe Lightroom to compress your images before you upload them. By saving your images as JPG or TIFF files you can reduce the file size without impacting the quality or clarity of your photography.
Tell your clients about yourself.
Spend time crafting your About section. Offer basic background information, like your relevant work experience and education, but also add some personal details that help convey your personality and interests — maybe even include a photo of yourself. And of course, make sure to include your email address or phone number so people can contact you. 
How much should you charge for product photography?
Pricing depends on your experience, costs, and the difficulty or location of the project. For ecommerce photos, you can charge per every photo the client uses, starting at $20 per photo and working your way up to $50. For larger projects that include several products or a whole catalog, you can charge per product shoot.
To figure out what you should charge per shoot, check the rates of more established photographers in your area to get a sense of the market. Then share your portfolio with businesses in your area and offer competitive pricing. As you gain experience in commercial photography, you can begin charging a flat rate. You might go from charging a few hundred dollars for a daylong photoshoot to charging as much as a few thousand.
No matter where you start, remember that with each assignment you learn more and add to your portfolio. Every new problem you solve gives you one more tool in your kit. As long as you keep taking photos, you'll keep getting better, and as you get better, you can seek more challenging assignments and charge more for your work.
---
---