Fine-tune your sound and edit audio in Premiere Pro.
Learn how to transform your simple audio clips into sophisticated soundtracks with presets, tools, and templates in Adobe Premiere Pro.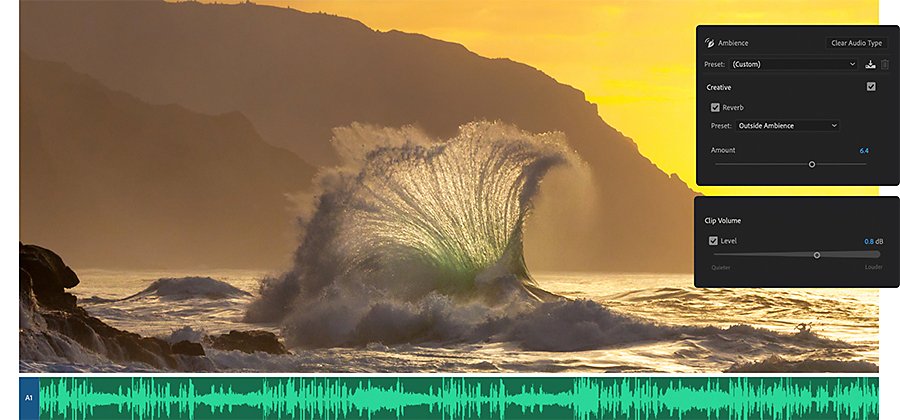 Audio editing that makes an impact.
From short YouTube videos shot on an iPhone to feature-length films, the perfect soundtrack can help your video project hit all the right notes. And with video and audio editing software like Premiere Pro, you can easily edit and pair the ideal audio file with your video clip.
Audio mixing is a balancing act. You want the dialogue to stand out from the background music, and the sound effects need to match up with the action on screen. With the audio workspace in Premiere Pro, you can repair, adjust, and layer your sounds and effects for a seamless soundtrack. Plus, when you arrange audio clips by color and track, it's easy to organize your work and apply audio effects uniformly across different clips.
How to start editing audio in Premiere Pro.
1. Import all of your video files and audio clips into Premiere Pro.
 
2. Wait for the audio workspace to automatically open.
 
3. Drag and drop the audio clips from the project panel into your timeline.
 
4. Cut, trim, and arrange the audio clips on your timeline.
 
5. Change the color of clips and place them on different tracks to keep your work organized.
 
6. Right-click on an audio clip to see the main tools and start applying effects.
Different kinds of audio to edit.
No two sounds are the same, but when you tag clips by audio type in the Essential Sounds panel, you can easily adjust the most appropriate levels and effects for similar kinds of audio.
When you tag audio clips as Dialogue, you can unify different recordings for a common loudness. If you overlay a voiceover into your video, make sure you reduce the background noise, adjust the reverb, and improve the clarity. To increase the accessibility of your video, you can also easily add subtitles to ensure everyone understands the conversation.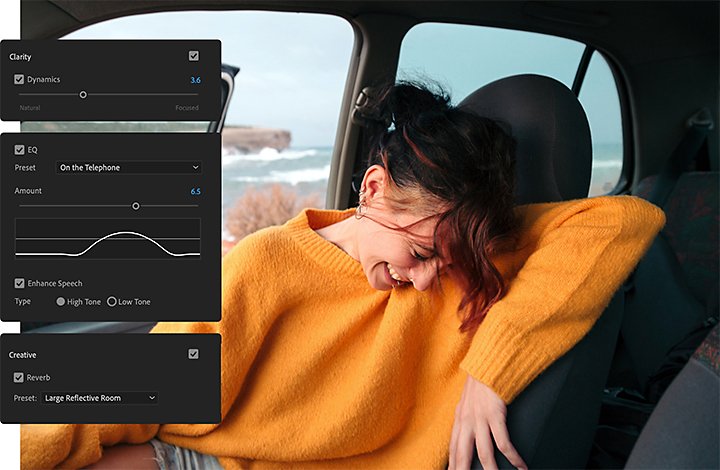 Edit the music.
If you tag audio clips as Music, use the mixing tools to ensure that all your audio tracks aren't all the same volume. For example, in professional videos, music is often quieter and sits behind the dialogue. Use the loudness and ducking settings to fade in and fade out the soundtrack volume while conversation happens. If you're looking for a place to start, you can import free music or free video clips from Adobe Stock.
The Sound Effects (SFX) tag lets you mimic different settings in your audio. Use SFX presets to instantly make music sound like it originates from a specific location — like outside of the room or in a car driving by. Then adjust the volume and use the auto-match on your existing sounds to mix them seamlessly into the rest of your track.
For background noise, use the Ambience audio tag. You can adjust loudness, add reverb, and mix the sounds to create atmosphere and set the scene for your dialogue or music.
Simple edits to improve your audio.
A well-mixed audio track can help your video sound polished. If you have disparate audio clips, you can change the volume of each clip independently, so you can fine-tune every aspect of your soundtrack. Or you can use the audio track mixer to apply effects across whole tracks, so each separate audio clip on that track will have the same effect.
The best video starts with high-quality footage and sounds. If you need to repair the audio quality, use the Reduce Noise, Reduce Rumble, and DeHum audio tools. These settings target specific background frequencies and unwanted clicks and noise that often appear on audio tracks.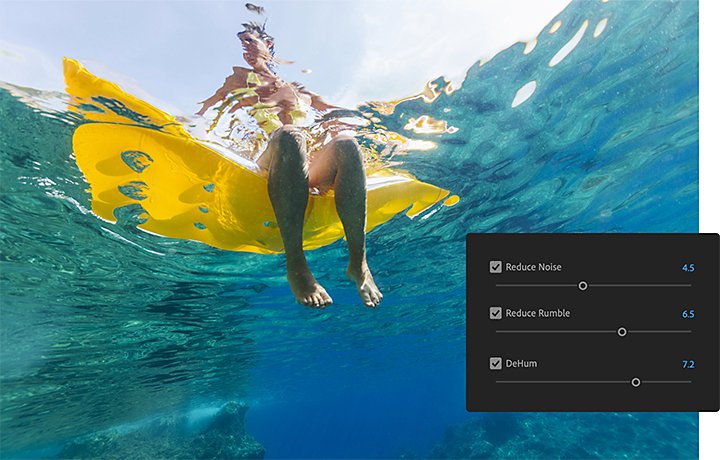 Another simple way to elevate your audio is to weave around the dialogue in a scene with crossfades and auto-ducking. These settings can fade in and fade out the background music and ambient noise around the conversation, ensuring the dialogue is understandable.
Follow these tutorials to take your audio editing further.
Whether you need to trim video clips or completely remix an audio soundtrack, the right audio and video editing software and templates can help. Follow these tips and tricks to explore the functionality of video editing tools in Premiere Pro, and turn simple media files into great video projects.
Start with the basics and learn how to add audio to your videos. Then, learn how to import, label, and organize your audio files for easier editing.
Explore the world of sound effects.
Sound effects are essential to video production. Use these tips to integrate effects and create atmosphere.
With intuitive tools and professional effects, Premiere Pro can streamline your audio editing process. Every video you create can have a polished soundtrack, clear dialogue, and perfectly synced sound effects. Give audio editing a try for yourself, and help your videos get seen and heard.
Do more with Adobe Premiere Pro.
Make visually stunning videos virtually anywhere — for film, TV, and web.
You might also be interested in…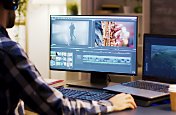 Lossy or lossless? Compressed or uncompressed? Find the audio format that fits your needs.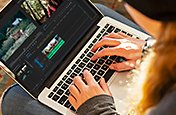 Explore unique effects, presets, and tools in Adobe Premiere Pro and Premiere Rush.
Get Adobe Premiere Pro
Create flawless productions with the industry-leading video editing software.
7 days free, then €27,08/mo.