Use Adobe Media Encoder to convert MP3 to WAV audio files.
Use Adobe Media Encoder as an MP3 converter to create audio files better suited to work on a PC.
WAV vs MP3.
MP3 is an incredibly versatile audio format, but WAV (Waveform Audio File Format, the standard created by Microsoft for Windows devices and PCs but which works well on Mac operating systems too) is the format of choice for video and audio editors. WAV files are lossless compared to the lossy MP3 file format, meaning that WAV audio is a high-quality uncompressed file. This also means WAVs are typically larger in file size. It's why MP3 audio is ideal for smaller devices and streaming, while the WAV format is excellent for studio recordings and audio mastering.
You can easily use Media Encoder to convert MP3s to WAV file format for all your sound engineering and audio editing needs.

Explore WAV conversion with Adobe Media Encoder.
Media Encoder can handle nearly any file conversion need, from images to video files. It also excels as an audio converter for AAC, AIFF and of course, MP3 and WAV files as well.
The conversion process is straightforward and will allow you to encode digital audio into a different output file type with ease.
Step one
Drag or upload MP3 files to the encoding queue.
Step two
Select WAV from the Format and Presets drop-down list of the file in the queue.
Step three
Choose the desired file or files in the queue panel and select Edit › Export Settings to adjust any settings.
Step four
Start the queue to encode the MP3 and export your new WAV file.
Media Encoder also gives you the option to do parallel encoding, so you can export multiple converted files at the same time to speed up your workflow. Whatever file extension you need to convert to, learn more about the benefits of Media Encoder.
You might also be interested in…
Lossy or lossless? Compressed or uncompressed? Find the audio format that fits your needs.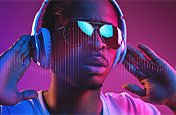 Explore how audio bitrate relates to audio quality and user experience.