Big eyes, big head, big feelings: The basics of chibi style.
Chibi characters are among the most unusual and distinctive elements of anime and manga. Here are the basics of creating and using kawaii caricatures.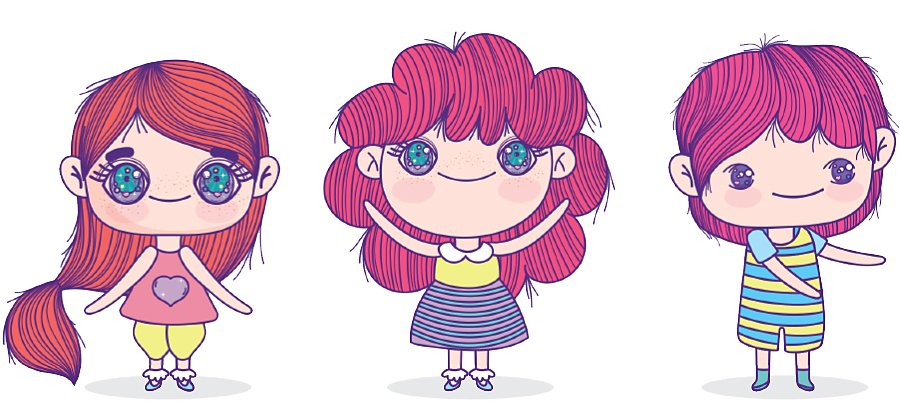 What are chibi characters?
Anime and manga tend to feature over-the-top characters. But every so often, those larger-than-life figures become smaller than ever, reduced to a tiny, childlike size, often while expressing some kind of emotional outburst. "Chibi is comedic exaggeration within anime or manga," says illustrator Kevin Jay Stanton. Characters who are already stylized become more so, with even more exaggerated facial expressions and bodily proportions.
"Massive head size is pretty definitively chibi, along with big facial features," says Stanton. A chibi character's head will often be as big as, if not bigger than, their body. Because of the combination of large eyes, oversized heads, and small bodies, chibi characters are also known as "super-deformed," though that term is used less often now. The whole point of these proportions is to give the character an impossible cuteness. 
This cuteness exists regardless of character type. Chibi style isn't just for characters who have an air of cuteness about them already. Manga and anime also feature characters like serious warriors or determined ninjas also appearing in chibi style.
Chibi in narrative context.
In many manga and anime series, chibi versions of characters have a clear narrative purpose: To show a character having a strong explosion of emotion. An anime character might be a stoic warrior one moment, but the instant she gets mad at some minor problem, she'll turn into a chibi character for a few seconds, raging at something like a child would. Or, if a character is in love, he might take on a chibi appearance that features heart eyes and a huge smile. In any case, normal anime and manga characters often become cute chibi characters to emphasize how strongly emotional they are in that moment.