Family photography tips and techniques.
It takes practice to create a beautiful family portrait. Plan ahead, set the tone and edit photos digitally and you'll be able to capture the perfect photo of the whole family.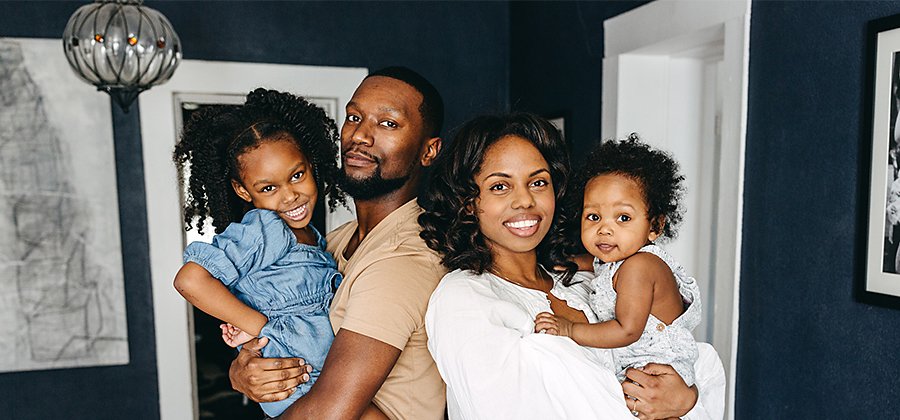 What makes a great family photo.
Working with one subject to create a stunning portrait can be challenging. So working with a group of people, especially if some of them are children, can stretch the skills of even the most seasoned photographers. But family photography is a unique way to capture special moments between people and bring an entire family together.

"Great family photos are all about capturing the authentic family dynamic," says photographer Jenn Byrne. The pictures that make it on the Christmas card or get hung in picture frames in the sitting room, are ones that were enjoyable to make and that highlight natural moments.
How to plan a fun family photoshoot.
The key to a good shoot comes down to planning. If you talk to family members about what they want, think ahead about location and lighting and choose a colour scheme in advance, you'll be set up for success.

Talk about family photo ideas.
Just like with a portrait or headshot, communicate with family members about their vision. Are they looking for staged photos or something more candid? How many kids have they got and what are their ages? Do they want to take the photos outside or do they plan on doing it at their own house where the kiddos are more comfortable?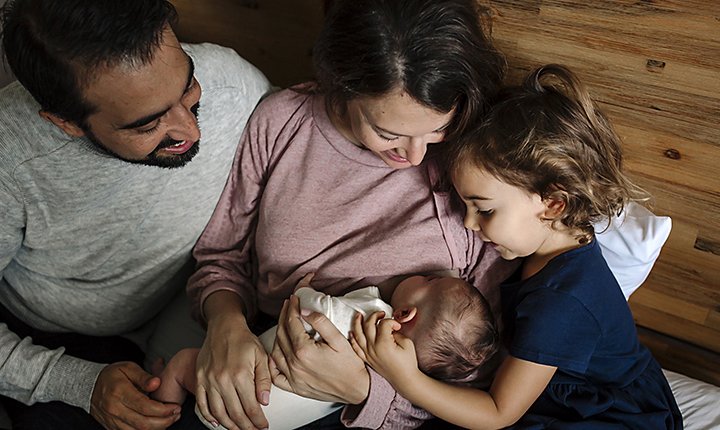 The answers to these questions will influence the artistic choices you make when you plan and take the photos. Plus, get lots of information up front to help ensure everyone is happy with the portraits and knows what to expect.
Choose a family photography location.
If you look for outdoor family photo ideas, consider scenic areas close to you. Whether it's a national park, a public garden or a golf course, convenient places to take great outdoor photos are all around. Make sure that you keep the time of year in mind as well when you choose a location. If you take photos in autumn, consider locations with lots of brightly coloured leaves to create a beautiful fall family photo. If you take pictures in spring, check out places with lots of blooming wildflowers. But remember, always keep your subjects' needs in mind when you suggest locations.
"I always take the kids' ages into consideration when looking for a location. I live in New Mexico and that means a lot of cactus. So if my clients have small children, then I don't recommend shooting in the desert, because I don't want the kids to get hurt," explains photographer Jacqueline Vega. Make sure everyone is happy and excited about the location before you get started.
If you shoot inside someone's house, be sure you know the set-up of the space before the day of the photoshoot. Plan where you'll take the photos, the angles you'll most likely use and talk about what else in their house will be visible in the shot.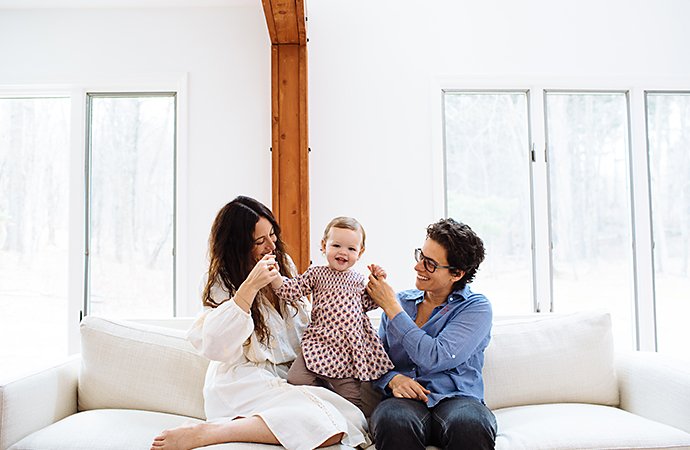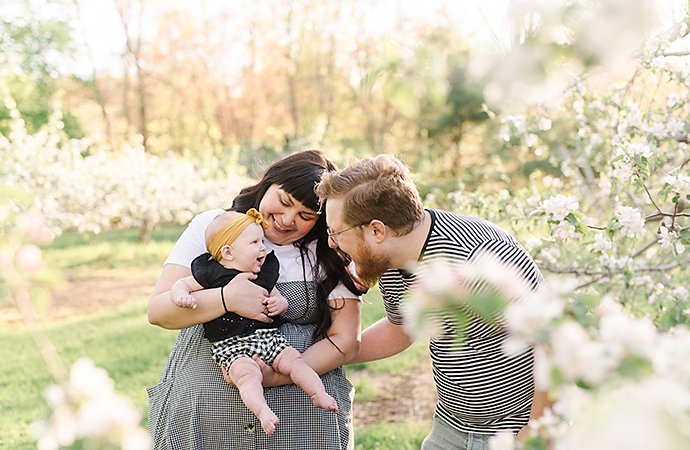 Think about lighting.
Your location will heavily affect the choices you make when it comes to lighting. If you're outdoors, the time of day you shoot will be crucial. Consider photoshoots during golden hour to get the best results and avoid photos in bright midday sun. If you're taking photos inside, bring some extra lights or reflectors to bounce light. You don't want anyone to be underlit, so make sure you have a good key light and the equipment to get the effects you're looking for.
Pick a colour palette.
It may seem like a fun idea to put everyone in matching outfits , but it can be tricky, especially for a large family. "Some people think that everyone has to come in the same colour of clothes, too. But to me, that just makes everyone blend together. So instead, I like to talk colour schemes and suggest some clothing ideas," says Vega. You don't want everyone to wear bright, clashing colours, but you also don't want everyone to blend together in the same shade of blue. If you need help choosing colour palettes, check out resources on Behance for some ideas and ask your clients what their favourite colours are.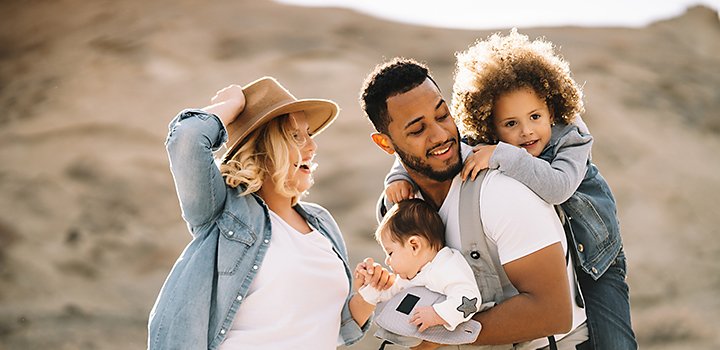 Tips for a great family portrait photography session.
Set the tone for the shoot.

With family pictures, you'll see some hyper kids and some really shy ones too. "It's important to relax because the kids are going to respond to how you're reacting. I often try to chat with the parents and the kids before we get started to help relax everyone," explains Byrne. If you approach the situation relaxed and calm, that helps put everyone at ease.
Let the kids be in control sometimes.
One of the hardest parts about taking great family portraits is capturing everyone with a natural smile. You want the family to have fun, because that mood comes through in the photos. "I often let the kids direct the shoot because that's what you try to capture in candid shots. If the kids aren't happy, then the photos aren't going to be good. So my favourite part about family photos is when kids are just being themselves," says Byrne.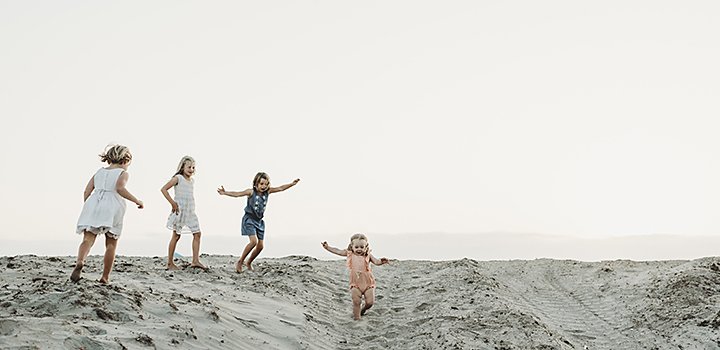 Family photography poses.
Every photoshoot is different, but most families want a few staged photos and a couple candid ones. "I like to get those staged photos done first because kids get tired of it really quick," explains Vega. By doing the staged photos first, you're more likely to capture a few shots with everyone looking at the camera. Have a few family photo poses in mind, so you can easily direct your models and ensure everyone looks relaxed and natural.
Have some creative ideas to get the kids involved.
Kids get bored and distracted quite easily, so have a few games in mind or some fun props on hand to play with. Ask parents to hoist their kids high in the air or bring some bubble wands for the little ones to play with. Turn a boring photoshoot into something special.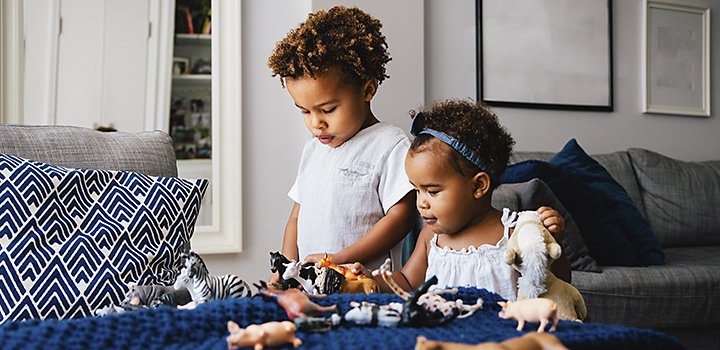 Bring extra storage cards for your camera.
Digital tools are crucial for great family photos. You can snap countless candid images when everyone is running around and enjoying themselves, so make sure that you pack backup storage cards for your camera. You don't want to run out of space and you never know what images are great until you start editing.
Edit photos to get the exact look you want.
It's nearly impossible to capture the perfect photo in camera, especially when you have to wrangle multiple models. But with tools like Adobe Photoshop Lightroom, you can turn flat photos into something fabulous. Highlight specific colours, blur backgrounds or adjust exposure with a few simple clicks. When you don't need to worry about post-processing, you can stay in the moment and have a great photoshoot.
While creating great family photos takes practice, when you prepare, bring the right tools and set the family at ease, you can capture some magical moments. With these tools at your fingertips, you're ready to jump into the world of family portraits.
You might also be interested in…
Get Photoshop Lightroom.
Edit, organise, store and share photos from anywhere.
7 days free, then KD 2.900/mo.