Discover the difference between videography and cinematography.
Explore the unique skills of videographers and cinematographers to better understand who does what on creative video projects.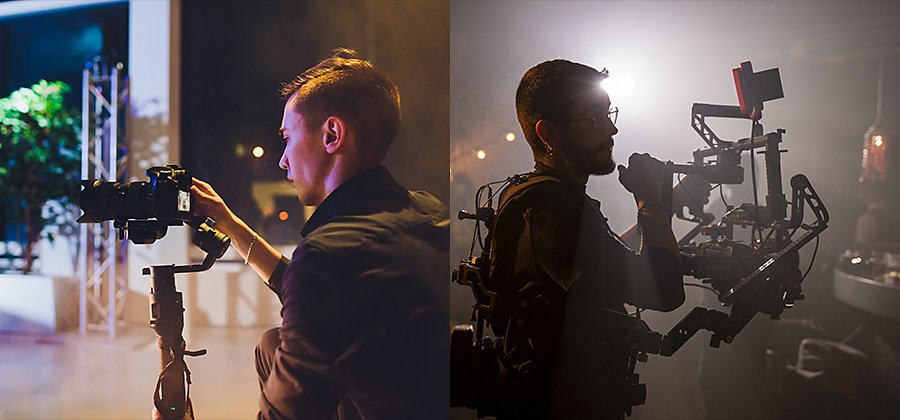 What are videography and cinematography?
Videography and cinematography both relate to capturing footage, but they differ in the perspective a person brings to the process of filmmaking.
The term videography refers to capturing moments and live events. Videographers tend to work on smaller video projects such as wedding videography, live events, or concerts. Videographers are typically a one-person team or a small crew. Their job is to capture footage.
Cinematography is also about getting good footage, but it differs from videography as it typically involves more strategic planning, artistic direction, or artistic decision-making, and requires a large crew or production team. The final production for a music video or high-end Hollywood movie is the work of a cinematographer.
"Cinematography is definitely much more of an artistic approach to filmmaking," says filmmaker Whit Ingram. "It's much more planned out — a great way to really express something, whether it be more abstract or more realistic."
How you can determine if you need a videographer or cinematographer on a project.
Videographers and cinematographers both produce motion videos. And while there is overlap, both jobs require separate skills. If you know which kind of project or final product you want to produce, it will help you understand which expert you need.
Consider these aspects of the project to help you determine what role you need:
● Size and scope of the project
● Number of people or size of the project team
● Time and amount of planning before the shoot or production begins
● Whether or not artistic direction or artistic decisions are needed
"The biggest difference between cinematography and videography is the planning. With videography, there's only so much you can plan out, like your gear," says cinematographer Shawn Foulks. "You have information beforehand, but at the same time, you really don't know what's going to happen."
Capture every moment with videography. 
Videographers live more in the moment. They spend less time planning ahead and — depending on the project — may not know the conditions they will shoot in. Their main jobs include operating cameras, perfecting lighting, and capturing sound.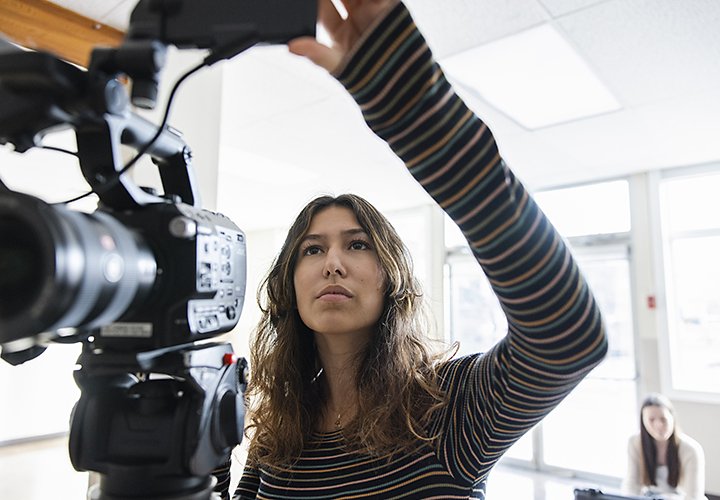 Top skills videographers need.

Knowing how to capture on-the-go footage requires thinking on your feet. Aside from camera operation, videographers must also be knowledgeable about their equipment and nimble in uncontrollable situations like a live event.
Other useful skills that help videographers produce great work include: 
Timeliness and agility: Arrive on the production site with all the necessary equipment, like video cameras, lenses, extra batteries, extra memory cards, lighting, and microphones to adapt to the needs of the shoot.
An eye for the right angles: Find the best shots when capturing live events, and find ways to access your environment to position your gear so you don't miss any critical moments.
Leadership: Direct a shoot when working solo or with a small team.
Post-production know-how: Be an expert in video editing software like Adobe Premiere Pro.
"Directing is actually one of the biggest things as a videographer that you need to learn," says cinematographer and videographer Josh Miller. Directing plays a major role in both videography and cinematography, but it's an essential skill for videographers, who often work with a smaller team. Videography directing involves strategizing on light positioning and setup, selecting correct camera lens or gear, and knowing how to work with environmental constraints.
Videography camera equipment and gear.
Videographers tend to work in uncontrollable spaces, but they can control the type of equipment they bring to the shoot. Video cameras, DSLR cameras, or camcorders with charged batteries and extra memory cards are some of the basic equipment videographers use. They may also need:
● Tripods or stabilizers
● Lighting equipment
● Microphones and audio equipment
● Lens choices for a variety of shot types
Types of projects a videographer might work on.
From live sporting events to wedding videos, videographers focus on live event recordings. This may also include conference recordings, live interviews, forms of journalism, or short films and documentaries. Videographers often find careers shooting wedding films, promo videos, corporate videos, or doing post-production work as video editors and media specialists.
Artistic action of cinematography.
Cinematographers are often referred to as directors of photography (DP) and they play a large role during film production. They are responsible for planning and organizing the entirety of a film project, including: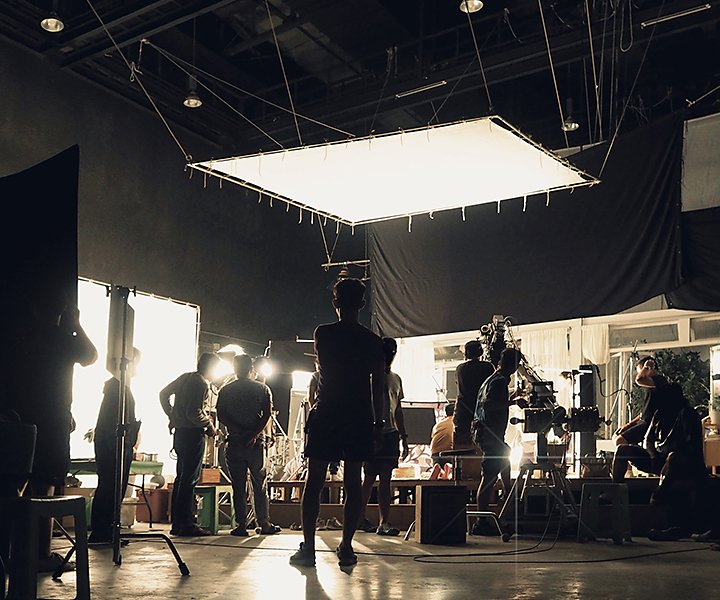 Pre-production: Ideate on the creative direction of the project, build the storyboard, find the film crew, secure the shoot locations or venues, and coordinate and collaborate with the director of the project. 
Production: Ensure the creative direction is executed, work with camera operators for correct artistic camera movement and shots, and adjust exposure, composition, and framing to match the creative direction.
Post-production: Review the color grading and color palette before handing over footage for post-production editing.
With a more creative and artistic approach, cinematographers or directors of photography require a wide range of skills, including vast technical camera knowledge, depth of film experiences, and most importantly, communication skills and the ability to lead a film production crew.
The DP is also responsible for assigning roles and responsibilities to crew members. Of the various roles, the most important and commonly needed crew members include a camera operator, Steadicam operator, first and second assistant cameras, gaffer, and a key grip.
Additional equipment a cinematographer might need.
Depending on the size of the project, type of artistic direction, and the director's vision, equipment and gear may vary. Just like a videographer, equipment like a DSLR camera or camcorder, tripod, lighting, and memory cards are standard gear that directors of photography and cinematographers would carry, but they may need additional special equipment depending on the production value of the project.
Types of projects a cinematographer or director of photography might work on. 
Cinematic projects include music videos with a storyline, Hollywood-style feature films, and high-end docuseries. If you're not ready to become a cinematographer or DP yet, you can start with related opportunities like art direction with a focus on color grading a film production, or roles like an assistant director, assistant camera operators (first and second), and motion picture camera operators.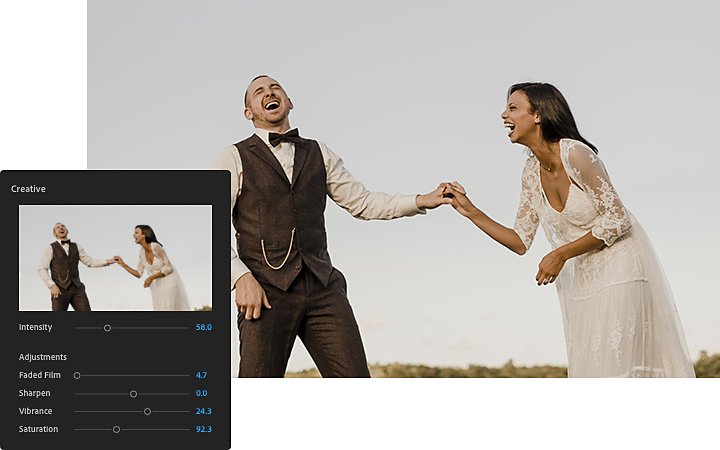 Make post-production effortless with Premiere Pro.

From nostalgic wedding videos to documentary-style features, Premiere Pro simplifies and supports your editing process. For videographers, it boosts efficiency with presets, aligns audio with smooth transitions, and much more. And for cinematographers, it helps organize B-roll bins and footage while incorporating color adjustments throughout post-production editing.

Whether you want to capture live events or help produce the next big blockbuster, the editing tools in Premiere Pro will help you tackle your next creative video project.
Do more with Adobe Premiere Pro.
Make visually stunning videos virtually anywhere — for film, TV, and web.
You might also be interested in…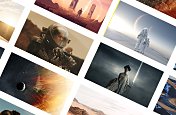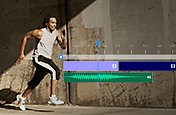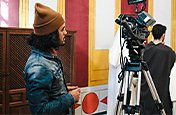 Get Adobe Premiere Pro
Create flawless productions with the industry-leading video editing software.
7 days free, then US$ 20,99/mo.