How to find and use iPhone photo filters in Adobe apps.
Transform phone snapshots quickly with fun overlays and camera filters in Adobe Photoshop Lightroom, Photoshop Express and Photoshop Camera.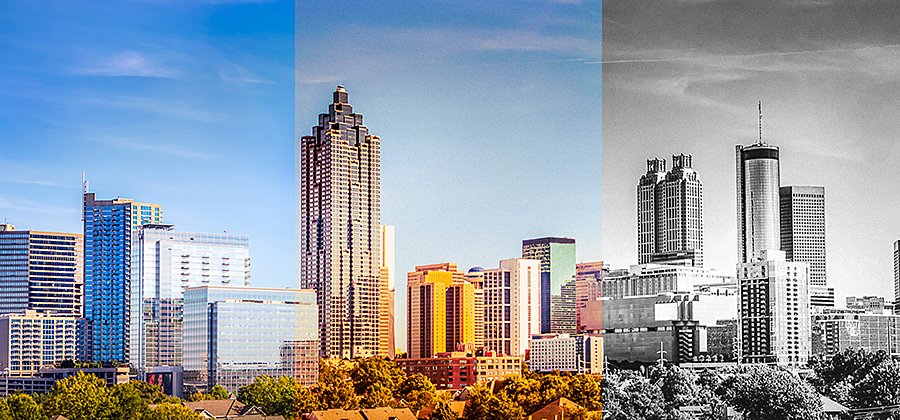 Enhance pics easily with camera filters and photo effects.
Smartphone cameras, like those on Androids and iPhones, have got incredibly advanced. Native camera apps offer many special features, like Portrait Mode on newer iPhone models, which mimics the shallow depth of field of DSLR cameras. Camera effects and photo filters are a quick way to level up and stylise your smartphone photography — whether you're taking casual selfies for social media or high-quality photos for your business. Try these fun ways to instantly enhance your pictures.
Discover photo filters in Adobe apps.
Adobe Photoshop Lightroom on mobile, Photoshop Express and Photoshop Camera are all mobile photo editing apps you can use to apply photo filters. Get them in the App Store for iPhone and iPad or the Google Play Store for Android devices.
Keep your software running smoothly.
Always update your operating system to make sure your camera features and apps work correctly. For iPhones older than the iPhone 6s, the newest iOS you can run is iOS 12. For newer models, like the iPhone X, iPhone 11 and iPhone 12, aim for iOS 14 or higher. Keep your apps up to date as well and new features will always be available to you.
Make your own filters with Lightroom on mobile.
Lightroom comes with both a desktop and mobile version, synced through the cloud. You can access the photos you upload to Lightroom on any device, making it easy to edit photos on your laptop, phone or iPad. Access more than 50 high-quality presets, which function as filters that you apply to your iPhone photos after you've taken them.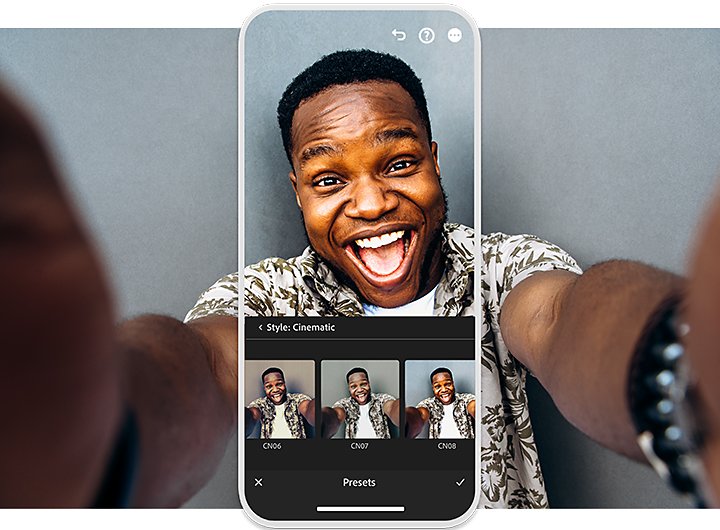 Find presets in Lightroom on mobile.
Choose a photo from your Lightroom library, upload one from your camera roll or take one with the in-app camera. Scroll to the right on the edits menu bar at the bottom of your photo and select Presets to browse through the filters icons. There are nine categories, including Colour (hue-altering filters like Vivid, Matte or Bright) and three premium preset categories — Portraits, Style and Subject.
Make your own Lightroom presets.
Apply your own edits on desktop or mobile and then click the three dots on the top right of your screen. Tap Create Preset to save and name your edits as a filter you can apply to any photo with Lightroom. Your customised presets will appear in a new category under Presets called User Presets.
Stylise and combine photos with Adobe Photoshop Express.
With Photoshop Express for iPad, iOS and Android, you can make fast, powerful edits and compile photo collages that stand out from the crowd.
Apply Looks as filters to your photos.
In this app, the filter-style tools are called Looks. Tap the icon second from the left on the bottom of your screen to browse through Looks categories, including Basic, Charm, White Balance, Pop Colour, Duo Tone and more. Add a Look and then use the slider bar to adjust the intensity.
Save your own Looks or create collages.
You can also apply your own adjustments and then save them as a customised Look by tapping the plus icon to the left of Your Looks. Or tap Collage on your photos page to unlock unique collage filters that apply styles to every photo in the arrangement at once.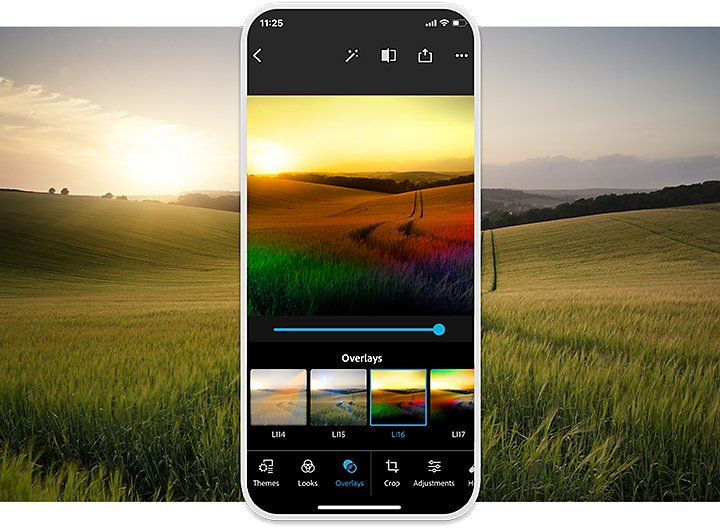 Layer on some Overlays.
Tap the icon to the right of Looks to explore Overlays. These act as adjustable stickers you can apply over the top of your edited image. Choose from a large array of categories, such as Light Leaks, Bokeh, Cosmos, Water Colour, Smoke, Neon, Duotone, Film Effect, Sparkles and more. Use the slider bar to change the intensity of your Overlay.
Play with creative Lenses in Adobe Photoshop Camera.
Use Photoshop Camera in place of your native Android or iPhone camera app. Switch between countless filters, called Lenses and see them applied to the camera's viewfinder in real time. See how your scene will look with each Lens before you hit the shutter button.
See the world through a new Lens.
Open Photoshop Camera and tap the sparkle icon to the left of the shutter button. Choose from several categories of Lenses and then swipe left or right on your screen to switch between styles. Try Pop Art for colourful Lenses that mimic comic book art. Choose Reverie for moody, noir-style Lenses. Or tap Add More to search the entire Lens library for new filters like the Mythos Lenses, which add a silvertone wash and giant mythical creatures to your scenes.
Fine-tune your snapshots.
Tap on your latest snapshot to open your photo library. From here, access photos from your Lightroom library or your device's photos app. After applying a Lens to a photo, you can auto-enhance it, adjust levels, switch Lenses, revert to the original or send it into Photoshop Express to access additional editing tools.
Watch as Director of Product Management for Creative Cloud Bryan O'Neil Hughes demonstrates how to create attention-grabbing photos with Photoshop Camera, Photoshop Express and Lightroom on a mobile device. Then try your hand at creating the best smartphone photos you can with one of these industry-leading apps.
You might also be interested in…
Night Photography.
Low light doesn't have to equal low quality with these tips for successful nighttime photos.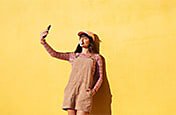 Lightroom plan
Edit, organise, store and share photos from anywhere.
7 days free, then RM47.07/mo (incl. SST). 
Photography
Get Lightroom, Lightroom Classic, Photoshop and 20 GB of cloud storage. 7 days free, then RM47.07/mo (incl. SST).
All Apps
Get the entire collection of creative apps and more.
7 days free, then RM250.16/mo (incl. SST).