A beginner's guide to digital drawing tools.
Digital pens and styluses have revolutionised the art world in recent years. From iconic painters to creative agencies and hobbyists at home, digital drawing tools have transformed how we draw, sketch and design. 
If you're just getting started, this guide for beginners will tell you how to use the latest digital drawing tools – featuring tips from designer Robin Casey, artist Kevin Mellon and illustrator Adam Bujorian.
What you'll learn:
What are digital drawing tools used for?

Digital drawing tools have replaced the old stylus and provide artists with a more flexible array of features, including pressure sensing for thick or fine brush strokes.
Artists, commercial designers and hobbyists all use digital drawing tools. The most popular set up is now an iPad Pro with a digital pencil or pen – for the sheer flexibility and mobility it offers. 
But you can also use desktop computers and laptops with pens or Wacom tablets, which have been used in commercial design for many years already.
 
"You get more control and more flexibility than a mouse and more options than a pencil." 
Designer Robin Casey

 
Almost any drawing (or writing) done with a traditional pen and paper can now be done with digital illustration tools, which can help create:
 
Design concepts. Digital drawing makes it easier to share and add effects which quickly enhance early concepts and rough sketches.  
Personal art. Artists can create full pieces of work and easily edit them digitally, jot down notes or quick sketches when out and about and bring an extra dimension to their work. 
CAD files. Drafters can use Computer Aided Design (CAD) software with digital drawing tools to form accurate 2D drawings, without the need for more technical stencils and equipment. 
Technical drawings. Architects and engineers can demonstrate how their designs will be constructed with greater freedom.   
Automotive designs. Visualising designs for new models and products – whether an initial sketch or the finished article – can be simpler to create, amend and refine with the right digital drawing tool.
 
How do digital pens work?
There are two main types of digital pen. The stylus, which draws directly onto your tablet screen, and the smart pen, which uses special paper. They work in slightly different ways.
Smart pens
A smart pen tracks the movements you make by following invisible lines and points across the special paper. This data is then transferred wirelessly via the pen's Bluetooth antenna to your PC, tablet or mobile. This all happens in real time, so your drawings appear on screen almost immediately. 
Digital stylus pen
Many commercial artists and hobbyists today use a digital stylus such as Apple Pencil. With a digital stylus, you can draw directly onto the screen of your tablet computer. Drawing directly on a tablet makes for a more natural drawing experience than connecting the tablet to a display via USB cable.
What is the best device for digital drawing?
The digital stylus and tablet combination has become increasingly popular with the arrival of high-performance tablets powerful enough to run drawing software and apps such as Adobe Illustrator. It's the tool of choice for many professionals and hobbyists. And for beginners, this can be an ideal start to digital drawing.
However, the different feel of a stylus on screen isn't for everyone. The set up you choose depends on what your budget allows and how you prefer to work, so don't make gear your top priority. 
 
"Work with what you have. You don't need to go and buy thousands of dollars' worth of gear." 
Artist Kevin Mellon
How to use a digital stylus pen.
Most digital stylus pens are designed from the ground up to deliver a similar user experience to drawing with a real pen or pencil. They're also built to work intuitively with compatible tablets or computers – and they're among the best digital drawing tools for artists. Steps are generally as follows:
 
Unbox your digital stylus pen
Pair with your computer or tablet – some have a simple 'pair' or 'sync' button 
They pair over wireless technology such as Bluetooth
The tablet/computer should now respond to the pen 
Tap the screen with the nib of the pen or pencil 
The screen should respond as it would to your fingertip 
Open a notes app or creative app 
Write or draw as you would with a regular pen/pencil
 
NB: Instructions change depending on brand model of pen – each has its own specific features and processes
 
How to draw on a computer with a stylus pen.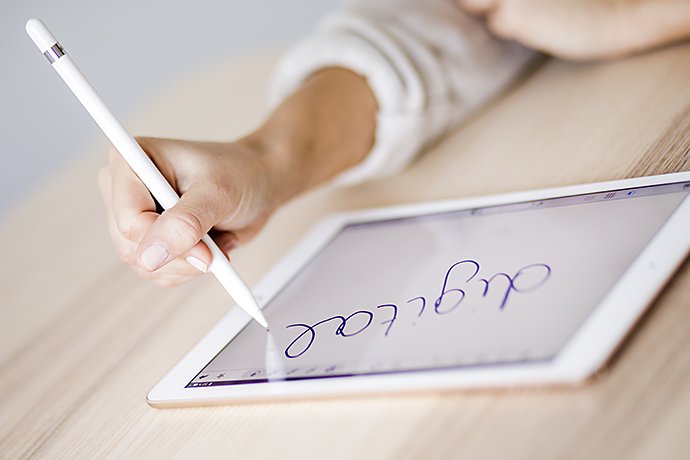 Drawing on a computer with a digital stylus pen feels much like drawing on paper. 
To start drawing, you generally tap the screen of your tablet. The nib of the pen is often pressure-sensitive – for example with Apple Pencil. So when you push down slightly harder, the pen lets out more digital 'ink' to create thicker lines on your screen. 
When you want to rub out, the nib of the pencil becomes the eraser. Switching between the two is simple, as is going from one type of pen to another or exploring the colour palette. 
Digital drawing tips and techniques from the experts.
The best way to get comfortable working with a digital pen is to experiment and try different settings. 
"Get a feel for it. See how it responds to different tools. Handling it is the best way to learn how you can work with it." 
Designer Robin Casey
"Hop into something you're familiar with. Start with that and branch off from there." 
Illustrator Adam Bujorian
"Some people wrap tape around pens to make them thicker, because thinner ones are harder on their hands." 
Artist Kevin Mellon
Figure out what works best for you to create a set up that makes you feel at ease and productive.
 
Digital drawing software and accessories.
Adobe Creative Cloud.
You'll need digital drawing software to support your creations when using a smart pen or stylus. Adobe Creative Cloud includes a suite of state-of-the-art tools such as Illustrator, Illustrator Draw and InDesign to help transfer and edit your creations. Mobile and tablet compatibility makes it easy to pick up and write or draw digitally, wherever you are. 
 
Matte screen protector.

Matte screen protectors are a popular accessory for tablet screens because they provide a more paper-like drawing experience. Matte protectors also give the surface more tooth, meaning the pen has more friction and texture than it would if it were simply drawing on glass.
You might also be interested in…
Take your skills to the next level with drawing exercises and advice from professional illustrators.