Add a splash of color with watercolor logo design.
A simple paint splatter can give your watercolor design a light, organic look. Follow these tips to apply this effect in your next logo design and create something unique and eye-catching.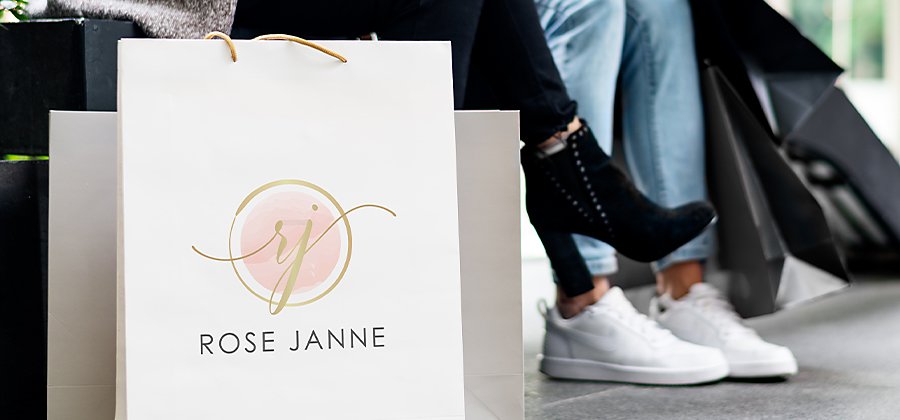 What is a watercolor logo?
A watercolor logo usually includes a splash of color in the background, with typography or graphic elements placed over the brush strokes or watercolor shapes. These designs can quickly convey a particular brand identity. "Watercolor is going to fit a certain type of business. It's not going to fit a tire company, for example," says graphic designer Ashley Lippard. "Watercolor works for something more romantic, soft, or lifestyle-oriented." A small, local boutique is one kind of business whose identity could work well when paired with watercolors.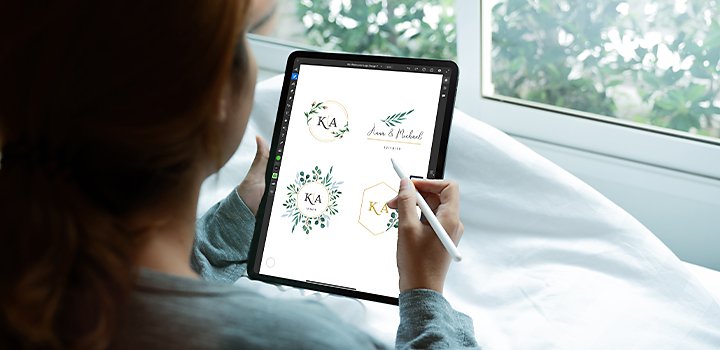 Watercolor, brand identity, and contrast.
Watercolor splashes need to work harmoniously with other visual elements in the logo. "If you have a graphic on a watercolor background, you don't want it to blend into the background," says designer Lenore Ooyevaar. "That won't read well." Logos need to be instantly recognizable and comprehensible, so make sure your other logo elements pop when arranged in front of a watercolor background.

It can be tempting to combine watercolor splashes with similar graphic design elements like cursive typography or watercolor flowers, but those elements can often hit the same brand identity notes. Contrast can be key for a memorable and effective logo, and watercolor can stand out when paired with something thematically different. "Watercolor is especially successful when you mix it with the hardness of modernism," says Lippard.
A modern-looking serif font positioned in front of softer watercolor textures can look arresting and dramatic. It can also suggest that a business is versatileand many-sided. Every logo tells a story, and when you combine soft brush strokes with more solid elements, your logo can convey a sense of depth and dimensionality.

How to use watercolor well.
While watercolor logos are visually appealing, they don't work in all graphic design contexts. Logos have to work in grayscale, black and white, and color. When you design a watercolor company logo, make sure it is still legible without the watercolor element. Business cards, stationery, and some merchandise might not be able to show off the watercolor elements of your logo, but you still need a logo that works for those things.

That means that the non-watercolor elements of a business logo still need to work as a logo. The typography and other visual elements need to communicate a brand identity, even without the splash of watercolor in the background. "The most significant piece is the type and the icon that goes with the type," says Ooyevaar. "The background is secondary." While a watercolor background might be the most attention-grabbing part of a logo, it also has to be removable or changeable.
Create versions of your logo both with and without the watercolor elements. This often means the watercolor shape is treated as a more traditional graphic element. "When the watercolor is used correctly, it's just treated as a color," says Lippard. "You have a shape that you would normally just have as a solid color, but you want more depth to that color. That's where watercolor works really well."
"If you're going to do watercolor, treat it as a color or a texture in the logo," says Lippard. "Not as the logo." An essential part of using a watercolor logo, then, is identifying when to use it. In situations where you can use a larger, more high-resolution logo, like on a website or in a store window, watercolor is fair game.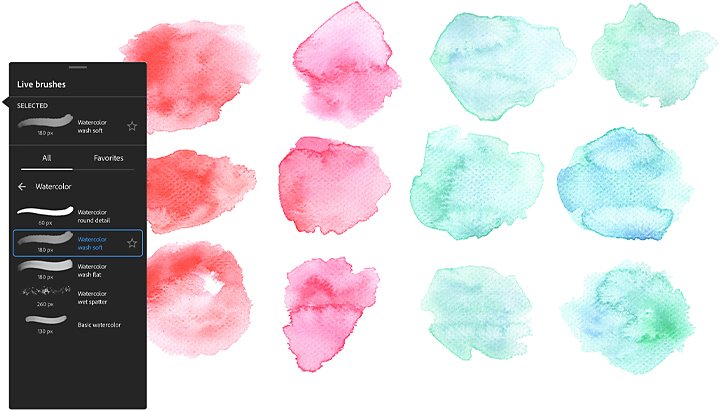 Paint with watercolors in Adobe Fresco.
Adobe Fresco lets you create logos, paintings, and more with digital watercolors. Explore the variety of live brushes, paints, and techniques Fresco has to offer, and learn to create a watercolor painting of your own, without the mess of physical materials.
Blending watercolor in Fresco.
Watercolor means that pigments blend, flow, and sometimes drip into each other. Discover how Fresco's digital watercolors stay wet, interact with digital brushes and surfaces, and achieve that classic watercolor look. When you have a watercolor effect you like, it's easy to pull it into Adobe Illustrator or other Creative Cloud apps.
You might also be interested in…
Learn about the versatility of this file format and discover how to use it in your design work.