Find fresh ideas for your TikTok videos.
Learn how to showcase your skills and create engaging videos for TikTok.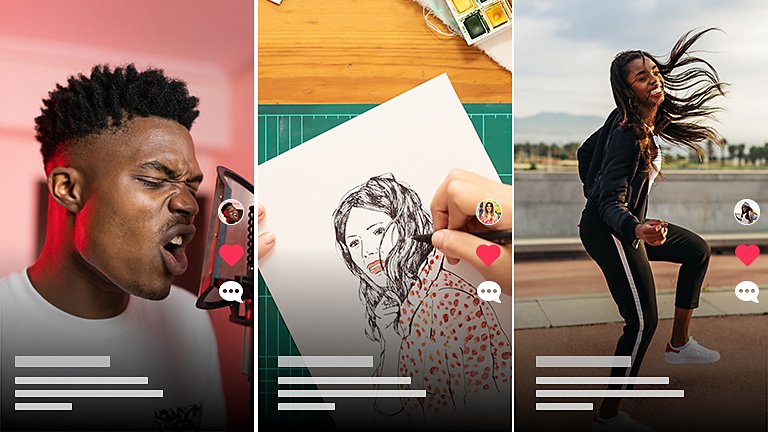 Look at all those TikToks.
TikTok is a social media platform made up of short videos, trending sounds and funny hashtags. This popular app is constantly changing and as it does, it encourages everyone to join in to create a viral video. Whether you're new to TikTok or a seasoned pro, TikTok can help you to create video content, improve your editing skills and build a portfolio of unique videos. In fact, TikTok may be your first step on the way to a creative degree or a career in social media, filmmaking or marketing.
Try different types of videos.
TikTok users all have a personalised For You Page (FYP) that's presented as an endless scroll of content. This page is influenced by the clips they've liked or engaged with and is curated by the TikTok algorithm. With over 1 billion TikTok accounts in use, it's a popular place to make, share and engage with content.
TikTok videos used to max out at one minute in length, but the app now allows for content up to three minutes. If you want to start your own TikTok profile, make a splash and gain followers, explore these different TikTok video ideas. Each of these trends helps you to build a different set of video editing skills, so consider them all. See which one you like best or start your own trend and share your vision with the world.
Duets and lip-syncing

One of the benefits of TikTok is the shareable sound feature. Anyone can create a sound that others can use. If a particular sound becomes popular, other TikTok creators can duet and reply to the original video to add content or use the sound and lip-sync to the audio. If you're looking for a place to start, consider beginning with duets or lip syncs. They're a great way to enter the conversation and make relatable content.
Dancing is a whole subcategory of TikTok video where influencers and creators showcase their skills by choreographing dances to popular songs. They often encourage others to learn the dance and show off their moves. Whether you want to jump on a trending dance or create one of your own, dance challenges are a great way to make your mark.
Short videos are perfect for making memes or jokes. You can create a dialogue reenactment from your favourite comedy or share a short, humorous home video clip. You can also browse the wide range of silly filters on TikTok or add your own effects in Adobe Premiere Pro. There are countless ways to turn a simple clip into something hilarious.
As with any place on the Internet, cats, dogs and adorable critters of all kinds are popular. If you have a pet, go ahead and make some cute content. You can use your own original sound or pair it with a trending song or popular audio clip.
From makeup tutorials to cooking classes and science experiments, TikTok has plenty of educational content. Don't be afraid to showcase your interests and hobbies. If you love history, make videos highlighting the most interesting historical anecdotes you know. If you're an avid illustrator, show your process from initial sketch to final design. The possibilities are endless and TikTok is a great place to learn and explore new interests.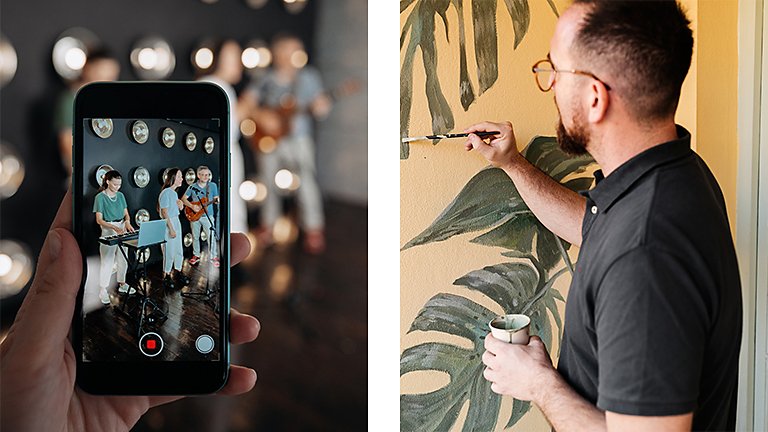 Music and art
The TikTok Live feature lets artists and creators stream live video from their account. You can perform live, engage with viewers in the moment and create longer content. TikTok is also a place to share compilation videos of your favourite pieces of original art or short clips from your favourite songs. The TikTok community loves creativity, so go ahead and showcase your skills.
How to easily edit a short TikTok video.
Now that you have some ideas to explore for your next TikTok video, it's time to shoot your clips and put it all together. While you can shoot and edit a TikTok video in the TikTok app, you get more control and advanced editing tools if you edit your video in professional video editing apps like Premiere Pro.
1. Create a new project in Premiere Pro and import your video clips.
2. Select the 9.16 aspect ratio and use the Auto Reframe tool to reformat your clips for vertical mobile viewing.
3. If you don't want to use your original sound, then import music or audio files you want to use.
4. Trim your clips and rearrange them on your timeline so they sync up with the audio.
5. Add captions to your video to increase your engagement and make them more accessible.
6. Export and share your video directly to TikTok or save it to share online later.
When your video is published to TikTok, make sure that you monitor its engagement and respond to the comments or questions that viewers or TikTok followers may post. The TikTok algorithm is unpredictable, so you may just end up on your own For You Page.

Level up your video editing with more apps.
Get creative in After Effects.
If you want to think outside the box, consider adding colourful doodles to your videos with this step-by-step animation tutorial.
Mix and master your audio with Adobe Audition.
Learn how to edit dialogue, overlay music and mix sound effects with Audition to give your TikToks a polished soundtrack.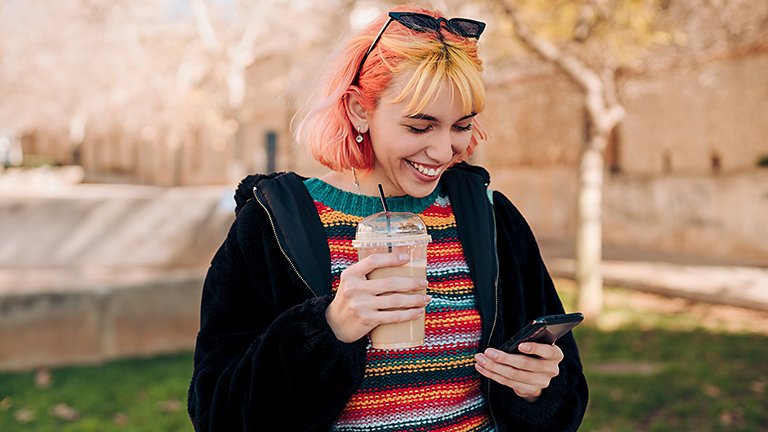 Master your social media.
From Instagram photos to TikTok videos, your social media presence can help you to showcase your skills, build a portfolio and even find a job. With its short video-length limit and easy sharing features, you can use TikTok to quickly illustrate your creative talents and gain some followers along the way. Now that you've got a few TikTok ideas in your pocket, what will you create first?
Explore related creative projects and topics…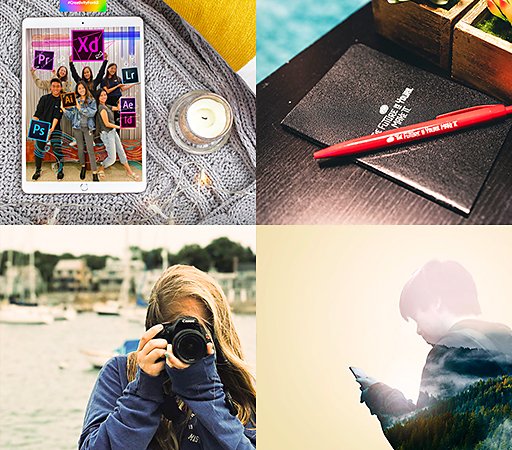 Shaping the future. One student at a time.
Adobe Ambassadors and campus clubs make it easier to get started with Creative Cloud.

Get the apps on all your devices.


Access the latest version of all the apps.
Students get all apps for the price of a single app. 
Creative Cloud for students and teachers 
Get 20+ apps, including Photoshop, Illustrator and lnDesign. Save over 70%.
---