Make video memes that are super shareable.
There's more to successful video memes than meets the eye. Learn how to transform your funny ideas into the best memes possible with these tips from the pros.
What's in a meme?
Memes are entertaining clips or images that create unique juxtapositions between comedic or cultural commentary and pop culture and current events. They're usually humorous and strive to make a viewer have a specific reaction.
"I think meme videos, or memes in general, point at a cultural reference and bring it together with a joke. A meme makes a commentary in a fresh, funny, or new way," explains comedian and viral meme creator SluttyPuffin.
While everyone recognizes the now-retro "I Can Has Cheezburger" meme cat, the newer versions often look different. Meme videos are the epitome of the unexpected: a clip from a movie or TV show juxtaposed with the news, politics, or trending moments. It's all connected together with a caption, music, or a single word.
The creative meme process.
Memes move fast.

If you want to make a simple topical joke or a dank meme (memes that are especially unique or interesting), you've got to move quickly.
"There's always something going on, and you want to make sure you're one of the first to get a meme out about it," says popular meme creator Paul Nabor. "If you post a meme too late, it may never actually pick up traction, because everyone's already on to the next story."
Memes are a vital part of internet culture, and the internet moves lightning fast. People may lose interest in topics quickly online, so your window of opportunity with memes and jokes is small.
"People love funny stuff, and there's a reason meme social media accounts grow so fast. It's because it's one of the most shareable things on the internet. Memes are just inherently shareable," says Puffin.
Create for your sense of humor.
For the best content, start with what you know. If you're particularly interested in pop culture, sports, or politics, focus on those areas first. "If it doesn't make you laugh, then it might not make other people laugh. So start with your own sense of humor first," says Puffin. Your unique take on a field you have deep knowledge of can help your meme connect with those same fans.
"Also, you don't want to make obvious memes," Puffin adds. "Don't say it and show it, or you're just doing the same thing twice. I do memes about pop culture but with an impactful twist. So I try to do something that elevates it. I'll use a video of Snooki typing on a keyboard, and then I'll add a caption about politics, for example."
Whether you just want to make a funny meme for your friends or start an official meme social media account on Instagram, you need funny ideas. Since great memes start as cultural commentary, you need to be aware of what's going on in the world.
"It's about making sure you have the news coming to you constantly, which can be a bit overwhelming sometimes. But I think it's important to have a finger on the cultural pulse," says Nabor.
If you want to make memes about specific topics, set up Google Alerts or Twitter Alerts on those keywords. That way, if an article is published about your favorite celebrity, you can quickly create content in response to it.
Source your meme material.
Make a library.
It can be difficult to find the perfect meme video footage. "Whenever I see or think of a funny clip, I immediately screen grab it and put it in a folder. So I have it sitting there just in case something comes along," says Nabor. "Having clips on hand is important, because five minutes after something happens, everyone's already on to a new topic."
If you see a funny clip or a great scene in a TV show, make note of it or save it in your own meme library or database. You never know when the situation will arise that's perfect for that video clip. Consider labeling or naming your files in clear ways, so it's easy to find the clips later.
If you need a specific clip, search online. "Twitter's a great place to find clips. There are a lot of Twitter reaction pages and little places that aggregate clips. If I need a clip of someone saying, 'I'm not doing that again,' I just Google it or look for it on YouTube," says Puffin.
When you collect and reuse video footage, it's important to be aware of copyright issues. While criticism, commentary, parody, journalism, education, and research are all covered under the fair use doctrine, and usually protected from copyright claims, it can still be tricky to make memes with well-known trademarked images.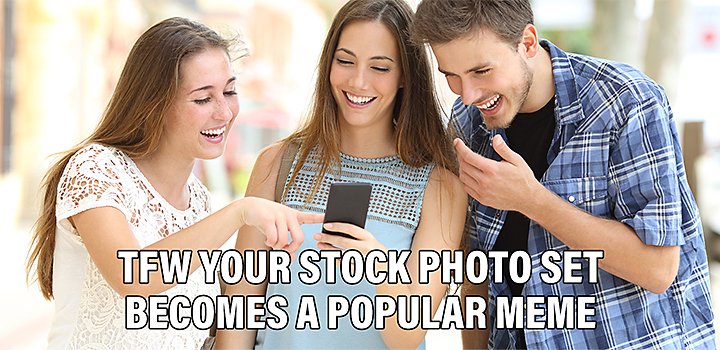 "Memes are cut-copy culture. They are referencing something that's referencing something that's referencing something. So there's a big cultural question there. Is it stealing? Is it borrowing? Is it parody?" says Puffin. Make sure the memes you create elevate a piece of video footage with captions and commentary. If you just repost something, you're more likely to come up against copyright issues.
A meme-making tutorial.
Follow these steps to create your own video meme.
1. Import and edit video clips.
When you've chosen a clip for your video meme, it's time to choose your video editing software. If you use an iPhone, iPad, or other mobile device, Adobe Premiere Rush is a good place to start. If you work on your desktop, Adobe Premiere Pro has robust tools to help you craft meme videos. After you upload your clips, use editing tools to resize them for your social media channel of choice, and trim them for length.
Most standard video memes show a short clip on a static background color, with a text box for a caption. You can set up this format for yourself with this picture-in-picture tutorial and overlay your video clip on a static background.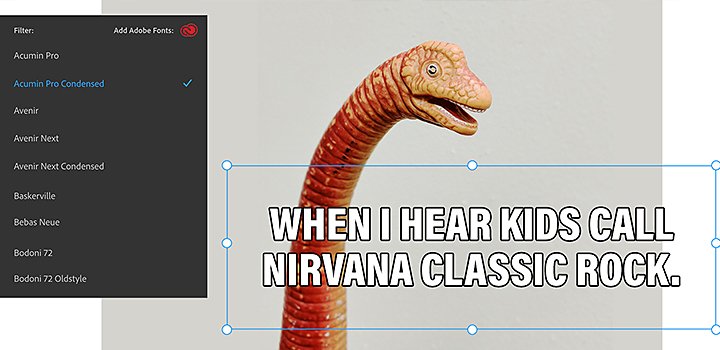 3. Customize your meme text.
Classic meme fonts are often heavy weight, condensed, sans serif typefaces. Browse options in Adobe Fonts, and apply it to your meme captions in Premiere Rush. Adjust the sizing and position the text where you want it on the screen. For video memes, you can also add subtitles to ensure viewers can enjoy the full content of the video, even if they're hearing impaired or watching it without sound.
Most online video meme makers or meme generator websites overlay their memes with a large watermark. When you edit meme videos yourself, you can add your own custom watermark or logo. If you've designed your own logo in Adobe Photoshop or Illustrator, import the design, and add it as a new layer over your video clip.
Since memes are so shareable, watermarks help you claim credit for your work even if it's been reposted on another site. "I think some content creators get a little overzealous when it comes to watermarking though," says Puffin. "It doesn't need to be in the middle of the video."
Where you want to post your meme can help determine the file format you use. If you want a versatile video file format, export your meme as an MP4 or MOV. You can share video content straight to social media channels like TikTok, Instagram, and Behance from within Premiere Rush.
You can also create GIF memes that are easy to share on Twitter. But since GIFs only save visual data, you'll lose the audio of your clip.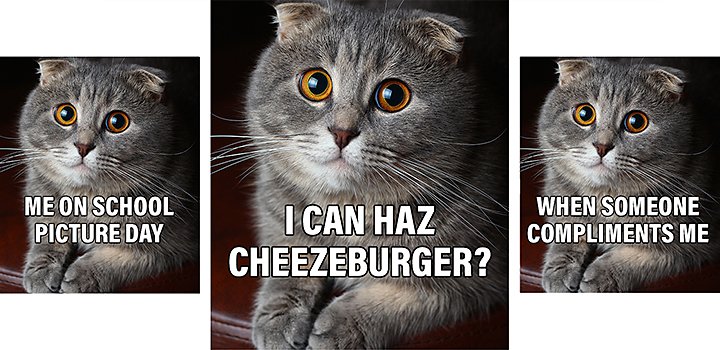 Make your memes stand out.
Reuse and revise.

"Don't be afraid to reuse something. You can sometimes reuse clips four, five, or even six times in a year, because they're so relevant to any situation. Because if it's funny, it stays funny," says Nabor.
You can always find new angles on a joke or a new context or social commentary that works with certain videos. Plus, sometimes you find unique videos that are timeless and can be relatable to a vast range of trending moments.
Nowadays, everyone has seen plenty of memes. If you want to make something unique, think outside the regular meme formats. Approach jokes or memes in new ways. "How do you connect working from home and the Rugrats show? And can you find a video that works, but in a surprising way? I think that's what really resonates with people," says Puffin.
Avoid the sea of sameness and the low-hanging fruit. Instead, study what others are doing and find a way to bring something fresh and innovative to the conversation. That could just be changing up the way a meme is formatted or how the meme is juxtaposed.
"Don't be sensitive if a meme doesn't perform well online. That doesn't mean anything. Just make sure you're having fun with it," says Nabor.
If you want to make a name for yourself with a meme account, don't focus on the numbers. If you're true to your sense of humor and bring something unique to the table, people will like your meme videos. And since memes are so inherently shareable, your funny videos will get out into the world, and your following can grow quickly.
You might also be interested in…