Capture elegant shots with glamour photography.
Learn about this unique genre of photography that aims to highlight your subject's inner and outer beauty. Explore these tips from pros and then try your hand at glamour shots.
What is glamour photography?
Glamour photos are a form of portraiture that include elements of fashion photography and boudoir photography. "I think the word glamour keeps evolving. When I first started with photography, it was all about old Hollywood glamour, with that high-contrast, black-and-white look," explains photographer Martha Galvan. "But ultimately, it's photography that glamorises your subject." From classic, fine art portraits to avant-garde fashion photos, it's a glamour photographer's job to showcase the inner personality of their subject or client and highlight their unique beauty.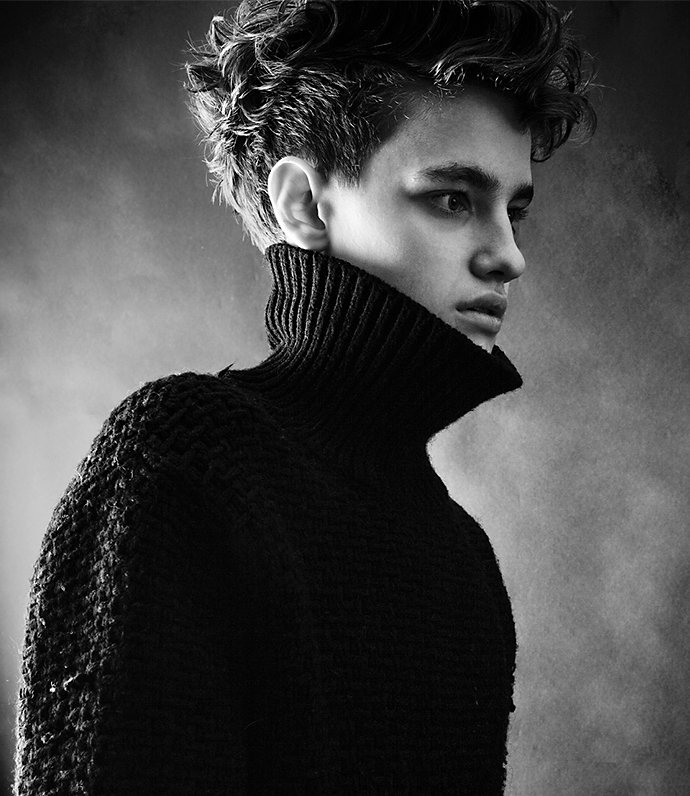 Prepare for your glamour shoot.
Plan your shoot.

Consult with your client and find out what they want out of the photography session. Depending on whether they want to display their new fashion line, get an editorial portrait for a magazine or capture an intimate boudoir photo, you'll approach the shoot differently. Ask questions to better understand what their goals for the shoot are. From there you can build a list of shots you want to capture. If there are multiple outfits or locations to consider, make sure that you factor extra time into your schedule.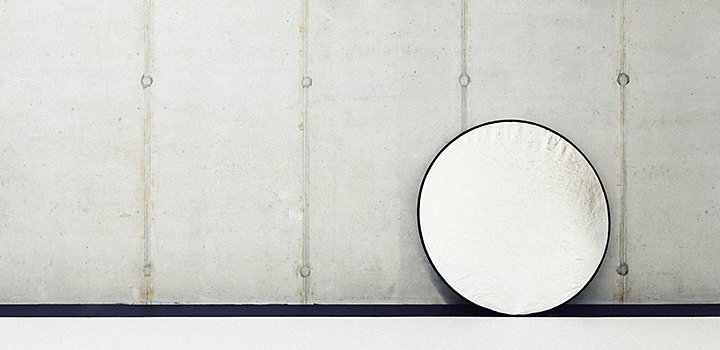 Pack your gear.

Whether you conduct your photo session in a studio or on location, you'll need the right gear. Lighting is important in any kind of portrait photography but is especially key in glamour shoots. "Natural light and reflectors are always good. Reflectors help bring the light in to open up shadows and highlight the face," notes Galvan. Bring extra lights, reflectors and light modifiers. It's always better to be prepared if your natural light at the shoot is acting fickle.
Your client will probably want to use props for their shoot. Be thoughtful about how you use them. "Simple is better. Your focus is to make your subjects look beautiful and glamorise them. So you don't want to get caught up in all the props," notes Galvan.
Unless you work with professional models, people typically aren't used to being in front of the camera. "People don't think about their facial expressions. Have you seen how you smile? Have you seen how you look when you are sad, angry or when you're feeling something deep inside of you? Many people don't know their own expressions," explains photographer Carlos Chinchilla.
Give your client some homework before the photoshoot. Have them stand in front of the mirror at home and examine their own facial expressions. "Have them pay attention to every single detail," notes Chinchilla. If your subject discovers angles and poses that make them feel glamourous during their homework, when they are comfortable in their body, they'll be more comfortable in front of the camera. Don't focus on the imperfections. Instead, focus on what makes them special and beautiful.
Tips for a glamourous photoshoot.
1. Put your subject at ease.
Like any genre of photography, it's important to connect with your subject before you start. Catch up with them and break the ice to help make them feel at ease with you. The first photos are always a little stiff, so use them as a warm-up to help your client relax into the setting.
Research and plan poses beforehand. You can even try them out yourself to learn how to better direct your client. Give direction clearly and patiently and walk them through the poses and facial expressions. If they still appear stiff and uncomfortable, take a quick break, lighten the mood, play some music and try again.
3. Play with different angles.
Experiment with the position of your camera and the composition of your photos. Get shots of your client from above and then take low-angle shots. Follow the rule of thirds for a few photos and then consciously break the rule and snap pics of your client straight on. Create a range of photos and you'll have more to work with when retouching them later in apps like Adobe Photoshop Lightroom.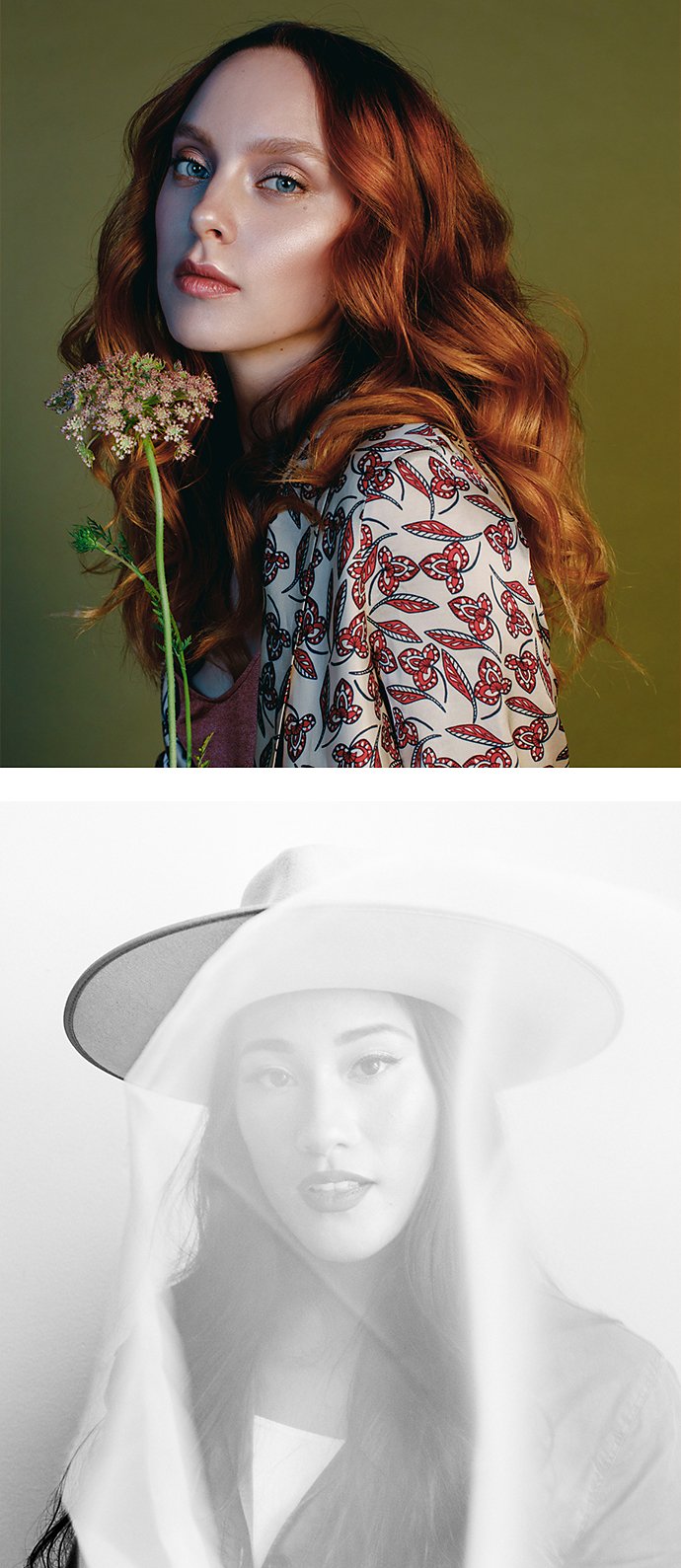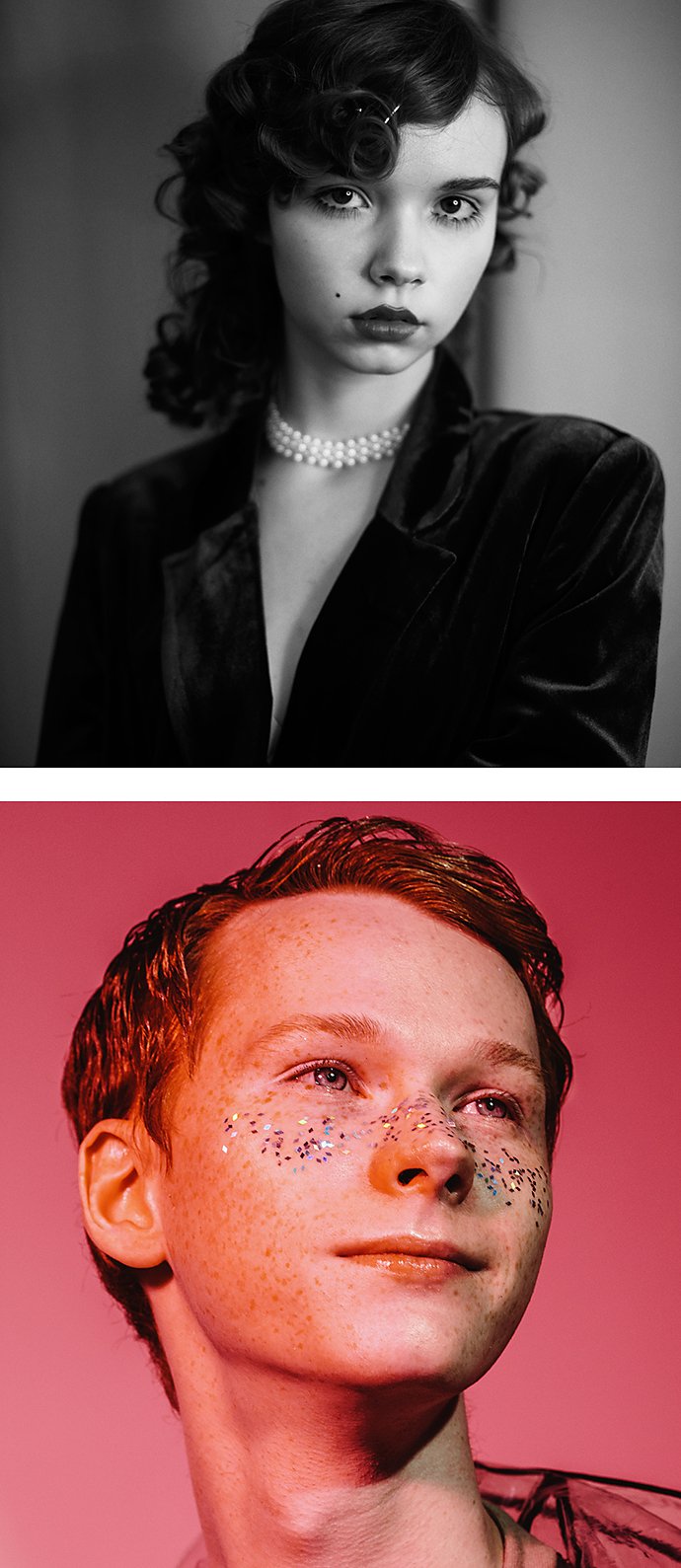 4. Make it dramatic.
Glamour portraits aren't like corporate headshots. If you want a more vintage look, get dramatic with the hair, makeup and lighting. It's a good idea to work with hair and makeup artists you or your client trusts. If your subject doesn't like their hair and makeup, odds are they won't like the images. 
How to build your skills.
Create a portfolio.
To pursue a career as a glamour photographer, you need to build a showcase of your work. You don't need to conduct a bunch of professional photoshoots all by yourself to get started. Work with friends and family and slowly add to your portfolio. Practice makes perfect, so focus on your skills by compiling work over time.
When you do get paying clients, don't ignore your portfolio. Your skills will keep getting better, so it's important to update your work samples. "When I'm working, I always tell my client, 'I'm going to use a few photos in my portfolio,'" notes Chinchilla. Make sure to get your subject's confirmation, then pull images from your favourite shoots and add them to your portfolio. It will begin to speak for itself.
A great way to build your skills is to watch someone else do a glamour shoot and pay close attention. Research glamour photographers in your area, engage with them online and build connections within the community. Everyone started somewhere and most people are willing to help out beginners.
No two photographers approach a subject the same way. Take note of what you like when it comes to glamour photography, learn what your clients like and go from there. You may find you love intimate black-and-white photos or you might like idyllic family portraits. Whatever you prefer, pursue it and build your skills.
Whether you're new to the world of photography or a pro who wants to try something new, glamour shots can be a beautiful addition to your portfolio. Make sure that you give your photos a little extra polish in post-production. Explore presets and effects in Lightroom and add a final flourish to your glamour shots.
You might also be interested in…
Get Photoshop Lightroom.
Edit, organise, store and share photos from anywhere.
7 days free, then KD 2.900/mo.