How to reverse video footage in Adobe Premiere Pro.
Rewind your video files quickly and easily. Find out why Premiere Pro is an easy video reverser for video files of all types.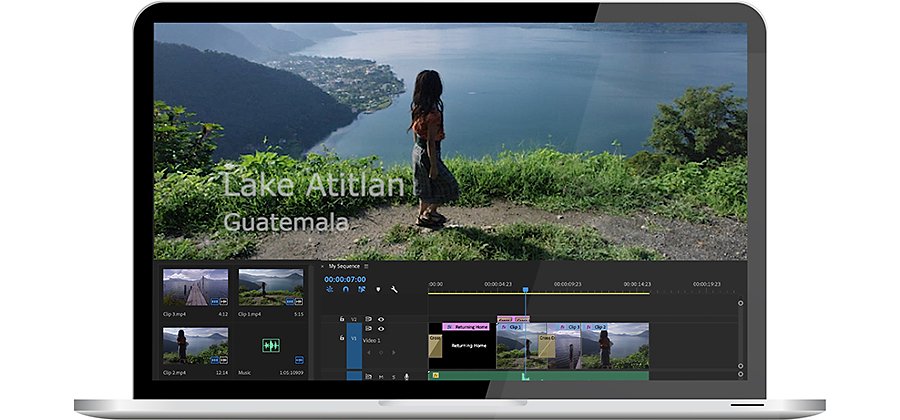 When a video plays backward, it intrigues. 
Reversing video is a well-established special effect with many uses. It can inform an audience with a slow-motion instant replay. It can wow them like the music video for Lake and Lyndale's "There's a Weight," in which the singer sings the song backward in real-time to appear to sing normally in the final reversed video. It can unsettle an audience, like in the opening scene of the movie Memento, which features bullets flying backward into a gun. Whatever mood or tone you're looking for, the tools to reverse video are at your fingertips.
Reversing video has a history of engaging viewers.
Reversing video footage dates back to the earliest days of film. In 1896, Louis Lumiere made a 90-second film called "Demolition of a Wall" that's the first known use of the reverse effect. In it, workers tear down a wall, and then, miraculously, the footage rewinds and the wall stands up again. Lumiere did a lot of work to achieve his reverse effect. Today, video editors can easily rewind fast-moving sports action or create slapstick backward YouTube videos.
How to reverse and edit videos in Premiere Pro.

Importing a video file.
Choose files you want to reverse and begin your project by importing them into Premiere Pro. You can bring almost any video file into the video app. Premiere Pro supports a wide variety of video formats, like MP4, MPG, MOV, and Mac QuickTime files, as well as several types of audio files. 
Reversing a video file.
Reversing a video file in Premiere Pro is a simple task. Simply click on Speed, then Duration, and then Reverse Speed. When reversing a video in Premiere Pro, it reverses audio automatically too. It's easy to remove reverse audio from a video clip and replace it with a soundtrack or voice-over.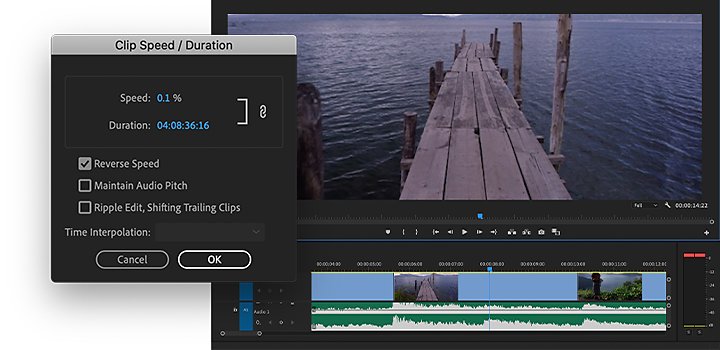 Slow down or speed up reversed footage.
After clicking Reverse Speed, you can customize how fast or slow you want your footage to run. Video speed is measured against a baseline number of 100%. Footage at 100% speed is the default and will play at the same rate at which it was shot. Footage at 50% will play at half the original speed, in slow motion. Footage at negative 200% will reverse itself twice as fast as normal.
Share your work.
Once you've added your reversed clips to a project, Premiere Pro allows you to easily export it in the proper format or upload video clips directly to many popular sharing services straight from your Android, iPhone, or another mobile device.
Have fun with reversed video.
Reversed footage is one way to put your stamp on a project as an editor. Whether you're making a music video or an action-packed GoPro project, it gives you a chance to play with video editing software. Recording footage is only the beginning of the creative process. Editing (including reversing)is when the most rewarding work of filmmaking begins.

Do more with Adobe Premiere Pro.
Make visually stunning videos virtually anywhere — for film, TV, and web.
You might also be interested in…
Establishing shots are crucial because they tell us where, and often when, the action is happening.
See how this technique can help bring a stylized and evocative effect to your work.
Get Adobe Premiere Pro
Create flawless productions with the industry-leading video editing software.
7 days free, then US$ 20,99/mo.