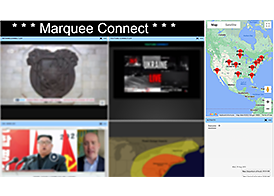 Languages: English+
Licence: Freeware
Author: Paul Gilbertson
Price: Free
Compatible with HTML: Yes
The host can enter the text they want displayed in the Marquee pod. They can control the size, speed, direction of the horizontally scrolling text and have a few selections of background colour/text colour pairs. The text displayed can be changed at any time by the host in the room. Recommended updates are welcome.
Benefits & Key Highlights:
Bring late breaking information to your audience, especially in longer running sessions like emergency management, common operational picture or multi-day webinars.